Why NOW Is the WORST Time for Index Investing
Aug 18, 2017
In this issue:

» Banks doing away with 'lazy banking'
» Why share buybacks improved
» And more...
In 1994, after his investment in US Airways had lost 75%, Warren Buffett famously joked...
How do you become a millionaire?

Make a billion dollars and then buy an airline.
Well, here's my own little joke for Indian investors today...
How do you make a million bucks in India?

Start with a billion and then buy the Sensex when it's trading at over 23 times earnings.
Most investors understand the futility of buying stocks in bad sectors (and from power to public sector banks, there are plenty of them in India today). But it's another story with the benchmark index and its components, which continue to entice investors even at obscene valuations. Earnings visibility may be hazy, but one thing is clear: Investors are hooked on passive index investing!
To their credit, buying the entire basket of index stocks has been one of the easiest ways to make money during this bull run. But if passive index investing has been your strategy so far, the correction last week should have come as a timely warning.
Why?
Consider this...
At least two out of every five index stocks have had little earnings growth of late. Many are struggling with their debt. And yet, investors are clutching to them like prized possessions.
The logic of buying these stocks for the long term also does not work. If bought at current valuations, even in ten years the index may not offer you sufficient upside.
If you're not convinced, check out our sensitivity analysis of a stock bought today at a PE of 25x and held for ten years.
Sensitivity of Returns from a Stock Purchased at PE of 25x
Earnings Growth Rate for Next Ten Years
P/E at the End of Ten Years
30%
25%
20%
15%
10%
30
32%
27%
22%
17%
12%
25
30%
25%
20%
15%
10%
23
29%
24%
19%
14%
9%
20
27%
22%
17%
13%
8%
15
23%
19%
14%
9%
5%
10
19%
14%
10%
5%
0.4%
Source: Equitymaster
Let's assume Sensex earnings grow at a generous 15% per year. The index could then return 14% per annum by the tenth year at peak valuations of 23x. Or as less as 9% per annum at more reasonable valuations of 15x.
So the odds earning at least 15% a year are decent only when earnings growth is steep. Or if index valuations get pricier. Both are remote possibilities.
And this isn't just me talking. Here's what Buffett wrote in his letter to shareholders in 1982:
For the investor, a too-high purchase price for the stock of an excellent company can undo the effects of a subsequent decade of favorable business developments.
That's why smart investors like Dr Marc Faber are looking beyond the benchmark indices.
In a recent interview, Faber said, "I find stocks in select pockets outside the index attractive in India."
He's not just talking about valuations. Even earnings visibility is much better when you look outside the key indices.
So, if you like to cling to the index, I would urge you to step away right now. You know I always insist on 'safety-first' kind of stock picking. And buying the basket of index stocks at current prices will hardly help you do that.
Look for lesser known companies. Ones with consistent earnings upside and reasonable valuations could be your best bets.
Editor's Note: Speaking of little known companies with big earnings upside, we have found just such a treasure. A little gem of a company with all the right curves in all the right places - low competition, increasing demand for its products, reducing debt levels, and the profits that have compounded at 35% over the last three years!
The Hidden Treasure team is traveling to the interiors of Maharashtra to meet the Managing Director tomorrow - chances are this company will be the highlight of our next recommendation report. Get on the list to receive this recommendation.
02:30

Chart of the Day

When the times were good, banks were accused of 'lazy banking'. They made money on treasuries and stayed away from lending. Later, rising bad loans made banks wary of extending more corporate loans. So after dwindling to single-digits in the past three years, bank credit growth slowed down to a multi-decade low of 4.4% in FY17. This has curtailed Net Interest Income which is the core source of income for banks. Net Interest Income is the interest income earned after adjusting for interest expense made in the form of cost of funds and deposits. The share of Net Interest Income in the bank's total operating income fell from 72% in FY 13 to 64% in FY17. And despite treasury gains, banks' average shareholder's returns slipped from over 10% last year to below 5% during this period.
Slow Credit Growth Impairs Core Income Driver for Banks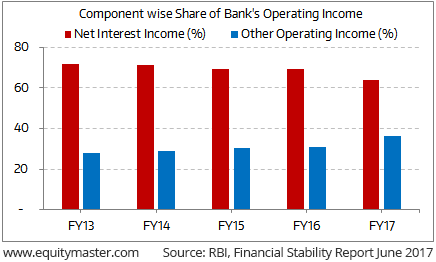 Even as banks are accused of playing safe by deploying funds in government securities instead of advancing credit to industry, recent developments signal towards their waning risk aversion. As per RBI data, the incremental credit-deposit ratio crossed 100 in July 2017 for the first time since 2011. At the same time, the incremental investment-deposit ratio has been on a steady decline. This shows that as huge deposits garnered by public sector banks post notebandi are stabilising, lending is slowly gaining traction.
For the same reason, public sector banks like State Bank of India, Bank of Baroda and Punjab National Bank recently cut savings rate by 0.5% as they shift focus towards lending. Even the smaller banks are expected to follow suit. This paves way for rate cuts in corporate loans to fuel the pick-up in credit demand and boost interest income for banks. But for most of the smaller state-run banks saddled with huge bad loans, recovery may still be a long road ahead.
The efficiency of share buybacks in optimising return to shareholders has been acknowledged by Warren Buffet. Buyback has gained popularity among Indian companies after the government imposed 10% tax on dividend amounts of over Rs 10 lakh in the Union Budget 2016-17. But many a times, companies use the buyback route simply to shore up stock prices without actually buying back the shares. In eight out of the last thirteen years (2002-2014), companies bought back less than half of the proposed share buyback amount, as per Prime Database.
However, with SEBI's stringent buyback regulations in 2013, misuse has reduced and the buyback success rate has vastly improved to 98% in the last three years. The key regulatory changes include mandatory completion of repurchase within six months, setting aside half of the proposed buyback amount in an escrow account and compulsory use of the tender route where the proposed amount is more than 25% of the company's networth. These regulatory changes have ensured that companies wanting to genuinely reward shareholders are using the buyback route.
Indian equity markets opened the day in the red. At the time of writing, BSE Sensex was trading lower by 228 points and NSE Nifty was lower by 63 points. Both the mid cap and small cap indices are trading up down 0.6% and 0.7%, respectively. Stocks from the banking and IT sectors are the major losers.
04:55

Today's Investment Mantra

You don't need to be an expert in order to achieve satisfactory investment returns. But if you aren't, you must recognize your limitations and follow a course certain to work reasonably well. Keep things simple and don't swing for the fences. When promised quick profits, respond with a quick 'no'. - Warren Buffett

This edition of The 5 Minute WrapUp is authored by Tanushree Banerjee (Research Analyst) and Madhu Gupta (Research Analyst).
Recent Articles