The Titan Share Price Fall Becomes My Cousin's First Painful Lesson in Investing
Aug 19, 2019
There's been a bloodbath in the markets ever since the latest Budget.
One of my dear younger cousins started investing in the stock markets about two months ago. I'd insist you share this story with your children and/or grandchildren too when they start investing.
She's 23 and working in a reputed life insurance firm as an actuary.
On family get-togethers, she'd often heard me emphasise on the importance of saving and starting the investing journey early on.
--- Advertisement ---
To Readers Who Plan on Quitting Work Someday…

Please read this only if you want to quit your regular jobs someday…and be independent of your income.

If that's not you – please ignore the rest of this message.

Because we have a simple goal in mind…to guide readers towards using the Double Income strategy.

A strategy that, over time, has the potential to bring in as much, or even more than one's regular income, every month.

And if you're interested, Rahul Shah is hosting 4 video classes between 17th and 24th September – to teach his readers how to use this strategy.

Sign up here.

Oh, and one more thing – these classes are completely free for Equitymaster readers.

But we have limited seats available – if you're interested please sign up as soon as possible.

Once your seat is blocked – you won't run the risk of missing out, and you can decide whether to attend or not.

Click here to sign up – it is completely free, and there are no forms to fill up.
------------------------------
Having been in the job for two years, she was keen to start investing on her own. Some of her close friends had already started investing a few months ago.
When the stock markets surged after the exit polls, they even enjoyed good gains on their, albeit, tiny investments.
One of her friends was so enthused by his first little victories in the stock markets, he gave my cousin a fancy treat.
My cousin was super impressed. She soon started a trading account and started following her friend's stock tips.
Then two days before the Budget, I received a WhatsApp message from my cousin...
Cousin: I'm planning to buy shares of Titan. I saw the financials...the balance sheet. It looks good. I'm planning to buy 40 shares. Do you think it's a good idea?
Without doubt, Titan Company has been one of the most fantastic wealth creators out there. I'm sure Warren Buffett would have loved to own a big chunk of such a wide-moat business with solid growth drivers.
But identifying a great business is not a good enough reason for an investor to make money.
Sometimes, you could lose money even by investing in the best of companies.
The Double Income Project: Free Registration
Take Page Industries for instance...
This stock has been one of the most amazing wealth creating stories. In fact, I'd myself made a personal investment in the stock back in 2010 before I joined Equitymaster. The stock was hovering around Rs 1,250 at that time. I exited the stock seven years later with a profit of more than 1,200% i.e. a 12-bagger.
But anyone who'd bought the stock at Rs 30,000-35,000 per share thinking it's a never-ending growth story would have lost money.
Coming back to Titan and my cousin's investment...
Twenty minutes after she sent me a message seeking my view, I sent her a long response:
Me: What is your investment rationale and return expectation?

I did a quick check on the company's valuations... It's currently trading at a trailing twelve-month price to earnings ratio of more than 80 times.

No doubt it's one of the most solid businesses around. But that is a very well-known fact and the stock is already priced for perfection.

Here are some other factors that you should think about...

Why should the markets reward you? What do you know about the company or its future that others haven't thought about already? Or are you bored, seeking some quick action, and trying to get lucky?

For many people, stock markets are like a casino, a source of entertainment. You should be serious about making money and not speculate for the sake of it.
I ended my preachy monologue with one of my favourite Charlie Munger quotes:
"When you locate a bargain, you must ask, 'Why me, God? Why am I the only one who could find this bargain?'"

Cousin: Oh god! There is so much that I don't understand. I should not invest on my own. 🤦

Me: That is not the point. You can study and invest. But it requires a LOT of study. Your study to action ratio should not be less than 100:1.

Cousin: Exactly. I don't have that much time to study this. So, I should leave it to experts I guess.
I was happy that my cousin was quick at understanding that the game of investing needed serious study, commitment, and patience.
--- Advertisement ---
Rs 4 Trillion Opportunity?

In this One Stock Crorepati Video, Richa Agarwal, Research Analyst and Senior Editor, reveals details of a 'crorepati' stock.

In short, it's a little-known Indian company, which is now tapping into a Rs 4 trillion industry.

You see, right now, few people are aware of this 'crorepati' stock's involvement in a massive Rs 4 trillion industry.

But word will soon spread and it might not remain a secret for long…

After that, you may have to pay a much higher price for this very same stock.

That's why we urge you to watch this video right now where Richa Agarwal reveals the details of this stock.

This video could be pulled out anytime…So don't delay it for any reason and make sure you watch it right now.

Click here to know the details of the Crorepati stock…
------------------------------
Two days after that chat, the Finance Minister increased the custom duty on gold from 10% to 12.5% in the Budget.
Then on 8 July, Titan published an update for the June quarter, the highlights of which I'll share below.
On 9 July, the share price of Titan had a gap-down opening and crashed as much as 14.3% during the day, before closing the day at Rs 1,099 (down 12.3%).
I called my cousin seeing the hammering in the share price.
I wanted to congratulate her for being wise and not making a hasty, speculative investment.
But she sounded very low. In a meek voice, she confessed:
Cousin: Actually, I'd already bought the stock by the time you responded that day. I'd looked at the company's financial statements...the balance sheet. Everything looked good. Why has the stock crashed so suddenly today?
To this, I sent her the key takeaway from the company's latest filing with the stock exchanges.
Me: Here's the trigger for the sharp drop in the share price of Titan:



Titan Company - Quarterly Update

The quarter witnessed a tough macro-economic environment with consumption being hit. Very high gold prices particularly in June also impacted growth in the Jewellery industry. Against this background, the company's growth particularly in the Jewellery segment at ~13% was lower than planned even though the gains in market share were sustained.

Cousin: It doesn't sound that bad to warrant a crash. Everything seems fine.

Me: I hope you are right. But could it also be that you are blind and not able to see what the rest of the market is seeing?

Cousin: Hahaha...

Me: You see, the market sees everything through a relative prism.

The market may have been expecting Titan's jewellery business to grow at a much higher rate than 13%.

Since that hasn't happened, the stock price is adjusting lower.

Then there's the recent custom duty hike on gold. Besides, there are growing concerns of slowing consumption in the economy.

Cousin: What should I do now? My investment is down 17% in less than a week.

Do you think the stock will bounce back anytime soon? I don't mind holding it for a longer period...like one year. If it will do well in the long-term, I'm fine holding a temporary, notional loss.

Me: Frankly, my dear, I have no clue which way the share price of Titan is headed. And anyone who claims to know is either deluded or lying.

Maybe the stock price of Titan goes up after this knee-jerk reaction. Or maybe the stock stays below your cost for an extended period and you exit at a loss.

But don't be an emotional fool now.

The worst mistake I've seen investors make is clinging on to investments to recover their cost. I believe in biting the bullet and exiting when the original thesis doesn't work.

Because you could use that cash to deploy in a more attractive investment. Or you could buy that same stock at a better valuation later.

But getting stuck to recover your cost is a bad idea.

Next time you invest, keep these three things in mind:

1) Do your homework well and have a solid basis for investment.

2) Don't invest a very large part of your corpus in a single stock.

3) Be ready to bite the bullet if your investment thesis fails.

Finally, here's the most important thing to remember...

The stock market is not like your mother. The market doesn't care about you. It doesn't think you're special and deserving. And it's not coming to your rescue when you fail.

Take full responsibility for your actions. And all the very best.

Cousin: OK. You're right. I should have listened to you earlier.🙁

Me: Be happy, my dear. This was the cheapest education you could get in the stock markets. I know people who have lost lakhs and crores to learn this lesson.
Recently, I met my cousin for the festival of Raksha Bandhan. Just out of curiosity, I asked her what she was doing with her investments currently.
From the change in her facial expression, I could make out that she had stopped thinking about her investments since a while. And that I had, inadvertently, hit upon a painful nerve.
Cousin: Oh, I've been very busy. I'm not making any fresh investments right now. Just holding on to my existing stocks for the long-term. Hoping that Titan will bounce back, so that I can recover my money.
I just smiled.
Time and again, I have seen people become so-called "long-term investors" when share prices tank.
Frankly, they have just stopped looking at a painful reality. What is worse about such a withdrawal from the markets is that they stop looking at attractive new investment opportunities that are created in a bearish market.
To be fair to my young cousin, she's just 23 and taking her baby steps in the world of investing.
I just hope you are not making the same mistake.
Have you had a similar investment experience like my cousin? What did you do back then? What would you do now?
Share your views with me here
Chart of the Day
My cousin bought shares of Titan Company two days before the latest Budget, when the stock was trading close to its all-time high price.
In today's chart of the day, I have plotted the trend in the company's consolidated trailing twelve-month price to earnings (P/E) ratio over the last six years.
The price to earnings ratio is a valuation metric that tells us how the company's share is priced relative to its earnings.
Is Titan Trading Cheap After the Recent Correction?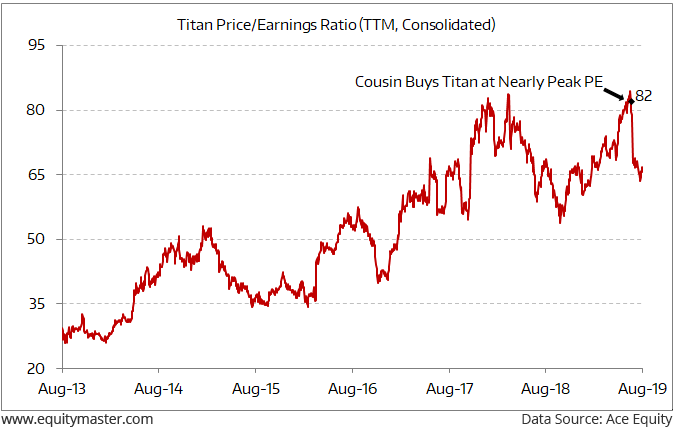 Over the last six years, the P/E ratio of Titan Company has risen steadily.
From being under 30 times in August 2013, the P/E ratio was as high as 82 times when my cousin bought the stock. During the same period, the company's share price had expanded over 450%.
Even after the recent drop in the share price of Titan, the P/E ratio is 66 times - still higher than the average P/E ratio of 52 times during the six-year period.
My cousin is currently sitting on a notional loss of about 20% on her Titan investment. Will she recover her investment and make a profit?
Time will tell...
Warm regards,



Ankit Shah
Editor and Research Analyst, Equitymaster Insider
PS: Equitymaster's small cap expert, Richa Agarwal, believes a very select group of small-cap stocks are on the verge of a profitable rebound. Get the details here.
Recent Articles