Why Hasn't Warren Buffett Rung the Bell Yet?
Aug 22, 2017
In this issue

» Share Buybacks on Record Spree
» Apex Frozen Foods IPO Opens Today for Subscription
» Market Roundup
» ...and more
It's surprising Warren Buffett hasn't rung the bell yet.
Investors the world over rely on him to call market tops and bottoms. And when the S&P 500 is making one new top after another, you expect him to dash into the belfry and give a firm push to the clapper.
But the Oracle of Omaha isn't ready to oblige just yet. He doesn't think we've hit a stock market top. Reason? Interest rates.
Here's what Buffett has said, more or less, on a couple of occasions this year: 'Measured against interest rates, stocks actually are on the cheap side compared to historic valuations.'
I have mentioned before on this very platform that interest rates act on stock market valuations the same way gravity acts on matter.
High interest rates take valuations lower and low interest rates take them higher. And since the interest rates in the US right now are near record lows, the S&P 500 cannot be in bubble territory. In fact, considering current interest rates, the S&P 500 seems reasonably priced.
Jeremy Grantham is on the same page as Buffett. The only difference is they focus on different parts of the story. Rather than interest rates, Grantham points to profit margins and inflation.
Grantham has done a study showing that investors almost always mess it up when evaluating profit margins and inflation. In an environment of high margins and low inflation, they assign high multiples to stocks. And when margins are low and inflation is high, they assign low multiples.
Behaviorally, it makes sense. People are busy dumping stocks during a crisis when margins are low and inflation is high. And this pushes valuations lower. But during a boom when margins are high and inflation low, people can't get enough of stocks and are willing to pay a premium, sending valuations higher.
It is this double counting that makes stock markets so volatile. It's also what makes them deviate so dramatically from their long-term valuations on both sides.
There's no way, Grantham contends, this irrationality will go away. That's why the current situation - where investors assign premium multiples to stocks with high margins in a low inflation environment - is likely to persist.
What Buffett and Grantham are saying is that, despite the bull run, it would be foolish to stay out of stocks altogether. If you think markets are overvalued, book profits by all means. But do keep some exposure to stocks.
And what about first-time investors? Well, if you aren't comfortable investing when markets are hitting new highs, you can wait for a correction. But be advised it may not come. Buffett and Grantham seem to be telling us it's even safe for first-time investors to start nibbling.
As for which stocks, well, even overheated markets contain pockets of value. You just have to know where to look. It's not difficult to find good quality stocks down 20-30% in quick time because near-term concerns that won't have an impact on long-term value.
We know what you must be thinking. That's all well and good for US stocks, but what about Indian stocks? We know Indian markets are different. But in this case, we firmly believe at least the template could be borrowed if not the exact steps. It is a sound strategy that will surely yield long-term benefits.
Editor's note: Our Microcap Millionaires service follows exactly such a template. It is never 100% out of stocks and believes in always keeping at least a 25% exposure to stocks that can go up to as much as 75% based on how attractive the broader markets are.
Its 157% returns since inception vis-à-vis the broader market's 52% return is proof of the effectiveness of the strategy. Click here to know more
03:00

Chart of the Day

Share buybacks, led primarily by IT companies, are set to hit a new record this financial year. As per Prime Database, in the first five months of FY18, at least twenty companies have offered to buy back shares worth Rs 480 billion. Last year, 45 companies announced Rs 344.6 billion worth of buybacks. The trend has been gathering momentum since the government imposed an additional dividend distribution tax (DDT) in the Budget 2016-17.
Share Buybacks on Record Spree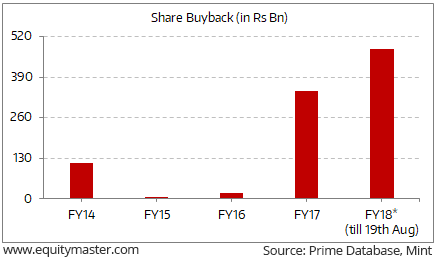 This fiscal's buybacks include offers from IT giants Wipro and Infosys, which announced buybacks of Rs 110 billion and 130 billion, respectively.
In a buyback, the company purchases its own shares from the stock market and then cancels the shares or keeps them as treasury shares. This whole buyback process reduces the company's outstanding shares. IT companies account for more than 80% of the buybacks in FY18.
Why are IT companies turning to buybacks?
IT firms are going through a difficult phase for a number of reasons including a decline in software exports, pricing issues, and rupee appreciation. The rise in share buybacks could be due to a lack of acquisition opportunities and historically low IT company valuations. Furthermore, these companies have a huge cash pile in their book. In the past, IT companies needed that capital to add people and grow the business. That isn't true anymore. So a share buyback is a healthy way of to reward shareholders.
In India, buybacks make more sense than ever as they've become more tax efficient than dividends. It also helps that a buyback will improve financial ratios such as earnings per share, return on assets, and return on equity.
But investors should not assume buybacks are always good. The reason behind the buyback must be investigated. At the end of the day, an increase in earnings should be more a function of the inherent robustness of the business, as that's what will help it continue to grow at a healthy pace.
Another hot trend in the stock market is initial public offerings (IPOs). More than twenty companies have hit the primary market so far this year. And now we can add Apex Frozen Foods Ltd (AFFL) to the list.
AFFL produces and exports aquaculture products. It supplies ready-to-cook products to a diversified customer base of food companies, retail chains, restaurants, club stores, and distributors across the USA, UK, and parts of Europe.
The public issue of Apex Frozen Food will open for subscription today. It's comprised of fresh issue as well as offer for sale. The company proposes to use the net proceeds to establish a new shrimp processing unit with a proposed capacity of 20,000 tonnes per annum in Andhra Pradesh.
Do the company's fundamentals justify the offer price? Should you subscribe? Check out Ankit's Insider IPO report to find out...
At the time of writing, BSE Sensex was trading higher by 63 points. The BSE Mid-Cap and BSE Small-Cap Indices were trading down by 0.3% and 0.4% respectively. Sectoral indices were trading on a mixed note with stocks from the Oil & Gas sector witnessing maximum buying interest. However, stocks in the capital goods space were witnessing selling pressure.
04:55

Investment Mantra of the Day

"Unless you can watch your stock holding decline by 50% without becoming panic-stricken, you should not be in the stock market." - Warren Buffett

This edition of The 5 Minute WrapUp is authored by Rahul Shah (Research Analyst).
Recent Articles