Mughal Money: How a 14th Century Emperor Proves Gresham's Law
Aug 24, 2017
In this issue:

» IPOs Set for a Record Year
» Companies Making the Most of Market Optimism
» ...and more!
Unethical behavior is contagious. If a few people do it easily, it's just a matter of time before others follow suit. Even if everybody was honest to begin with, peer pressure forces them to fall for wrongdoing. Watching those around you succeed for wrong reasons isn't easy to handle.
This was the explanation that the chief of a financial entity recently offered to investors as he tried to explain the mounting nonperforming assets of the banking sector.
It makes me wonder if our bankers are familiar with Gresham's Law.
For those who aren't, here's a little story from Mughal times that may help.
Emperor Mohammad bin Tughluq, who ruled Delhi in the fourteenth century, conducted an experiment with the then currency. He noticed that India had very few silver coins but many bronze and copper coins. So he decided to increase the value of bronze or copper by passing a royal order that bronze and copper coins would be accorded the same value (i.e., same purchasing power) as silver coins. In other words, a one-gram bronze coin could buy the same goods as one gram of silver.
It seemed like a good idea...
The problem was copper and bronze coins were easy to forge. So, naturally, people started minting their own coins. The result was a tremendous increase in the circulation of bronze and copper. Silver coins completely disappeared from markets. The unscrupulous minting led to price rises anda hyperinflation-like scenario. Ultimately, Emperor Tughlaq had to withdraw this order.
What to make of this? Here's Charlie Munger to connect the dots...
In economics textbooks, they teach you Gresham's Law: Bad money drives out good. But we don't have any bad money that amounts to anything. We don't have any coins that are worth a lot, that have precious metals that you can melt down. Nobody cares what the melt-down value of the quarter is in relationship to the dime, so Gresham's Law is a non-starter in the modern world. Bad money drives out good.

But the new form of Gresham's Law is ungodly important. The new form of Gresham's Law is brought into play - in economic thought, anyway - in the savings and loans crisis, when it was perfectly obvious that bad lending drives out good. Think of how powerful that model is. Think of the disaster that it creates for everybody.
Some of the largest financial entities in India famously sidestepped the financial crisis of 2008. But several years later, farm loan waivers and callous lending to unworthy corporates plunged the sector into turmoil. If that weren't enough, the incentives of bankers were aligned with the amount of loans, not the quality of loans. Needless to say, the mess the sector is in currently was not completely unexpected.
Now, Gresham's Law is not just about bad money. It also relates to the culture of unethical accounting practices. Buffett wrote in his 1999 letter to investors...
Managers often say that their shareholders will be hurt if their currency for doing deals - that is, their stock - is not fully priced. And they also argue that in using accounting shenanigans to get the figures they want, they are only doing what everybody else does. Once such an everybody's-doing-it attitude takes hold, ethical misgivings vanish. Call this behaviour Son of Gresham: Bad account drives out good.
What does all this have to do with investing?
To bring it all together, let me introduce you to what I call 'the Grandson of Gresham'.
In rising markets, investors tend to sell good stocks and hold on to bad stocks. The greed to make money even on bad stocks lures investors to ignore the safety of their portfolio.
To conclude...
Gresham's Law: Bad money drives out good.
Son of Gresham: Bad account drives out good.
Grandson of Gresham: Bad stocks drive out good.
Staying away from bad money, bad accounting, and of course, bad businesses, is the essence of safe stock investing.
Editor's note: Tanushree and the StockSelect team sent out a report yesterday on a safe stock with very 'defensive traits'. Click here to get access.
03:30

Chart of the Day

Fundraising through initial public offerings (IPOs) is set to hit a record high this calendar year, as fifteen companies have already raised more than Rs 125 billion (till July), with much bigger offerings in the pipeline.

Five insurance company offerings are expected to raise a whopping Rs 400 billion collectively by the end of the year. State-owned General Insurance Co of India and New India Assurance Ltd, which have both filed their draft red herring prospectus (DHRP) with the regulators, are expected to raise a mammoth Rs 100 billion each. Similar offerings from SBI Life Insurance, ICICI Lombard General Insurance, and HDFC Standard Life Insurance are set to raise around Rs 70 billion, Rs 50 billion, and Rs 75 billion, respectively.

These five offerings themselves are set to make 2017 the biggest IPO year ever - even bigger than 2010, when 64 companies raised a collective Rs 375 billion through their IPOs.
2017 Set to be Record Year for IPOs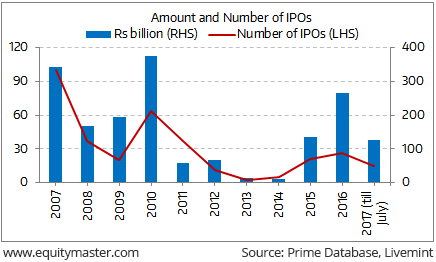 While all of this seems exciting to say the least, remember that in a euphoria-filled market such as this one, a rising tide lifts all boats. Only when the euphoria and optimism recede will the real victor emerge.
With so many new IPOs set to hit the market, it is prudent to be ready with a strategy to take advantage of the frenzy.
It's good to be very selective when investing in IPOs. Carefully analyse each company for its own merits and don't give in to the hype surrounding the public offering.
That's Ankit Shah's approach at Equitymaster Insider. He keeps a sharp eye on developments in the IPO space and keeps his readers up to date on the big-ticket IPOs.
Ankit and his team of researchers constantly reference this handbook on investing in IPOs. You can download a copy for yourself. It's free. Just click here.
It's not just IPOs that are breaking records. Qualified institutional placements (QIPs) too are on track to break the record set in 2009. To make the most of the market optimism, an increasing number of companies are opting to raise funds through the primary markets with the help of tools like QIPs.
Companies raised a record Rs 347 billion from QIPs in 2009. So far in 2017 (till July), seventeen companies have already raised Rs 342 billion in institutional placements. With big ticket issuances like Bajaj Finance's Rs 42 billion placement and Piramal Enterprises' Rs 50 billion offering in the pipeline, that number will only rise.
After opening the day in green, Indian equity markets have remained rangebound and are trading flat. At the time of writing, the BSE Sensex was up 12 points and the NSE Nifty was up 4 points. Sectoral indices are trading on a positive note with the IT and healthcare sectors leading the gains.
04:55

Today's Investment Mantra

"Investing is the intersection of economics and psychology." - Seth Klarman

Editor's note: There will be no issue of The 5 Minute Wrapup on 25th & 26th August 2017 on account of Ganesh Chaturthi.

This edition of The 5 Minute WrapUp is authored by Tanushree Banerjee (Research Analyst).
Recent Articles