Concor Has 33% Upside from India's 10% Gain in the US-China Trade War
Aug 27, 2019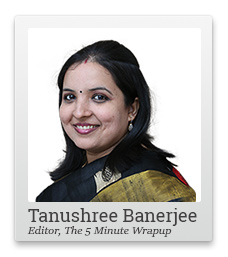 Iron Man, Super Man, Thor and Disney Princesses are being hauled in 20 feet containers.
Just next to them are containers carrying diesel engines, x-ray tubes, generic antibiotics, copper ores, granite, inverters and industrial products like xylene and ketone.
The container terminal at Tughlakabad, New Delhi, has had quite a few new customers over past few months.
One of them is Hasbro. It's a US based toy maker, known for its Transformers, Play-Doh, and Disney Princess merchandise.
--- Advertisement ---
FREE Event on Equitymaster's New Project

On May 17, we are holding a FREE event to reveal Equitymaster's Great Indian Wealth Project.

At this event, we'll reveal the details of your first stock for a potential Rs 7 crore in long-term wealth.

Seats for this event are filling up fast.

Since there are limited seats, we urge you to register at the earliest.

Click here for free sign-up
------------------------------
Hasbro, currently makes about two-thirds of its products in China. Much of that production is already shifting to India and Vietnam.
Meanwhile, Dr Reddy's is shipping a new set of drugs to China. All this while China was importing the drug from the US. But thanks to the steep tariffs the US imports have become unviable.
So, the containers at the Tughlakabad terminal, will ship toys that are made in India, instead of China, to the US.
And they will ship drugs, made in India, instead of the US, to China.
The volume of these shipments, compared to India's overall exports, aren't significant yet.
But they could grow manifold...
...and potentially make a huge difference to the business of one company in particular.
Learn: How to Potentially Accumulate Rs 7 Crore in Wealth Over the Long-term
Let me explain how...
China's merchandise exports in value terms, is almost the same as India's GDP. Exports are currently about 20% of India's GDP.
So, if the US-China trade war shifts even 10% of Chinese exports to India, it would boost India's exports by almost 33%.
Container Corporation of India, popularly called Concor, is India's largest cargo transportation company via railways. It has almost 75% share of India's container shipping market. Of its total 81 container terminals, 58 handle export and import containers.
Therefore, if the US-China trade war, has a benign impact on India, Concor will be among the first to benefit. And Concor's volumes could also go by almost 33% over time.
Indeed, I believe Concor is all set to become the lead player in India's waterways transport too.
As per NITI Ayog, inland waterways could bring down logistics cost by 4%, and this in turn, could propel India's exports by almost 30%.
Therefore, Concor has a lot going for it in India's resurgence in international trade. The trade war could just expedite its growth.
I am following stocks like Concor closely for my Rebirth of India project.
--- Advertisement ---
How to Earn a Fortune in Gold, the Smart Way

Gold is on 'the verge of a decadal run' says Vijay Bhambwani, India's #1 Trader and Editor of Fast Profits Daily at Equitymaster.

He says gold has the potential to generate staggering gains in the coming years...And those who are betting on gold right now will hit the jackpot.

But wait.

While gold is an attractive investment destination, there's a very specific way to play this opportunity...

A way that ensures you rake in maximum profit and perhaps hit the jackpot...while minimizing potential pitfalls. Thankfully, Vijay - India's #1 Trader - can guide you step-by-step in the upcoming gold rush and help hit the jackpot just at the right time.

Sure, you don't want to be an average trader. That's not how you make a fortune.

Here's how you can get Vijay's guidance...
------------------------------
Chart of the Day
There is one particular ratio we like to go back to whenever both gold and equities tend to vie for investor attention. As is the case now.
The Sensex to Gold (per 10 gm) ratio going back 15 years throws up some interesting information.
While the ratio has been quite volatile, the average ratio turns out to be 1.
In other words, whenever the Sensex has risen at a much faster pace than gold prices, its fall has also been equally precipitous. The reason behind this volatility is not hard to find.
Stock markets are more amenable to manipulation than gold prices are.
Money printing or an increase in money supply can give the impression an economy is growing.
But you cannot manipulate the supply of gold. Hence, it tends to show far more stability in its price.
Thus, if the Sensex to gold price ratio is way more than one, it could be a signal the Sensex is overvalued.
Alternatively, if it is way below one, it could mean that Sensex is undervalued.
The ratio stands at around 1.09 currently, indicating that the Sensex is trading pretty close to its fair value!
Thus, even though the market correction seems overdone in mid and smallcaps, the bluechips, particularly those in the Sensex, aren't undervalued yet.
Sensex versus Gold in Fairly Valued Zone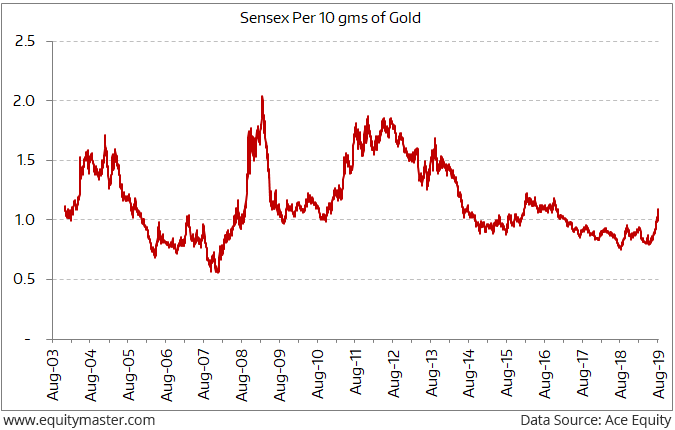 Warm regards,



Tanushree Banerjee
Editor and Research Analyst, The 5 Minute WrapUp
PS: It's the right time to buy the best 7 stocks in the market before they run up. Read more about these 7 stocks here...
Recent Articles