The One Safe Stock that Two Big Mutual Funds Are Buying Now
Aug 30, 2019
In 2005, Mumbai witnessed its heaviest rainfall ever in a single day. It was unprecedented.
The whole city was thrown out of gear. Millions of Mumbaikars suffered.
It is a day that has left a scar on many minds. Any day of heavy rainfall in the subsequent years has left people wondering whether they are witnessing a repeat of what happened.
We are at the end of August today, and the monsoon season in that sense this year has been no different.
--- Advertisement ---
Ex-Swiss Investment Banker Reveals His Biggest Investment Strategy in 4 Free Video Classes

Rahul Shah, ex-Swiss investment banker and Co-Head of Research at Equitymaster, is hosting a series of 4 free video classes for his readers, where he will reveal the details of something he's been working on for years…

The Double Income Project…

Rahul will show his readers, step-by-step, how to dramatically increase their income, potentially even double it…in what he believes is the earliest amount of time possible. a few short years.

For instance, if you make Rs 50,000 a month…Rahul's goal is to show you how to take it to Rs 100,000 in the long run.

Or if you make Rs 100,000…Rahul will show you how you could potentially increase it to Rs 200,000 in the long run.

This is different from anything Rahul Shah has ever done before – there's nothing to pay, no service to subscribe to and no forms to fill to attend these classes.

Just click here to sign up for the free video classes.
------------------------------
July particularly saw a deluge in Mumbai as well as the state of Maharashtra.
However, there was a slight difference. The state government was more proactive about issuing alerts and advising people to stay home.
The idea is simple - however important work commitments are, it is better to resort to safety when the forces of nature compel you to do so.
Something similar is happening in the stock markets too.
2019 so far has turned out to be a very volatile year. The Sensex has not been spared and neither have midcaps and smallcaps.
The Double Income Project: The Lazy Man's Guide to Doubling Your Income in The Long Term
The correction has continued for a variety of factors both domestic and global. The months of June and July were particularly bad.
But there is a silver lining in the cloud.
You see, falling markets provide a very conducive environment to buy high-quality stocks. These stocks have an element of safety attached to them.
Some of these companies are not fast growing. But they are solid businesses and have robust balance sheets.
And if the price is right, it is the perfect opportunity to pick them up because the downside tends to be limited.
The stock Sarvajeet and I recommended last week to Smart Money Secrets subscribers is a perfect example...
It is not a company growing at a scorching pace.
But it is a leader in its industry. It has strong brands and a wide distribution network. The debt is negligible and it has low capex needs. This means more money for shareholders.
--- Advertisement ---
Watch this Video Now And You Will Stop Worrying About Money...

If you are concerned about money, then you MUST watch this exclusive video right now.

Because in this video, Richa Agarwal, Head of Small Cap Research, talks about stocks that have made a select group of people Crorepatis.

They invested in just one stock and ended up becoming Crorepatis in the long run.

In this video, Richa also reveals her unique formula to identify such potential RARE stocks.

Plus, she also discusses her special report, 'One Stock Crorepati: How to Get Rich With This Little-Known Indian Stock'.

This video is now available for your viewing...

This video could be taken down any time soon. So, hurry…

Click here to watch the video right away…
------------------------------
The company makes so much money that it gives back almost 80% of its profits to the shareholders as dividends!
Given today's market environment, it is a perfect safe stock to be in.
A Stock that Has Immensely Rewarded Its Shareholders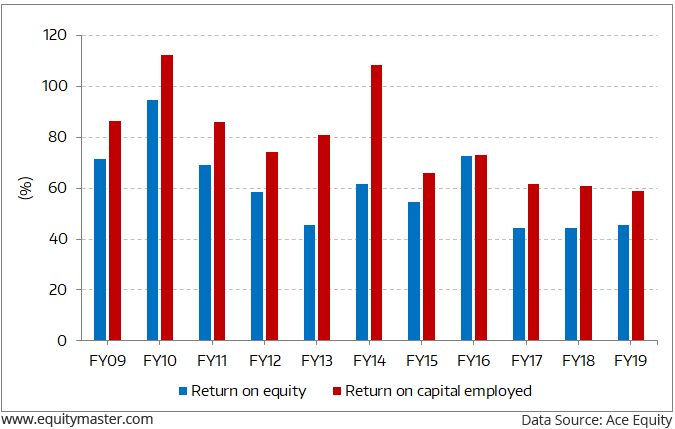 Of course, the correction has not spared this stock either.
But it only means a great opportunity is now available to pick up the stock at a reasonable price.
Indeed, it's what the smart money is doing regularly.
Two big mutual funds have consistently increased their stake in this stock over the past several quarters.
Sarvajeet and I just published our recommendation report on this stock for Smart Money Secrets subscribers last week.
If you're a Smart Money Secrets subscriber, you can read the report here.
If you haven't subscribed to Smart Money Secrets, you can sign up here.
Warm regards,



Radhika Pandit
Co-editor and Research Analyst, Smart Money Secrets
PS: Dear reader, Sarvajeet Bodas and I have published our latest recommendation report and our top 5 stocks to buy now. These are available to premium subscribers of Smart Money Secrets. You can access these reports by signing up here.
Recent Articles