Businesses Where Management is the Moat
Aug 31, 2017
In this issue:

» 99% of Demonetised Currency Back with RBI
» GDP Growth to Recover?
» ...and more!
Mr Narayana Murthy finally broke his silence.
And I must say, it was quite reassuring.
Here's an excerpt from his recent address:
It is not lost on me that the choice I have faced was to keep quiet, not raise these questions, and let the company suffer OR to stand up and ask questions. While keeping quiet may make me seem gentle and 'good', it had the potential to mortally wound the company in the long-term.
The core of his speech was that sustainable profits and corporate governance are not at odds; they coexist.
Of course, this is common sense and basic ethics.
Yet, it's utterly lost on most executives.
They consider corporate governance a burden. And those who practice it, do so more in letter than in spirit.
Few talk about their failures and bad decisions.
Few are transparent when the company is going through tough times.
Most are too busy covering up...or defending when exposed.
Beware of these managements.
Those who don't acknowledge tough situations or bad decisions can hardly be trusted to turn around the situation.
Unfortunately, the corporate world is full of them.
So, when you spot a management that is transparent even about unflattering truths, put them high on your watch list.
Business conditions will never always be perfect, but a trustworthy management alone can provide a wide moat.
Ankit recently wrote to his Insider readers about a management that takes accountability, transparency, and corporate governance seriously.
Ankit was highly impressed with this management's recent annual report.
It proved they're not too shy to admit tough times and tough decisions.
It also showed that, like Ankit and smart investors everywhere, the management is long-term value conscious.
This is a management that knows certain business decisions may not pan out as expected; that's the nature of the beast. But they recognise their job is to remain transparent and accountable to all stakeholders.
That's why Ankit and his researchers believe this is a business and a stock to keep an eye on.
In fact, Ankit believes even Warren Buffett would love how this management thinks.
PS: I have bad news and I have good news...
First the bad news: Ankit's Insider service is closing to new subscribers.
What does that mean?
It means you will no longer have access to what Ankit has access to.
What does that mean?
It means the entire Equitymaster research vault...including every stock pick Equitymaster publishes through all twelve of its premium subscription-based services...will be sealed and your name will NOT be on Ankit's Insider list.
Now the good news...
You still have until midnight tonight to secure your Inside access to this remarkable array of market research and premium stock recommendations.
Get your name on Ankit's Insider list and join thousands who are already profiting from this valuable inside information.
03:30

Chart of the Day

The Reserve Bank of India (RBI) released its annual report yesterday. The most head-turning and talked about number in this report was 99%. According to the RBI, 99% of Rs 500 and Rs 1,000 notes had been returned by June-end.

One of the original aims of demonetisation was to eliminate 'black money' - that is, unaccounted, untaxed income. But now that almost all of the demonetised currency is back with the RBI, many still doubt whether the whole exercise was worth it.

The RBI's annual report, however, contained some data that supports the government's anti-black money efforts. The report shows a spike in the number of so-called 'suspicious transaction' reports filed by banks, financial institutions, and intermediaries.

Suspicious banking transactions increased by a whopping 300,000 in 2016-17 (from 61,361 in 2015-16 to 361,214).
Suspicious Transactions Spike Post Demonetisation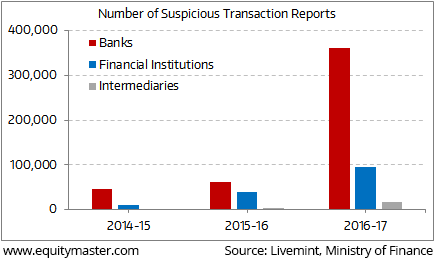 In its report, the RBI suggested it might be able to detect this unaccounted-for cash, which they believe could be black money, if they follow these transactions and deposits.
Spurious deposits made after the demonetisation saga in November 2016 could very well account for the spike. This trail of 'suspicious transactions' and dubious deposits could provide valuable information to the authorities in tracing unaccounted money. The government and the RBI would do well to follow this trail of suspicious transactions.
The RBI's report also mentioned the risks of farm loan waivers and their impact on credit discipline and the overall economy. As per RBI estimates, the total loan waivers announced during 2017-18 till 2 August amounts to 0.4% of GDP.
However, the central bank added that favourable domestic factors such as a pick-up in discretionary consumer spending and robust government spending will quicken economic growth in the current fiscal year.
Note that GDP growth, has steadily declined every quarter from the eye-popping 9.1% reached in the March 2016 quarter to a tepid 6.1% in the March 2017 quarter.
With the RBI signaling a turnaround in economic growth, it will be interesting to see whether the GDP numbers (expected to be released today) signal a long-awaited recovery.
After opening the day flat, Indian equity markets continued to trade down. At the time of writing, the BSE Sensex was down 81 points and the NSE Nifty was down 23 points. Sectoral indices are trading on a mixed note with the metal and telecom sectors leading the losses.
04:55

Today's Investment Mantra

'Investing is the intersection of economics and psychology.' - Seth Klarman

This edition of The 5 Minute WrapUp is authored by Richa Agarwal (Research Analyst).
Recent Articles