The Most Boring Way to Get Rich (Plus, an Easier Way)
Sep 5, 2017
In this issue:

» India's Top Business Groups: Aditya Birla Group Jumps to Third
» Is Gold Back in Demand?
» ...and more
I read annual reports of the company I'm looking at, and I read the annual reports of the competitors - that is the main source of material. - Warren Buffett
The economy is suffering.
Yet stock markets are rising.
How do we explain this mismatch?
Simple...
This is what happens when investors base their decisions on some macro-economic outlook.
Now, dear reader, it seems every time I write to you I confess something new. Last time, I made my hatred for fiction known. And the time before that, I admitted how annual reports used to make zero sense to me.
And so today, a new confession...
For better or worse, I am no expert on macroeconomics.
The media obsesses over macroeconomic events. But in all honesty, I just don't understand much of it.
Maybe that will change one day. Like how, despite my early difficulties with annual reports, I am now probably the biggest proponent of annual reports you'll ever meet.
It's ridiculous if you think about it. Most of us know, deep down, that reading annual reports is the best way to really know a company. Furthermore, most of us are fully aware that Warren Buffett spends most of his days reading annual reports.
Yet, though this path to billions is clearly marked, nobody actually reads annual reports!
It reminds me of Mark Twain's famous definition of a classic: '...something that everybody wants to have read and nobody wants to read.'
Everyone wants to have read an annual report but nobody actually wants to do it. Even those who do read annual reports often only go through the most recent year or two.
Why?
Let me be frank: Because reading annual reports sucks.
Even I find them boring at times. And I'm a chartered accountant!
The average annual report ranges between 150 and 200 pages. So if you read the reports going back at least a decade - which we strongly advise - that's 1500-2000 pages...per company!
Reading these things requires the patience of a saint...and even that may not be enough.
Because of regulatory requirements, annual reports often contain loads of financial data that require professional expertise to interpret.
Now, let me ask you something.
How would you define a 'good' annual report?
Is a well-presented document containing lots of pictures and relatively easy-to-understand language 'good'?
If you're not sure, consider these lines from a former market darling that gave an astonishing return of 11,367% in 2007-08...
Temptation is the root of all possibilities in life. There is no morality attached to it. Without temptation, there would be no progress, advancement, or growth.

Temptation is a sensuous experience. It is perceived via the gateways of sight, hearing, smell, touch, and taste. Temptation is one of the most fundamental of perceptions, and it is symptom of life as we know it. I am, therefore I am tempted.
These alluring lines come from a company called Temptation Foods.
Their annual reports are far from boring with their quote-worthy prose and glamorous shots of 'tempting' models.
Their reports seemed to have everything...except a concrete discussion of the business.
No wonder the company filed for bankruptcy in 2012.
This is why you not only need to read annual reports; you need to know how to read annual reports. You must be able to differentiate the good from the bad.
Warren Buffett specialises in deciphering boring annual reports. In fact, all our super investors read annual reports inside out.
The Smart Money Secrets team are gluttons for punishment.
Okay, that might be an overstatement. But the truth is we don't mind reading annual reports. Some of us even enjoy it.
But whether we do it for the benefit of our subscribers or because of the guilty pleasure we take in reading them, we all agree: Reading annual reports is a non-negotiable for our stock picks.
Of course, we know most retail investors don't have the time - let alone the patience or masochistic disposition - to read tens of thousands of pages of annual reports. Most 'professional' stock pickers don't even have the stomach for it.
But like Buffett and Munger, we see it as our job. We do it full time. And as long as it keeps our subscribers ahead of the curve, we'll keep turning the pages.
It may not be as exciting as looking at macro events and betting big on market trends...
But in the end, what's more exciting: Huge losses from an fun macro idea...or solid gains from a profitable company?
If you prefer the latter, somebody's going to have to put their head down and trudge through those annual reports.
So, why not let us do it for you?
Seriously, we don't mind.
Editor's Note: Kunal and team are busy reading decades' of annual reports in preparation for their next Smart Money Secrets service recommendation. But before they recommend anything, the team will travel to for management meets. This is another non-negotiable for the team. Because other than reading the reports, there's no better way to know a company than by travelling to their offices for a face-to-face meet.
Meantime, our marketing department has just opened the service to new subscribers for a short time only. If you aren't yet tracking the smart money in India, you can sign up for this unique service now. But remember, once the service reaches its quota, new subscriptions will closed immediately. Take advantage now.
03:30

Chart of the Day

We weren't big fans of Aditya's Birla Group's mega restructuring exercise a few months back. We didn't believe the deal benefited minority shareholders. It only seemed to add layers of confusion and complexity to a bunch of unrelated businesses.

But that's all in the past now, as the listing of the group's financial services holding company has catapulted the group to third on the list of India's most valuable business groups.

What's more, Aditya Birla is only the third business group to surpass a US$50 billion market cap.

Aditya Birla Capital, the group's financial services arm, listed on Friday at a market value of US$8.5 billion (cement major UltraTech sits atop the group's pecking order with a market cap of US$17 billion).

With the exception of Tata Group (down 2%), the current bull run has seen the market value of all top business groups jump appreciably. Vedanta Group saw the biggest jump, up 64% compared to a year ago.
India's Top Business Groups: Aditya Birla Group Jumps to Third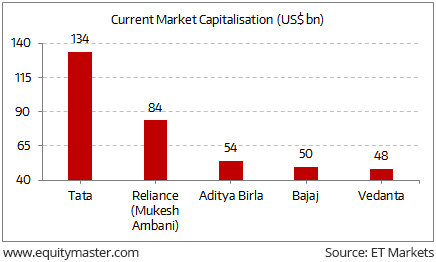 In the din surrounding bitcoin, everyone seems to have forgotten the inspiration behind the digital cryptocurrency. Yes, we are referring to the yellow metal - gold.
But it looks like the rise in political instability has brought the gold bugs out of their fall-out bunkers. One of them, James Rickards, recently made arguably the boldest gold-price prediction in months.
Rickards says gold could go as high as US$10,000 an ounce. This is more than a seven-fold jump over the current price of US$1,330.
'The bigger picture, the one I'm looking at, is that gold hit an interim low on December 15, and it has been grinding higher ever since. It's one of the best performing assets of 2017,' Rickards said recently.
Rickards is clearly assuming the worst regarding the situation on the Korean peninsula. And he's not the only one talking about the impact war could have on gold prices. Ray Dalio, the billionaire hedge fund manager, echoed similar thoughts few weeks back: 'The emerging risks appear more political than economic, which makes them especially challenging to price in,' Dalio wrote recently.
He's advising investors to allocate 5-10% of their portfolios to gold. That's the same allocation we recommend our readers. We see gold as an excellent inflation hedge as well as a hedge towards any political or economic uncertainty. If your allocation isn't quite there yet, there may be no better time than now to add a little 'insurance' to your portfolio.
The Indian stock markets are trading strong today with the Sensex higher by 70 points at the time of writing. The Nifty was trading higher by 19 points. Amongst sectoral indices, Energy and oil & gas stocks were up the most. BSE Mid Cap and Small Cap indices were also higher by 0.5% and 0.8% respectively.
04:55

Today's Investing Myntra

"I read and think. So, I do more reading and thinking, and make less impulse decisions than most people in business. I do it because I like this kind of life." - Warren Buffett
Recent Articles