7 Stocks to Buy in the Market Today
Sep 5, 2019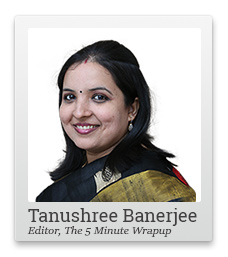 The 2020 Olympics event is just a year away. Sportsmen from more than 200 countries will be battling to win a medal for their country. For us viewers, it's a great spectacle to watch multiple sports at one place.
One sport that I am particularly interested in is the 100-meter sprint. Eight athletes running in a straight line and done in 10 seconds. The simplest sport to watch.
I am fascinated though by the whole process these 100-meter athletes go through. Imagine training for years to perform for 10 seconds every four years. In that moment, every second counts. The athlete must get everything right from start to finish. A small mistake and your four-year effort will count for nothing.
Like the 100-meter race, every few years, such a window opens in the Indian stock markets.
A window where the bull run starts taking stocks higher. The past two years has been like a training exercise for the Indian retail investor.
Corporate governance issues, long-term capital gains tax, NBFC crisis post IL&FS has all been like a tough training session.
Since the start of the downturn (15 Jan 2018 - 3 Sep 2019), while the Sensex is up by 5%, mid and smallcaps are down by 27% and 38% respectively.
A look at history shows us a similar pattern occurred in 2010.
Market Uptrend Versus Downtrend Cycle
| Period | Sensex | Midcap | Smallcap |
| --- | --- | --- | --- |
| 10 Nov 2010 - 3 Sept 2013 | -12.7% | -39.6% | -53.8% |
| 4 Sept 2013 - 12 Jan 2018 | 86.3% | 240.3% | 282.2% |
A period of downturn stretched from 2010 to 2013. Then the window opened post September 2013 and continued for four years.
Is the window about to open now?
The exact time is anyone's guess. But like 100-meter athletes, you've trained hard and not given up during the downturn. Now, you're ready for your 100-meter dash.
The result of your 10 second race will be the quality of the stocks that you choose. Start with the right kind of businesses and you will finish ahead of most in the race.
How am I preparing for this race, dear reader?
Well, through the trends that I've identified for the long run. I believe, that if I get the trend right, I have won half the race. These are trends I believe will play out over the next decade.
I'm talking about trends like the focus on financialisation, urbanisation, and exports. These are trends that will transform the Indian economy in a big way going forward.
I call this transformation the Rebirth of India.
With a firm focus on these trends, I have zeroed in on 7 stocks. These are stocks that I believe will benefit the most when the trend plays out.
Chart of The Day
How do you identify a growing trend?
Two major factors define a trend worth looking for. Under-penetration in its existing market compared to global trends and a huge potential market size.
One trend fits both these criteria's perfectly. India's growing e-commerce spend.
Online retail sales in India is close to US $30 billion as on FY19. Despite this, only 4.8% of total retail sales happen online. Only 10% of internet users in India are active (making at least one purchase a month).
Long Growth Runway for E-commerce Sales in India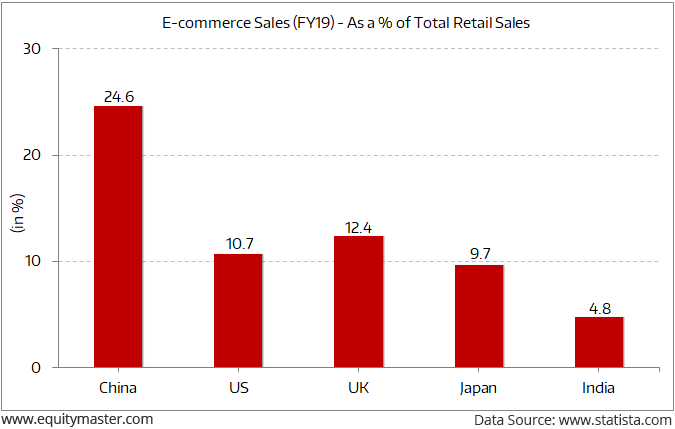 This is much lower than countries like China (24% e-commerce sales) and US (11% e-commerce sales).
The trend though is on the rise. In 2014, e-commerce sales formed just 0.8% of total retail sales. With rapid urbanization and increased internet penetration, this number will only increase going forward.
Will e-commerce firms be the only ones to benefit from this megatrend? I don't think so.
Retail companies, banks, NBFCs lending to retail customers will benefit in a big way from this trend.
That's what I have focused on in my 7 stocks list. Businesses that might or might not be direct beneficiaries but will stand to gain.
Warm regards,



Tanushree Banerjee
Editor and Research Analyst, The 5 Minute WrapUp
PS: I believe it's the perfect time to buy my pick of the best 7 stocks in the market today. Read more about these 7 stocks here...
Recent Articles