I Picked Voltas Over Thermax With This One Simple Idea
Sep 10, 2019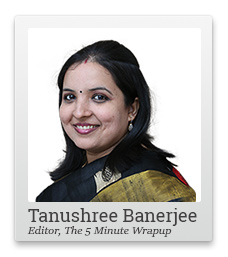 It was 2006.
We were to choose between Thermax and Voltas for an upcoming recommendation.
Both had strong order books. We had met both the managements and felt confident about their capital allocation skills. Both had excellent financials.
Add to that a stellar GDP growth and peak demand.
--- Advertisement ---
FREE Event on Equitymaster's New Project

On May 17, we are holding a FREE event to reveal Equitymaster's Great Indian Wealth Project.

At this event, we'll reveal the details of your first stock for a potential Rs 7 crore in long-term wealth.

Seats for this event are filling up fast.

Since there are limited seats, we urge you to register at the earliest.

Click here for free sign-up
------------------------------
India's GDP growth had been the highest ever for a few quarters. Better economy meant more infrastructure investments. So naturally, capital goods companies like Thermax and Voltas had order books several times their capacities.
We knew that Thermax and Voltas would both eventually create wealth.
But Rahul Shah and I kept debating the potential recommendation for days just to make sure we were not blinded by the historical performance.
Finally, Rahul in his trademark style, threw the gauntlet...
We know the similarities between the two businesses. What is the difference?
He drew my attention to a small bit of information on Voltas. It enjoyed a replacement demand on its key product which Thermax didn't.
Discover Now: One Stock for Potentially Life-changing Gains
It may seem unreasonable to turn down a stock only because of lack of replacement demand. But Rahul's rationale was bang on.
The companies were enjoying stellar demand for the products at that point. However, that was unlikely to continue forever.
We knew when the economic cycle turned, Voltas would do far better than Thermax.
The replacement demand was less than 20% of Voltas' sales in 2006. Also, we were banking on less than 20% of the research we had done on both the stocks.
But Rahul's focus on the 20% worked wonders and how! Thermax underperformed Voltas on almost every fundamental parameter in a few years.
--- Advertisement ---
How to Earn a Fortune in Gold, the Smart Way

Gold is on 'the verge of a decadal run' says Vijay Bhambwani, India's #1 Trader and Editor of Fast Profits Daily at Equitymaster.

He says gold has the potential to generate staggering gains in the coming years...And those who are betting on gold right now will hit the jackpot.

But wait.

While gold is an attractive investment destination, there's a very specific way to play this opportunity...

A way that ensures you rake in maximum profit and perhaps hit the jackpot...while minimizing potential pitfalls. Thankfully, Vijay - India's #1 Trader - can guide you step-by-step in the upcoming gold rush and help hit the jackpot just at the right time.

Sure, you don't want to be an average trader. That's not how you make a fortune.

Here's how you can get Vijay's guidance...
------------------------------
The Pareto Principle, or what we commonly call the 80-20 rule, has been Rahul's core success formula for the past fifteen years.
Had it not been for his trait in identifying the most crucial 20%, finding success in the murky world of microcaps and penny stocks would have been impossible.
His sharp focus on the crucial 20% allowed Rahul to sidestep the pitfalls of risky microcap stocks.
Not just that. His razor-sharp systems are modelled to keep every bias away from impacting his 20% rule.
So, everyone out there may believe that buying microcaps and penny stocks is akin to speculating.
But the commendable track record of Rahul's 80-20 rule could surprise even the biggest naysayers.
Recently, when Rahul told me about his new project - Automatic Income, I knew it was once again the 80-20 rule at play.
Like Rahul says...
80% of the wealth we create comes from 20% of the decisions we make.
He is eager to teach his new strategy to anyone who desires to increase his monthly income.
I strongly recommend you register for Rahul Shah's Automatic Income videos.
Warm regards,



Tanushree Banerjee
Editor and Research Analyst, The 5 Minute WrapUp
PS: Rahul Shah, Co-head of Research at Equitymaster, has an exciting money-making proposal for you! No matter how much you earn per month, Rahul will show you how to make much more in a reasonable period of time. Read more about Rahul's strategy here...
Recent Articles