The Link Between the Rs 10 Billion IL&FS Default, the Next Lehman-Like Bankruptcy and My Latest Recommendation
Sep 11, 2018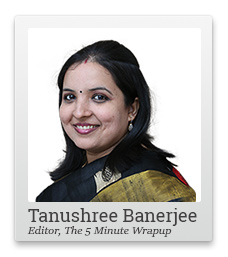 On the 15th of this month, it will be ten years since the collapse of Lehman Brothers. Lehman's bankruptcy unleashed the biggest global market crash in recent history.
We told our Wrapup readers then, this crisis was a 'once-in-a-century' kind.
Western economies nearly imploded from the bursting of the subprime bubble.
The US dollar was broken.
The US and European housing markets were battered.
Stock markets globally were bleeding. You could buy the stock of Fannie Mae, the backbone of the US housing finance market, for less than one dollar: 72 cents.
Investors knew they would have to lick their wounds for many years.
A bond bubble may not sound as fancy as a tech bubble or a housing bubble. But it dwarfs the other two in size. And could be catastrophic on bursting.
Today, ten years later, even as the interest rates move up gradually, bond markets are feeling the tremors.
The level of sovereign and corporate debt globally has moved to unprecedented levels. And their bailout, this time around, seems impossible.
India, meanwhile, is rightfully assumed to be relatively free from excessive debt. Today's chart of the day has more on this. But that does not mean the quality of existing debt is great.
Public sector banks' NPA troubles may be stale news. But the threat of Lehman-like bankruptcy looms large in India too.
--- Advertisement ---


A Method That Doesn't Take YEARS To Grow Investors' Money…

The fact is, most stock market strategies take YEARS to grow investors' money.

But what if a person needs the returns fast for some reason?

A method revealed by research analyst, Apurva Sheth, has the potential to generate returns in a fairly short time. And that too, from some of the best companies in the market.

Yes! To find out all about that method, just click here…
------------------------------
Infrastructure Leasing & Financial Services (IL&FS) recently defaulted on a Rs 10 bn loan from SIDBI.
Its subsidiary defaulted on another Rs 5 bn. This is the first instance of an infrastructure development and finance company with pan-India presence, defaulting on its debt.
The irony is that IL&FS was rated 'AAA' until the first week of August 2018. It was only a few weeks before the default that its rating agency realised the need to downgrade IL&FS.
Now, rating agencies were in limelight post 2008 crisis too. Some sweeping reforms were brought in to make them more accountable for the change in ratings.
In India, the stock market regulator made amendments to the Credit Rating Agency Regulations in 2011 and again in 2017.
In fact, thus time around it asked rating companies to downgrade any company to 'junk' if it misses loan repayment.
That was part of India's war on over Rs 8 trillion non-performing assets (NPAs) in the banking system. To prevent any conflict of interest, the RBI also proposed that the rating agencies be paid from a fund to be created out of contributions from the banks and the RBI.
--- Advertisement ---


One Would Be A LOT Richer Today If He Had Done THIS Earlier…

Majority of investors out there think about investing in companies like Titan, MRF and Pidilite only after they've turned big. But for a second, imagine a person had invested in them when they were small and relatively unknown.

Yes! Doing that back then would have made him a LOT richer today. But it's not too late yet.

In our latest special report we unveil 3 small companies that have taken the market by storm and are well on their way to becoming blue-chips in their segments. So don't let this opportunity go.

Click here to find out how you can get our latest report containing full details on these 3 stocks and more for virtually FREE!
------------------------------
Making rating agencies the watchdog of the quality of bank loans has clearly made them more systemically important and accountable.
The rating agencies have clearly made a big comeback.
My latest StockSelect recommendation tells you how to profit from this.
On 11 September 2008, Equitymaster's founder, Ajit Dayal, wrote a very interesting account of what the US and the world looked like seven years after the 9/11 tragedy.
He will write to you again very soon. Await his tell-all account of what the world, particularly the US and India, look like 10 years after the Lehman collapse.
Chart of the Day
The economies that were already at the brink of sovereign default in 2008 haven't done much better of late. But countries like China, which have doubled their debt obligation in the past decade, have added to the pressure.
But you would be wrong to assume that it's only the governments of these economies that have the debt problem. Rather it is corporate and individuals too that are heavily in bad debt.
India hasn't really joined this bloating empire of debt. It's among the few economies which has seen its overall debt to GDP fall in the past decade.
Nevertheless, after the oil and currency contagion, the global debt contagion is going to hurt all emerging markets alike. Including India.
India Hasn't Joined the 'Empire of Debt' in the Past Decade
Warm regards,



Tanushree Banerjee (Research Analyst)
Editor, The 5 Minute WrapUp
Recent Articles