This Company Will Do Well Despite the Slowdown
Sep 11, 2019
Is the current slowdown cyclical or structural?
Will India become the world's fastest-growing economy again?
Will auto sales revive?
Is the consumption story over?
There's a lot of attention paid to the economic slowdown.
Everyone is talking about it.
Media. Economists. Investors. Company management...and even the local paanwala too.
--- Advertisement ---
Ex-Swiss Investment Banker Reveals His Biggest Investment Strategy in 4 Free Video Classes

Rahul Shah, ex-Swiss investment banker and Co-Head of Research at Equitymaster, is hosting a series of 4 free video classes for his readers, where he will reveal the details of something he's been working on for years…

The Double Income Project…

Rahul will show his readers, step-by-step, how to dramatically increase their income, potentially even double it…in what he believes is the earliest amount of time possible. a few short years.

For instance, if you make Rs 50,000 a month…Rahul's goal is to show you how to take it to Rs 100,000 in the long run.

Or if you make Rs 100,000…Rahul will show you how you could potentially increase it to Rs 200,000 in the long run.

This is different from anything Rahul Shah has ever done before – there's nothing to pay, no service to subscribe to and no forms to fill to attend these classes.

Just click here to sign up for the free video classes.
------------------------------
Even the latest annual report of the RBI confirmed the Indian economy has indeed hit a rough patch. India's GDP growth slipped to 5% in the first quarter of FY20, the lowest in over six years.
Auto sales have collapsed. Consumers aren't spending as much as they were before. The manufacturing sector is also struggling.
No doubt, the Indian economy is going through some tough times.
But that's just one side of the story. All is not lost.
As I wrote earlier,
We are looking at the economy from the near-term perspective. That's why the picture doesn't look rosy.

But when you look at the economy and the market from a longer-term horizon, the picture looks very different.
When I see the economy from a long-term horizon, I see several big trends playing out. One of the major trends I am positive about is financial inclusion.
And it's visible to everyone.
The Double Income Project: The Lazy Man's Guide to Doubling Your Income in The Long Term
Have you seen a Paytm stricker on your local vegetable vendor's cart?
Or auto/cab drivers with a PhonePe account?
Or kirana stores with a BHIM account?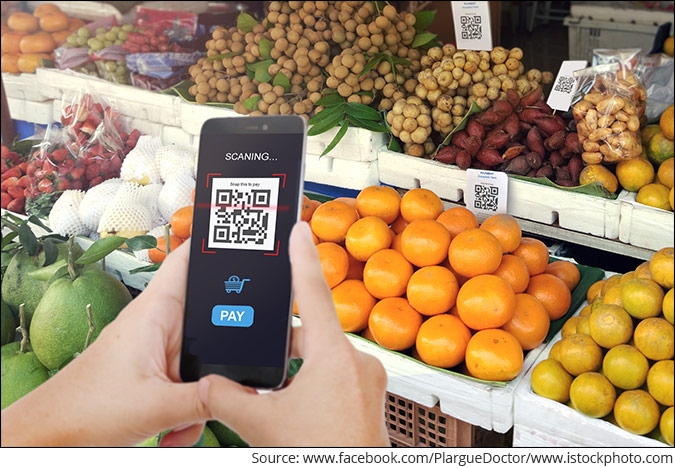 Now, they are part of the mainstream financial system.
Financial inclusion provides access to financial services. These include payments, credit, insurance, and savings. It is the key to participating in a modern economy.
I believe, financial inclusion is a very important element of India's economic growth. Consider these numbers...
In the last four years, 368 million new Jan Dhan bank accounts have been opened.
More than 290 million Rupay debit cards have been issued to account holders.
These accounts have collectively more than Rs 1 trillion in them.
And now, the use of digital payments is also rising significantly.
--- Advertisement ---
Watch this Video Now And You Will Stop Worrying About Money...

If you are concerned about money, then you MUST watch this exclusive video right now.

Because in this video, Richa Agarwal, Head of Small Cap Research, talks about stocks that have made a select group of people Crorepatis.

They invested in just one stock and ended up becoming Crorepatis in the long run.

In this video, Richa also reveals her unique formula to identify such potential RARE stocks.

Plus, she also discusses her special report, 'One Stock Crorepati: How to Get Rich With This Little-Known Indian Stock'.

This video is now available for your viewing...

This video could be taken down any time soon. So, hurry…

Click here to watch the video right away…
------------------------------
This was possible due to a series of financial inclusion measures taken by the government.
These include Aadhar, no-frills savings bank accounts called Jan Dhan, and a digital payment infrastructure called BHIM.
While financial access does not guarantee financial engagement, it acts as a strong incentive to join the mainstream financial system.
A basic deposit account opens the door to trying out other banking services, such as NEFT, credit cards, etc.
Financial inclusion has other benefits too...
It inculcates the habit of savings.
It offers a secure way to directly transfer money as opposed to physical cash payments.
It fosters an entrepreneurial spirit.
I believe, financial inclusion will surely lead to the next revolution of growth and prosperity.
And it will happen despite the current economic slowdown.
How to Take Your Income from X to 2X in the Long Run
Now, there are many ways to play on this particular theme.
But in Smart Money Secrets, Radhika and I chose the safest way possible.
We picked a company which is an attractive way to play the capital market growth story as well as financial inclusion.
The company operates in a duopoly business environment. That means there are just two players and there's almost no chance any new player will be granted a license.
Now, here it gets even more interesting.
Our recommended company is gaining market share within the duopoly.
Our Recommendation is Gaining Market Share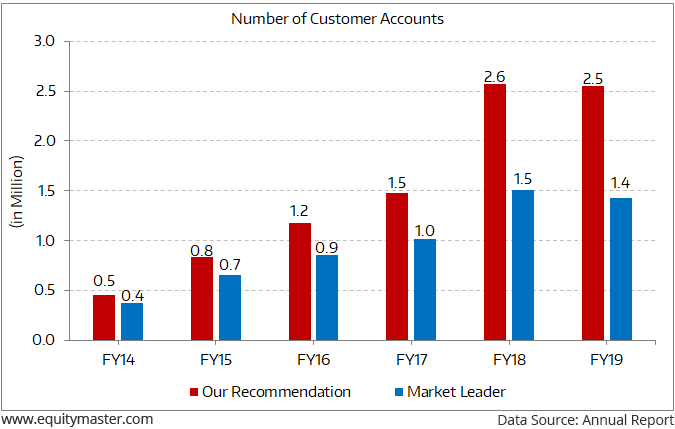 The company's market share has increased from 40% in FY14 to 48% in FY19.
And it still has is a long runway of growth ahead of it.
Historically, India's household savings have been in real estate, gold, etc. However, there is a gradual shift towards the equity market.
That's the big picture.
When you look at the company's financials with a microscope, the story gets even better.
The company follows an asset-light business model. That means it has only a minimum requirement of capex to bring in the additional sales and profit.
In other words, it's a cash-generating machine.
It also scores very high (8.7/10) on our Smart Money ScoreTM.
The market correction has provided an excellent opportunity to enter this stock.
Super investor - Rajeev Thakkar of PPFAS Mutual Fund - is also increasing stake in this company.
From the current price, the stock has an upside of 72%.
This stock is a part of our latest premium report - Stock Alert: Our Top 5 Stocks to Buy Now.
Radhika and I believe these 5 stocks have massive wealth building potential in the long-term.
If you have subscribed to Smart Money Secrets, you can click here to download the report.
If you haven't subscribed to Smart Money Secrets yet, you can sign up here.
Warm regards,


Sarvajeet Bodas
Co-editor and Research Analyst, Smart Money Secrets
PS: Dear reader, Rahul Shah, Co-head of Research at Equitymaster, has an exciting money-making proposal for you! No matter how much you earn per month, Rahul will show you how to make much more in a reasonable period of time. Read more about Rahul's strategy here...
PPS: Radhika and I recently published a premium report on our top 5 stock recommendations for our subscribers. If you haven't subscribed to Smart Money Secrets yet...you can do so here.
Recent Articles