What is Chauffeur Knowledge Doing to Housing Finance Stocks?
Sep 15, 2017
In this issue

» The untapped potential in non-life insurance
» Coal India gears up for disruption
» Market Update
» And more...
Housing finance is one of the most secure business models.
I wrote this in The India Letter recommendation report in October 2014.
Since then stocks of housing finance companies have sold like hot cakes. Stocks of HDFC, Gruh Finance, CanFin Homes and LIC Housing gained between 75% to 540% in the last three years.
But what is it that drew investors to these stocks?
Their unique moat.
[Economic moat - a term coined and popularized by Warren Buffett - refers to a business' ability to maintain competitive advantages over its competitors in order to protect its long-term profits and market share from competing firms.]
Businesses can acquire moats like strong brands, distribution networks, etc, with money. But some moats, like the ability to cater to the most un-bankable population, can only be acquired with experience over time.
Most banks didn't see the opportunity in housing credit until it was too late. Plus, they shy away from lending to an unbanked population. Meanwhile, specialized housing finance companies cashed in on the latent demand for housing credit in smaller towns.
While their growth has been spectacular, housing credit in India is still less than a fifth of total bank credit. We are clearly nowhere close to a housing bubble.
The opportunity is huge. The rise in the housing finance stocks, therefore, is no surprise.
What should surprise you, instead, is that plenty of brokers and experts are endorsing the housing finance story without knowing the risks.
And their chauffeur knowledge can have disastrous consequences on housing finance stocks.
In his speech at the 2007 commencement to the USC Law School, Charlie Munger, explained 'chauffeur knowledge':
I frequently tell the apocryphal story about how Max Planck, after he won the Nobel Prize, went around Germany giving a same standard lecture on the new quantum mechanics. Over time, his chauffeur memorized the lecture and said, "Would you mind, Professor Planck, because it's so boring to stay in our routine, if I gave the lecture in Munich and you just sat in front wearing my chauffeur's hat?" Planck said, "Why not?" And the chauffeur got up and gave this long lecture on quantum mechanics. After which a physics professor stood up and asked a perfectly ghastly question. The speaker said, "Well, I'm surprised that in an advanced city like Munich I get such an elementary question. I'm going to ask my chauffeur to reply.
Munger goes on to explain that there are two kinds of knowledge: One is what he calls 'Planck knowledge', that of the people who really know. They've paid the dues, they have the aptitude.
Then we have 'chauffeur knowledge'. They have learned to prattle the talk and know how to make a big impression. But in the end what they've got is chauffeur knowledge masquerading as real knowledge.
True value investors spotted the opportunity in housing finance stocks three years ago. And like some of our subscribers, they enjoyed the upside in growth and valuation of these stocks.
But brokers and so-called experts still looking to milk the housing finance thesis cannot be more wrong.
Housing finance, as a sector, will continue to grow. But with almost every bank and non-bank company taking a share of the pie, the space is now saturated. Only few will make profits or sustain credit quality. In fact, rating agencies can already see the credit quality of housing loans worsening.
Investing in fully priced housing finance stocks, at the current juncture, therefore, is no better than listening to your chauffeur.
Editor's Note: When the market goes one way, you need to know when to turn around and go the other way...
This is what smart contrarians like Warren Buffett do. These guys make it look easy, but contrarian investing...smart contrarian investing...requires a level of discipline and fortitude that most investors simply lack.
Starting next week, we will show you how to approach the markets like a smart contrarian. Stay tuned...
03.00

Chart of the Day

Despite being the second most populated country in the world after China, demand for risk cover products remains low. As per Crisil Research, the non-life penetration in India is among the lowest with premium income forming 0.8% of the GDP in 2016. This is quite low as compared to the global average of 2.8%. In fact, India lags behind China and Brazil, each having non-life insurance penetration of 1.8%. As per Swiss Re, India is the fifteenth largest market in the world and fourth largest market in Asia.
Non-Life Insurance Penetration in India is Woefully Low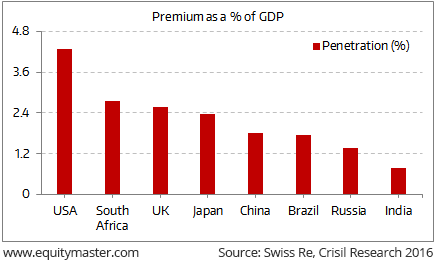 The non-life insurance sector in India is valued at Rs 1.28 trillion and has been growing at a compounded annual growth rate of 17.4% in the last 16 years. Demand drivers such as rapid urbanisation, rising disposable income, increasing risk awareness emergence of new risks such as cyber frauds and regulatory focus on improving insurance coverage are expected to accelerate growth ahead.
So it hardly comes as a surprise that the insurance industry is actively seeking to capitalise on the current IPO frenzy. After ICICI Prudential got listed last year, a number of both life and non-life insurance companies have lined up their IPOs this year.
Speaking of IPOs, ICICI Lombard General Insurance Company's initial public offering opens today. It is among the first life insurance companies to commence operation in 2002 and is the market leader among private sector players. Is the IPO worth considering? Does the company have strong fundamentals? What about valuations and growth potential? Equitymaster Insider Ankit Shah has the answers.
To know more, get on the Insider list now.
The coal sector is beginning to feel the heat of the government's growing thrust on renewable energy. Therefore, to tide over the growing pressure from renewable energy, the country's largest coal producer, Coal India is looking to become a full-fledged mining company. As per the company, mining is its strength and it has the competence to expand into mining of various natural resources such as iron ore, bauxite, copper, and nickel.
Even the Union government has reduced the FY18 production target for the mining behemoth from 660 million tonnes to 600 million tonnes due to sluggish demand. Coal India is on the look out to acquire new mines in India and Africa to become a diversified mining player. It remains to be seen how quickly Coal India adapts itself to the changing landscape in the country's energy mix in order to remain relevant.
Indian equity markets opened the day on a flat note after North Korea fired another missile over Japan into the Pacific Ocean. At the time of writing, BSE Sensex was trading lower by 23 points and NSE-Nifty was lower by 14 points. Both the mid cap and small cap indices are trading down by 0.2% and 0.1%, respectively. Stocks from the power and metal sectors are the major losers.
04:56

Investment Mantra of the Day

"Be fearful when others are greedy, and greedy when others are fearful." - Warren Buffett

This edition of The 5 Minute WrapUp is authored by Tanushree Banerjee (Research Analyst) and Madhu Gupta (Research Analyst).
Recent Articles