In Just 5 Minutes: Timely Ideas to Build Timeless Wealth
Sep 21, 2017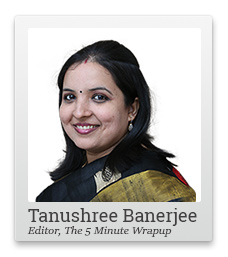 When I write a book on investing, I'm definitely not calling it: Perks of Safety First Investing.
If I do, you probably won't bother reading it.
The very concept of making money safely is boring. Who ever became a billionaire by investing safely?
I'll tell you who.
Ever heard of Warren Buffett?
An article or book with 'safety' in the title will never make it as a bestseller. But safety-first investing works...
After all, Benjamin Graham's Intelligent Investor is not about raising an investor's IQ. It's all about margin of safety in investing.
But if it was called Safe Investor, there is a chance that 19 year old Buffett would not have picked it up, and the genius of value investing would have been lost in the pages of history.
So, safety may not be a bestselling concept. But there is no better proof than Buffett's endorsement of Intelligent Investor that margin of safety works.
In fact, it makes all the difference between the track record of an ordinary investor and someone like Buffett.
How Safety-First Investing Can Build Wealth
My understanding of safety started well before reading Intelligent Investor. In school, I learned that the human race is amongst the few to survive a million years. And that you first need to survive to thrive.
Later, books like Built to Last taught me that companies that learn to survive against all odds, also thrive.
I'm glad that the seeds of safety-first investing were sown early in my mind.
When I became an analyst, I began tracking what we call bluechip stocks. Years of tracking businesses with large market capitalisations from different sectors have given me a close up view of safety first investing. I watched as some huge companies, around for decades, lost it all.
Whether it was because of a failing sector...or irresponsible management... They just keeled over and died.
When I first became editor of a stock recommendation service, I was passionate about focusing on generating the best possible returns from bluechips.
But I never forgot that for my subscribers, the best bluechips are stocks so safe, they could retire with them if they wanted.
So, safety first investing became my passion - to look for businesses that would not just survive but thrive for decades. And my recommendation service, StockSelect, became known for its safe stocks that you could bet your retirement on.
The Perks of Safety First Investing
You, my reader, already knows of my long-lasting love for safety first investing.
But here's a secret I bet you didn't know: I actually love its perks more.
You probably don't think of investing approaches as having a lot of benefits. But they do. And of all other investing approaches, the safety first investing approach has the most desirable, and much sought after benefits. Such as:
It lets you sleep without worries.
It keeps you away from bad money, bad accounting, and of course, bad businesses.
It lets you focus on rare wealth building ideas that require patience and foresight.
It works the magic of compounding to turn moderate returns into compelling, and sometimes, mind-boggling wealth, over time.
With these perks, an investor can make the most from stocks across tumultuous market and business cycles.
On-Time Ideas Can Help You Build Timeless Wealth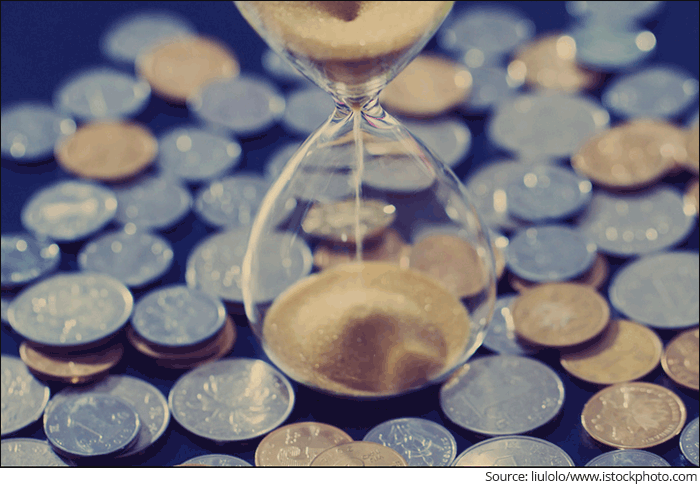 Fat Pitch Opportunities that Can Help Build Timeless Wealth
After a decade of pursuing safety-first investing, I realized that it is NOT just about fundamentals, and management quality, and valuations. There is so much more that makes stocks safe. There are...
Stocks that author Pat Dorsey calls 'emerging moat companies'. Business that get stronger every day and will eventually become companies that even Buffett would love to buy.
Stocks that have the huge tailwind of India's economic megatrend on their side. Buying them at the cusp of the megatrend offers immense upside over the decade.
Stocks that the little known but smartest investors in India are secretly tracking and buying. Their endorsement of the businesses and managements add an additional layer of safety to the stocks.
These are the rare ideas that can multiply returns from safety first investing, over decades.
I call them fat pitch opportunities.
And I make sure to devote my time to these to help you build timeless wealth.
Rest assured, my team tracks these opportunities closely and will share the most insightful updates in the 5 Minute Wrapup.
A Newsletter of Timely Ideas for Timeless Wealth
So I won't rename The 5 Minute Wrapup to The Safety-First Investing Newsletter.
That just won't do. But that's what you will be getting.
I will help you harness the most sought-after benefits of safety-first investing in my new role as the editor of The 5 Minute Wrapup.
So know that my newsletter, in only 5 minutes, will give you the timely that can build timeless wealth.
PS: You must have started receiving Rahul Shah's brilliant Smart Contrarian e-letter by now. I hope you are enjoying it as much as I am. One other thing Rahul Shah is doing now which is really exciting is a webinar where he reveals the 3-step secret formula he has used to build his extraordinary investing track record. I don't plan to miss it! I hope you don't either.
Today is the last day to reserve a seat so just click here and he will save a spot for you.
---------------
The Huge Potential in Life Insurance Sector
The life insurance industry in India began with, Life Insurance Corporation of India, which remained the sole player during the period 1956 to 2000. After the sector was privatised in 2000, several new players entered the arena. In terms of premium, the last decade witnessed growth at an annual rate of 8%. With 23 players, the life insurance industry in India is valued at Rs 4.2 trillion, based on premium (FY17).
But insurance protection in India remains grossly inadequate. This explains the huge protection gap of US$ 8.5 trillion for the country as of 2014. As per a Swiss Re report, India's protection gap stood at a staggering 92% and was the highest among all countries in the Asia Pacific. What this means is that for US$ 100 of insurance protection required, the country had insurance protection of a mere US$ 8 as of 2014. This is abysmally inadequate with a large part of the population still bereft of protection coverage.
Insurance Protection Deficient in India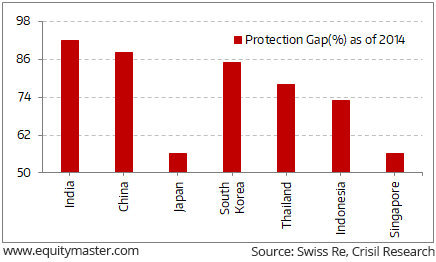 Undoubtedly, the life insurance sector has huge potential for growth. Additionally, factors such as increasing youth population, rapid urbanisation, expanding financial literacy, and higher government focus on financial inclusion and risk coverage will spur demand further for insurance products in the country.
Therefore, with the stock markets buzzing, insurance companies are also making a beeline to capitalise on the IPO frenzy. After ICICI Prudential got listed last year, a number of both life and non-life insurance companies have lined up their IPOs this year.
Speaking of IPOs, SBI Life Insurance Company's initial public offering opened yesterday. It is among the first life insurance companies to commence operation in 2001 and is the market leader among private sector players in terms of new business premium. Is the IPO worth considering? Does the company have strong fundamentals? What about valuations and growth potential? Equitymaster Insider Ankit Shah has the answers.
To know more, get on the Insider list now.
What the Markets Look Like Today
Indian equity markets opened the day in the green. At the time of writing, BSE Sensex was trading higher by 50 points and NSE Nifty was higher by 15 points. Both the mid cap and small cap indices are trading down by 0.3% each. Stocks from the pharma and consumer durable sectors are the major losers.
Investment Mantra of the Day
"Rule #1: Never Lose Money; Rule #2: Never forget Rule #1." - Warren Buffett
Recent Articles