Smart Money Secrets: Perfect Mix of Conservatism and Aggression
Sep 23, 2017
The thing about being from a business family is that as savvy as we are about investing in business - we are decidedly un-savvy about investing in the financial markets.
I joined my family business in 2008. And while we occasionally put some money away in gold and real-estate - typical for any Marwari family - most profits were naturally reinvested in the business. Equities were never even considered an option.
I guess we thought stock markets were speculation while business is good sense and hard work.
I loved being part of my family business. I wanted to grow the business, modernise it, implement the best practices.
I would read books on business management and success stories of some of the great entrepreneurs in the world.
My first book was a small yet one of the most powerful book 'Who moved my Cheese' by Spencer Johnson, which was followed by 'Rich Dad, Poor Dad' by Robert Kiyosaki.
I also read Jobs and Apple phenomenon... the iconic Michael Porter and whatever his deal was...
And that is when I happened to chance upon the much-read Warren Buffett; and the concept of value investing.
I had taken a break from the business to pursue my CA, and was now due to re-joining the business with my expanded set of skills and expertise.
But I was...shall we say, derailed?
After reading Warren Buffet, I had to read Charlie Munger. Then Phil Fisher, Benjamin Graham... I hungered for more.
So I started reading value investors in India.
Sanjay Bakshi, one of my super investors, became the Dhronacharya for the Eklavya in me.
My passion for my family business grew and evolved into a desire to learn and understand the economics of businesses.
The more I read about businesses - even annual reports, which most people consider mind-numbingly boring - the more I was drawn in.
I wanted to own many businesses - not just the one.
That was my Aha-moment! I realised what I wanted was to be in the equity markets.
I discovered and subscribed to a brilliant value investing newsletter - The 5 Minute Wrapup!
Life is funny like that. I learned so much from The 5 Minute Wrapup, and now here I am writing to you about everything I have learned, hoping you will learn as much from it as I did...
The last year with Equitymaster has been very exciting. While my passion for finding interesting stocks has grown with every passing day, I am overwhelmed by the chance to help you, our subscribers, make better investment decision.
And I am on it!
Everything I learn, every fantastic opportunity I discover while wading in the depths of research, I will bring straight to you.
And will always, always, make sure that your wealth is protected while you invest.
After all, you know that Tanushree is a stickler for safety. She would never let me write to you under her banner if she didn't believe that my approach was aligned with her 'safety-first' investing philosophy. Her stamp of approval on my 'smart money' approach is validation of which I am extremely proud.
So, what is the 'smart money' approach then?
My approach is simple: My team and I track a list of 40 plus Super Investors with solid, long-term track records, to find the stocks they buy.
These super investors have seen multiple cycles of market, which gives them an edge over other market participants. They often bet on high risk and high return stocks.
While we like their passion for finding multibagger stocks, as noted, we are 'safety-first' investors.
And that's where the Smart Money Team applies its own proprietary tool - the 'Smart Money Score'.
Smart Money Score (Subscription Required) matrix, has the ability to select super stocks that have strong fundamentals and could potentially create huge multibaggers over the long run. The matrix screens out potentially fraudulent, or too risky, stocks.
The stringent matrix of Smart Money Score plays the dual role of capturing the upside and yet protecting the downside. It keeps you away from highly risky stocks, yet finds you opportunities to pick potential multibaggers.
I am super excited to take the legacy of The 5 Minute Wrapup forward along with Tanushree. And we promise to bring you lots of great, profitable, interesting ideas all the time.
PS: If you'd like to learn more about Smart Money Secrets or the pretty cool Smart Money Scoring matrix we created, you can find it here.
---------------
Pharma Sector On the Recovery Path?
At a point in time, almost every stock in the Pharmaceutical sector was considered a safe stock. You could just pick the top 5-6 companies from the sector and expect to make decent returns over a period of time.
But over the last two to three years, the pharma stocks have been anything but safe. In fact, the BSE Healthcare Index is down 24% in two years. In comparison, Sensex has gained 23% in the same period. Increased regulatory concerns in developed markets, pricing pressure in domestic and export markets have all contributed to lower growth expectations for the future.
Improved Domestic Growth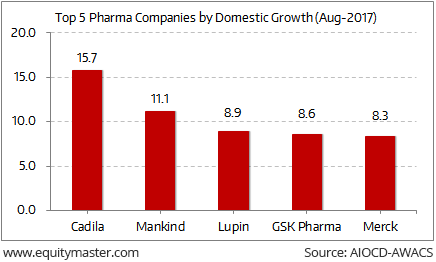 But the recent developments have been encouraging. Domestic growth seems to have bounced back post the GST impact. The Indian Pharmaceutical Market (IPM) which declined in July showed a 2.4% YoY growth in August.
Also, Pharma companies have seen a lot of clearances with respect to their manufacturing plants. Dr Reddys received a clearance for their formulation facility in Andhra Pradesh. Divis labs also received a positive response after the USFDA inspection of its Unit II facility at Vishakapatnam.
While the price erosion overhang still remains, positive developments in the domestic and export markets have come as a welcome relief. This downturn has also forced companies to relook at their business models and improve manufacturing standards at their plants.
Pharma companies which can adapt to these changes will thrive in the long run. The uncertainties highlight it important to be stock specific in the sector. It is crucial to look for companies with the competence and staying power to overcome the challenges.
What the Markets Look Like Today
At the closing bell, the BSE Sensex closed lower by 448 points and the NSE Nifty finished down by 157 points. The S&P BSE Mid Cap finished down by 2.7% while S&P BSE Small Cap finished down by 2.9%. Losses were largely seen in realty stocks, metal stocks and capital goods stocks.
Investment Mantra of the Day
"It's far better to buy a wonderful company at a fair price, than a fair company at a wonderful price." - Warren Buffett
Recent Articles