Apple vs Google: And the Winner Is...
Sep 26, 2017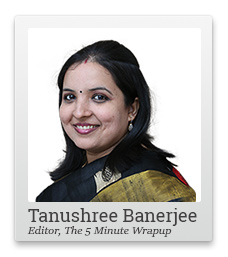 'Should I get an Android phone or an iPhone?'
My friend wanted a new phone for her birthday. She's a diehard Apple fan, but after the recent disappointing Apple unveiling, and Samsung's new range of especially tempting models, she was keen to switch.
Now, I normally tune out of all phone-related conversations. But when I heard why, in spite of all the new amazing Android phones, she decided to stick with Apple, I paid attention.
'It's just too much hassle transferring data from iOS to Android. Who has the time and energy for that?'
This got me thinking about Apple's moat.
A moat - something I often talk about here - is Warren Buffet's word for a competitive advantage of one business over another.
And Apple has many. It's got a strong brand and pricing power.
But this incident showed me another moat Apple's got under its belt. The moat of switching costs.
Switching costs refer to factors that make it difficult or undesirable for consumers to switch to the products or services of a competitor. These factors can be time, money, convenience, and so on.
If the switching costs are high, a firm can lock in its customers and charge them higher prices because it knows they'll be reluctant to switch to competitors.
Precisely why my friend, and many other Apple fans, stick to Apple. And why Apple can charge premium prices for its products and still find takers.
At this year's annual Berkshire Hathaway meeting, Warren Buffett was asked why he bought Apple and not Google in 2017. Especially since the legendary investor has recently shown an increased appetite for tech stocks.
Google, of course, is also a strong brand and dominates the online advertising space.
Here's what Buffett said he liked about Apple:
Apple is not really a technology company, but a consumer company.
Apple has its own eco-system. This creates a loyal community of users with high switching cost. So even if they might prefer some individual non-Apple device better, the ecosystem (iTunes, apps, etc.) keeps them with Apple.
Although he acknowledged the strength of Google's business, he just isn't sure about the certainty of Google's business from a long-term perspective.
And we know Buffett, like me, does not like uncertainty, but businesses with as many moats as possible.
Indeed, moats give visibility, they protect companies, and make them the kind of stocks that can build timeless wealth.
Apple ticks all the right boxes in this regard. And just like its customers, Buffett decided to stick to Apple.
My approach for ValuePro is exactly this. High certainty, strong moats. ValuePro, as you know, is my service that recommends Indian companies that even Buffett would love to buy.
Editor's Note: Strong businesses, wide moats, is the direct way to build classic wealth. But there is an unconventional way to wealth - the backdoor way. I'm sure you know there are wealth building strategies that can do wonders for your portfolio - if you just use them right - this report will show you how. Click here for a free copy.
---------------
Fresh Trouble Brews for Beleaguered Telecom Sector
With it's cup of debt burden woes already brimming, the telecom industry continues to battle the intense competition from new-entrant Reliance Jio. Recently, the TRAI reduced the interconnect usage charge (IUC) from 14 paise per minute to six paise per minute. IUC are charges paid by operator companies for voice calls terminating from a different operator's network.
The 57% reduction in IUC is the steepest drop till date. TRAI has proposed phasing it out the IUC by 2020. This is another blow for industry players, as India has one of the lowest IUC rates in the world. Globally, the IUC rates continue to be gradually phased out.
India has the Lowest Interconnect Usage Charge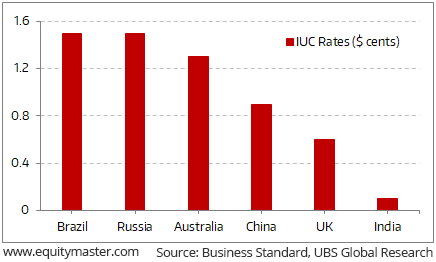 Coming back to the domestic telecom industry, the IUC rate cut is expected to adversely impact established players like Bharti Airtel and Idea Cellular. What this means is that these companies would no longer be able to enjoy additional revenues from having a large subscriber base thereby impacting their profitability and debt servicing capability. At the same time this development would entail significant cost savings for entrant Reliance Jio.
The bigger worry for the industry is that if Jio passes on the IUC savings to subscribers then it will further depress realisations for established telecom companies. Moreover, Jio would also be launching its 4G phone at competitive rates that would enable it to capture a large share of subscribers who use plain feature phones. This in turn is likely to intensify competition and put pressure on profitability of telecom companies further deepening the stressed loan crisis in the banking industry. The red flag in the telecom industry is being raised by none other than the country's largest lender, State Bank of India. As per the chairman of the bank, the telecom sector is undergoing a lot of stress and the bank is extra provisioning for this.
Housing Finance Under Spotlight
Another sector that can invite trouble from competitive pressure is the Housing Finance sector. The stocks of Housing Finance Companies (HFCs) have seen a dream run over the past few years. The sector still has a lot of latent demand in affordable housing that needs to be tapped. But unbridled expansion in the 'Loan against Property' (LAP) segment due to rising competition from banks is building up bubbles of risk in the sector.
LAP particularly in high-value loans against commercial property lacks the sense of ownership and emotional attachment associated with home loans. Naturally the lender faces a higher risk from from delinquencies in such loans. Moreover, LAP growth has also been hit by notebandi and GST.
To crack the whip on HFCs, the National Housing Bank is contemplating to cap the Loan to Value (LTV) ratio in case of LAP. LTV ratio is the amount of loan that can be advanced by HFCs against the market value of the property mortgaged with them. Presently there is no LTV ratio mandated for LAP with banks and HFCs lending upto 50-55% of the market value of the property. At times the LTV ratio can jump up to 80% where lenders take over loans from other lenders. Hopefully such a regulatory cap will help bring in sanity in the housing financing space.
What the Markets Look Like Today
Indian equity markets opened the day on a flat note and slipped in the red. At the time of writing, BSE Sensex was trading lower by 130 points and NSE-Nifty was lower by 41 points. Both the mid cap and small cap indices are trading marginally down. Stocks from the metal and realty sectors are among the few gainers.
Investment Mantra of the Day
Recent Articles