My Top 7 Safe Stocks Will Benefit from More than Just the Corporate Tax Cut
Sep 26, 2019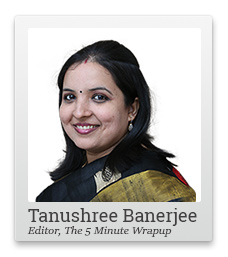 It was an early Diwali for the Indian markets last Friday.
The government's corporate tax rate cut came as a big surprise to many. The BSE Sensex was up 8.3% in just two days.
How many times has this happened in the last decade?
Zero.
It was the biggest two-day gain in the last 10 years.
--- Advertisement ---
"We Just Gave a Go Ahead to a Very Controversial Summit…"

We predict that a lot of people out there will NOT like us revealing the idea of "Rebirth of India".

And in the process, We fear that this MEGA SUMMIT initiative is likely to generate its fair share of controversy.

But…We have decided to go ahead with it anyway.

And that's because Senior Analyst and Co-head of Research, Tanushree Banerjee, has solid evidence that makes is very clear that…

The "Rebirth of India" is happening right now…

And here's why this is very urgent…

If you don't hurry up now, you stand to miss out a once-in-a-generation opportunity to potentially make a massive fortune.
------------------------------
The period just prior was one of doom and gloom. Everyone had written off the India story.
But not me...
I've been writing to you about my top 7 stock picks and how these companies will play a big part in the India story.
The average tax rate for these 7 companies was at 32.5% in FY19.
The new tax rate would have increased net profits by 10.8%. No doubt, a pleasant surprise.
But there is another benefit which I'm more excited about.
The media is talking about how the lower tax will benefit companies.
But very few are talking about the competition the tax benefits will bring in. The tax rates for setting up new companies is 15% now. A lot of private players will be interested in setting up new manufacturing facilities over the next 1 or 2 years.
--- Advertisement ---
Our Latest Report… (Download Free)

We at Equitymaster have just published this report…

Rebirth of India: The First Step to the Biggest Investment Opportunity of Your Lifetime

…it's perhaps the most important work we have published ever, yet.

We strongly urge you to download it…and read it right away.

After all, it has the potential to dramatically change your life…for the better.

Here's an additional benefit…

As soon as you download, we will also automatically block a seat for you at the Rebirth of India MEGA SUMMIT.

At the Summit, Senior Analyst and Co-head of Research, Tanushree Banerjee, will reveal full details about Rebirth of India… including specific opportunities to profit from it.
------------------------------
Imagine you have a business which doesn't have too much of an edge over your competition..
Now a new player comes up next to you and sells the same product. He can offer more competitive rates due to the lower tax he has to pay. Would your business survive?
This is what I believe will happen to 'run of the mill' companies. They will find it tough in the new environment.
But what about the ones that have established themselves over the years?
The businesses that are not easy to replicate? The companies which have seen many business cycles as well as competitors...and still come out strong?
These are the companies which will thrive. The tax rate cut will only add to their strength. They will compete better on price while offering more value to their clients.
These are safe stocks.
The 7 stocks I've picked for my StockSelect subscribers satisfy these criteria and more. They are well-established players. Most of them are in industries with limited competition.
And the biggest trigger for them...they will be a major beneficiaries of the India growth story.
The Indian economy is shifting from unorganised to organised players. We will see financialisation across the length and breadth of the country. Retail is another example.
These are just some of the trends that will play a big part in the Sensex 1,00,000 journey.
I believe my list of 7 stocks to buy are well positioned for this journey.
The tax cut is the icing on the cake. It has only made them stronger.
Chart of the Day
In the euphoria of the government's tax rate cuts, an important announcement went unnoticed.
The road transport and highways ministry has proposed a huge increase in re-registration of vehicles which are more than 15 years old.
The proposed hike will be implemented from July 2020. The policy change is aimed at reducing pollution by scrapping older vehicles on the road.
This might come as a welcome relief for automakers who have seen severe fall in sales over the past 1 year.
Signs of Revival in the Auto Sector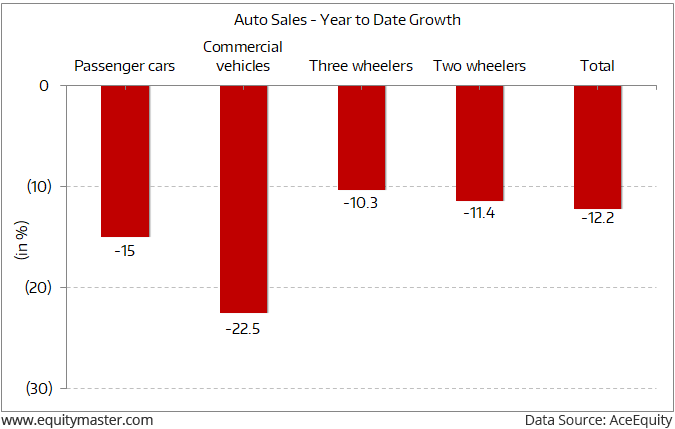 This is also reflected in the share prices of listed auto players. The BSE Auto index is down 35% from its peak in January 2018.
The upcoming festive season and the recent policy measures might just be the trigger needed to revive the sector.
A leading auto player makes it to my list of 7 stocks to buy.
I believe, rising disposable incomes and aspirations of India's youth, will be the key trends benefiting this market leader in the long run.
Warm regards,



Tanushree Banerjee
Editor and Research Analyst, The 5 Minute WrapUp
PS: I believe NOW is the right time to buy the best 7 stocks in the market. Read more about my top 7 stock picks here.
Recent Articles