The Market Correction Might Be Just Starting Due to the IL&FS Domino
Sep 27, 2018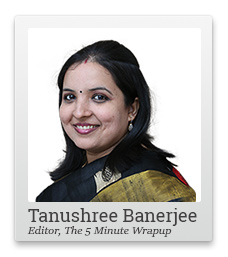 It was 2008.
I was chatting to the owner of a restaurant I'd been frequenting for years.
He looked glum. The restaurant which used to be full all the time looked unusually empty that day.
The food tasted the same. I couldn't see any new restaurant that had come up nearby. I asked him what happened. Why the sudden drop in business?
His answer: Lehman brothers. I was dumbstruck.
First, how did a restaurant owner know about the financial turmoil that was going on?
Second, how did a bankruptcy in the US impact his business in India?
He told me the employees of an IT firm near his place were the major source of his business. Very few of these employees were coming to his restaurant.
--- Advertisement ---


Where Would You Like Us to Send Your Virtually Free Book?

We hope you're among the readers who have already claimed their virtually free copy of Equitymaster's Secrets: 2018 Limited Edition.

If you still haven't – well, hurry – because we're running out of copies.

This is one of our most popular books on investing - in fact, an earlier edition of this book is still available on Amazon for Rs 1,450.

But if you act today, you won't have to pay Rs 1,450. You can claim a virtually FREE copy of this book, and have it delivered right to your doorstep (anywhere in India).

Just click here to tell us where to send your book.
------------------------------
One of them told him about the Lehmann crisis.
They had lost a big client due to the crisis. The IT firm was staring at a huge loss of business and had started laying off people.
That's why his restaurant had run into tough times.
This was the first time I'd witnessed the Domino effect first hand.
I recall this story because we could witness a similar effect due to the IL&FS default.
Infrastructure Leasing & Financial Services (IL&FS) recently defaulted on a Rs 10 billion loan from SIDBI.
Its subsidiary defaulted on another Rs 5 billion. It's the first instance of an infrastructure development and finance company, with pan-India presence, defaulting on its debt.
Will we see a domino effect similar to the one in 2008?
Indian companies have enjoyed non-stop liquidity in recent times. Fund flows from domestic investors have been at record levels.
With so much liquidity and chasing growth opportunities and PSU banks in the bad loans crisis, non-banking financial companies (NBFCs) stepped in and started borrowing short-term to lend long-term.
They succeeded in growing fast and grabbing a lot of market share. But now, with IL&FS defaulting, investors will be reluctant to lend to NBFCs.
Once liquidity dries up, these NBFCs will find it difficult to finance their business. Their costs for borrowing fresh funds will increase. This will badly impact their profitability.
Corporates too, will find it difficult to raise money from NBFCs.
Funding for infrastructure will take a hit. A slowdown in infrastructure growth means poor connectivity and slower pace of development of non-metro cities.
IL&FS has consolidated debts of close to Rs 1 trillion. Of which it has defaulted on close to Rs 10 billion. Imagine the domino effect if it can't pay the balance.
--- Advertisement ---


Buy This Book from Amazon at Rs 1,450…Or Get The Latest Edition Here Virtually Free

This is probably one of the most comprehensive books on investing you'll ever read…

In fact, it reveals the complete stock-picking strategy behind all our multi-bagger recommendations.

And it doesn't have anything to do with theoretical financial knowledge…you can easily get that from any other book.

Instead, this book reveals some of the biggest lessons and secrets we've learnt in our 20+ years of investing.

Now, if you go to Amazon you'll see an earlier edition of this book selling for Rs 1,450.

But we've recently updated and released a new edition – which you can get virtually free.

Here's how.
------------------------------
So if a restaurant owner blames IL&FS for his business slowdown, don't be surprised.
For a value investor, this is a typical 'be greedy when others are fearful' scenario'. Amidst the negative sentiment, I recently recommended a stock in StockSelect which I believe fits this criteria perfectly.
And if this panic continues, there are bound to be more quality opportunities with reasonable margin of safety coming my way.
Chart of the Day
A look at the share holding pattern of IL&FS underlines the scale of the problem.
Two of India's biggest entities comprise of the top 5 shareholders in IL&FS. LIC has a 25.3% stake. HDFC Ltd owns 9%. Along with Central bank of India (7.7%) and State Bank of India (6.4%), these entities own almost half of IL&FS.
IL&FS - Too Big to Fail?
That explains the determination of LIC to stop the situation from worsening further.
The chairman of LIC has hinted at increasing LIC's exposure to IL&FS.
IL&FS' long-term and short-term debt were recently downgraded to 'D' i.e. 'default' or 'junk' after it failed to repay its obligations.
In such a scenario, finding a buyer for its debt instruments will be difficult.
A lot of these loans to IL&FS were given by banks who till recently were grappling with NPA issues.
Adding all these stakeholders signifies how much is at stake on the revival of IL&FS.
Warm regards,



Tanushree Banerjee (Research Analyst)
Editor, The 5 Minute WrapUp
PS: Tanushree Banerjee is Equitymaster's co-head of research and editor of StockSelect. She has a long and illustrious track record of picking safe stocks. For over 16 years, StockSelect subscribers have received safe stock recommendations that delivered double and triple digit gains. You can receive Tanushree's safe stock recommendations by signing up here.
Recent Articles