This Super Cycle is Set to Accelerate the Rebirth of India
Oct 1, 2019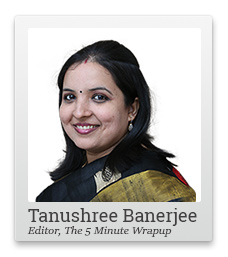 Iron Man, Super Man, Thor and Disney Princesses are being hauled in 20 feet containers.
Next to them are other containers. They carry diesel engines, x-ray tubes, inverters, and industrial products like xylene and ketone.
The container terminal at Tughlakabad, New Delhi, has had quite a few new customers over past few months.
One of them is Hasbro. It's a US based toy maker. It's known for its Transformers, Play-Doh, and Disney Princess merchandise. Hasbro, currently makes about two-thirds of its products in China. Much of that production is already shifting to India and Vietnam.
--- Advertisement ---
FREE Event on Equitymaster's New Project

On May 17, we are holding a FREE event to reveal Equitymaster's Great Indian Wealth Project.

At this event, we'll reveal the details of your first stock for a potential Rs 7 crore in long-term wealth.

Seats for this event are filling up fast.

Since there are limited seats, we urge you to register at the earliest.

Click here for free sign-up
------------------------------
So, the containers at the Tughlakabad terminal, will ship toys that are made in India, instead of China, to the US.
The volume of these shipments, compared to India's exports, aren't significant yet.
But they could grow manifold.
Why do I say that?
Well, the government has recently cut tax rates for new manufacturing capacities. The tax rates for new capacities in India are now amongst the lowest in Asia. And at par with that of countries like Singapore and Vietnam.
Discover Now: One Stock for Potentially Life-changing Gains
Which means a company looking to set up new manufacturing plant would find India as attractive as Singapore in terms of the tax benefits. The lower taxes would even encourage American companies like Hasbro to set up plants in India.
So, there could be many more companies manufacturing in India to ship the products to global markets.
But more importantly, the low tax rates are set to kick off a huge surge of capex among domestic companies. This could give birth to yet another capex super cycle.
Yes, you read that right! A capex super cycle beckons.
--- Advertisement ---
How to Earn a Fortune in Gold, the Smart Way

Gold is on 'the verge of a decadal run' says Vijay Bhambwani, India's #1 Trader and Editor of Fast Profits Daily at Equitymaster.

He says gold has the potential to generate staggering gains in the coming years...And those who are betting on gold right now will hit the jackpot.

But wait.

While gold is an attractive investment destination, there's a very specific way to play this opportunity...

A way that ensures you rake in maximum profit and perhaps hit the jackpot...while minimizing potential pitfalls. Thankfully, Vijay - India's #1 Trader - can guide you step-by-step in the upcoming gold rush and help hit the jackpot just at the right time.

Sure, you don't want to be an average trader. That's not how you make a fortune.

Here's how you can get Vijay's guidance...
------------------------------
India has seen six capex super cycles in the seven decades of independence.
These were phases when public or private sector capex or both were well above GDP growth rates.
And the capex was instrumental in helping companies generate additional profits.
Capex Super Cycles Over Past Seven Decades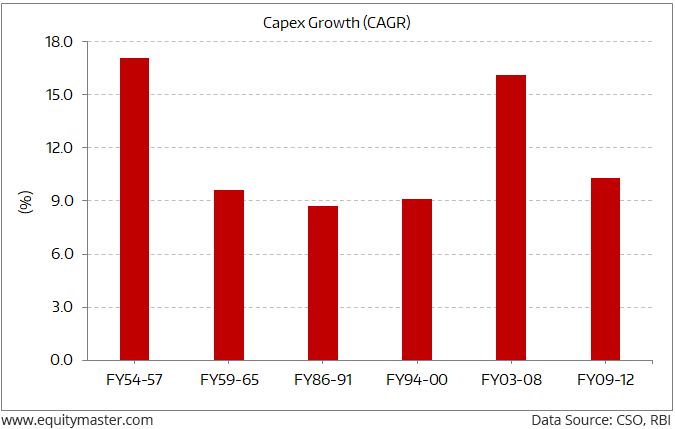 As you can see, such capex super cycles are rare. They work best when factory capacities are well utilised and companies undertaking capex have little debt.
Learn: How to Potentially Accumulate Rs 7 Crore in Wealth Over the Long-term
Tax incentives for undertaking capex act like the icing on the cake.
Capex super cycles are usually initiated by the public-sector companies. They are soon topped up by the private sector.
Public private partnerships for capex have done wonders for core infrastructure sectors in the past. India's national highways and airports are prime examples of this.
Railway is the only large sector which was not fully opened for private sector capex.
But a lot is set to change.
This Indian Railways is swiftly getting opened up to private participation. The IRCTC IPO is just the start. It is an indication that its capex is bound to multiply.
This could be just one of the triggers of India's seventh capex super cycle. Apart from this, we also have big ticket capex coming up in defence and renewable energy.
I believe the capex super cycle will offer the much need stimuli to the Rebirth of India.
Remember, the Rebirth of India is going to be one of the rarest of rare investment opportunities we Indians will see in our lifetimes.
And this coming capex super cycle could stimulate and accelerate the gains from it.
I am studying such stocks through my Rebirth of India project.
And have mentioned a few in my recent StockSelect recommendations.
But this opportunity is not everyone.
It's for those who are willing to patiently stay invested in only the best stocks.
These are stocks that could safely create wealth over the next decade.
For instance, I would prefer to select only those stocks that can generate additional profits for every rupee of capex.
Stay tuned.
I will keep you up to date with this money-making opportunity in the Rebirth of India.
Warm regards,



Tanushree Banerjee
Editor and Research Analyst, The 5 Minute WrapUp
PS: Dear reader, I believe this is the right time to buy the best 7 stocks in the market before they run up. Read more about these 7 stocks here...
Recent Articles