The Health of the Indian Economy is Improving. The Stock Market Will Follow
Oct 3, 2019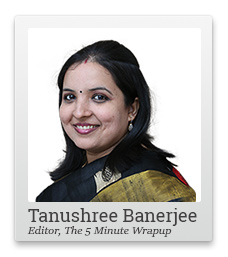 Is a good diet enough to maintain a healthy lifestyle?
Or is exercise necessary?
I believe both go hand in hand. A good healthy diet is essential to lose excess fat. An active lifestyle complements it by strengthening your muscles and bones.
What is true for the human body is also true for the economy.
--- Advertisement ---
"We Just Gave a Go Ahead to a Very Controversial Summit…"

We predict that a lot of people out there will NOT like us revealing the idea of "Rebirth of India".

And in the process, We fear that this MEGA SUMMIT initiative is likely to generate its fair share of controversy.

But…We have decided to go ahead with it anyway.

And that's because Senior Analyst and Co-head of Research, Tanushree Banerjee, has solid evidence that makes is very clear that…

The "Rebirth of India" is happening right now…

And here's why this is very urgent…

If you don't hurry up now, you stand to miss out a once-in-a-generation opportunity to potentially make a massive fortune.
------------------------------
The Indian economy is in the middle of a healthy transformation.
Financial institutions with poor lending practices are being penalized. In the long run, only the fittest lenders will survive and thrive.
The government is also shedding excess fat by way of divestments.
It is looking at selling its stake in Bharat Petroleum Corporation (BPCL), BEML, Container Corporation of India (CCI) and Shipping Corporation of India (SCI). Stake sales in other public companies are also in pipeline.
The recent corporate tax rate cut has the potential to make India a global manufacturing hub.
--- Advertisement ---
Our Latest Report… (Download Free)

We at Equitymaster have just published this report…

Rebirth of India: The First Step to the Biggest Investment Opportunity of Your Lifetime

…it's perhaps the most important work we have published ever, yet.

We strongly urge you to download it…and read it right away.

After all, it has the potential to dramatically change your life…for the better.

Here's an additional benefit…

As soon as you download, we will also automatically block a seat for you at the Rebirth of India MEGA SUMMIT.

At the Summit, Senior Analyst and Co-head of Research, Tanushree Banerjee, will reveal full details about Rebirth of India… including specific opportunities to profit from it.
------------------------------
Look at it from the context of the ongoing US-China trade war. Lower tax rates will encourage global companies to set shop in India.
The Indian economy is well and truly on a healthy diet.
Now, for the exercise...
I recently wrote to you about the capex super cycle I expect to happen soon.
Now, what happens after such a capex super cycle?
With capex comes an increased demand for steel, cement, and other building materials.
Businesses undergoing capex will need funding from lenders.
Credit rating agencies will be needed to rate these borrowers.
Workers will be needed for building the manufacturing capacity...meaning more jobs.
Job creation will mean more income for households of these workers.
Increase in disposable income will lead to increased consumption.
The India story will be well and truly in motion.
How do you benefit from this, dear reader?
You see, the stock market in the long run reflects the growth in the Indian economy.
Businesses that have seen such cycles in the past will know exactly what to do. Leaders in their category will be the first ones to take advantage of this super cycle.
These are what I call 'Safe stocks'.
In my Rebirth of India project I am constantly on the look-out for such safe stocks.
I have found 7 stocks so far.
My rationale for recommending these stocks is simple. I have found the trends which are most likely to play out over the long term. Trends that will be at the forefront of India's growth story.
I have then picked the stocks which will benefit the most when these trends play out.
These 7 companies are the leaders in their respective industries. With the Indian economy getting into shape, I believe these 7 stocks are good long-term bets.
Chart of the Day
The recent Punjab and Maharashtra Co-operative bank fiasco has put small savers in the limelight yet again.
These banks have poor lending practices. Depositors have had to pay the price time and again.
In the short run, this has an adverse effect on microfinance lending as well. Micro finance institutions (MFIs) are skeptical about lending to even genuine borrowers in an uncertain environment.
But this is actually a blessing in disguise for MFIs with strong business practices.
After all, last mile connectivity in lending is still a huge opportunity.
Huge Opportunity in Last Mile Lending in India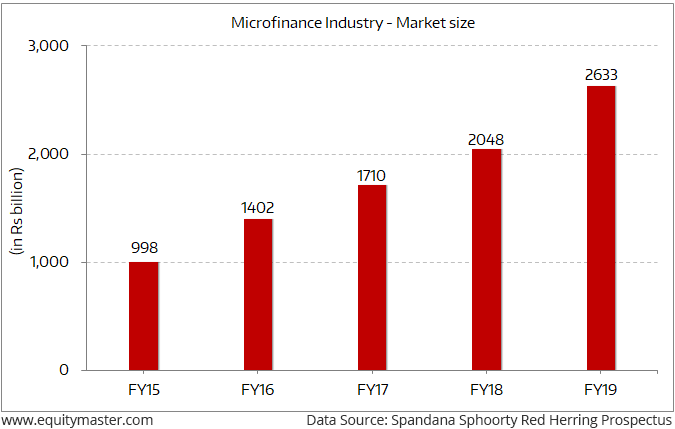 The average ticket size of a microfinance borrower in India is around Rs 38,000 which is much lower than the global average (Rs 65,000).
The sector itself has grown at an average annual rate of 27% for the last 4 years.
Still states like Uttar Pradesh, Bihar, and Madhya Pradesh with a large rural population are highly under-penetrated even today.
A private bank that is part of my 7 stocks to buy list has already taken a step in this direction.
It will be a big beneficiary when the microfinance boom plays out in India.
Warm regards,



Tanushree Banerjee
Editor and Research Analyst, The 5 Minute WrapUp
PS: Dear reader, I believe the market correction has given a given us a great opportunity to buy my pick of the best 7 stocks in the market before they run up. Read more about these 7 stocks here...
Recent Articles