How I Discovered IL&FS Wasn't a AAA Company
Oct 4, 2018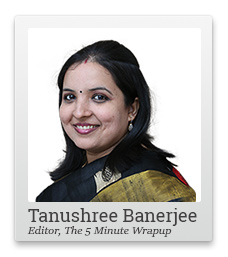 If it seems too good to be true, it probably is.
This is not a logic that can make any analyst sound super smart or diligent. But my experience, over the past decade, says that it is extremely useful in filtering out bad stocks.
Standing frozen with fear is no way to move ahead. As an investor, you cannot fear that every other company will turn out to be the next IL&FS or Vakrangee or Manpasand Beverages.
But, the 60-90% crash in stocks like them serve as reminders. That just as deep analysis could be smart, not averting bad stocks can be just as foolish. Pursuit of return must be balanced against aversion to risk.
Like in the case of most others stocks that crashed before IL&FS and wiped out investor wealth, rating agencies were late to ring the alarm bells this time as well. However, IL&FS' rating documents were helpful enough to investors who cared to read the numbers carefully.
I first noticed the deterioration in IL&FS' fortunes in the rating analysis of IL&FS Financial Services, an unlisted subsidiary of IL&FS. Of course IL&FS has a host of other subsidiaries including...
IL&FS Energy Development Company Ltd,
IL&FS Transportation Networks Ltd. (ITNL)
IL&FS Engineering and Construction Company Ltd. (IECCL)
IL&FS Maritime Infrastructure Company Ltd (IMIC)
But the business model of IL&FS Financial Services (IFIN) seemed relatively easier to understand. Which is why I chose to look at it more carefully.
--- Advertisement ---


IMPORTANT: Do Not Buy This from Amazon…

Equitymaster's Secrets is our most popular book ever – with over 20,000 copies in circulation.

It is a book we believe every serious investor should have a copy of.

And even though this book is available on Amazon for Rs 1,450…as an Equitymaster reader, we don't want you to have to pay for the book.

Instead, we'll send you the latest edition – virtually free – wherever you want (within India).

Just cover postage and handling charges – a minimal Rs 199, and your hardbound, limited-edition book will be in the mail the very next day!

Click here to claim this book.
------------------------------
Now, no doubt, rating agency ICRA kept upholding IL&FS' AAA rating until August 2018. But the rating documents over the years, that lay down financial numbers, clearly showed a risky trend.
Even as IL&FS Financial Services' debt to equity ratio shot up over the past six years, the ratio of NPA to networth kept ballooning. And as I have written earlier for PSU banks, the NPA to networth ratio is something I stay extremely wary of.
For IL&FS Financial Services, the NPA to networth ratio rang alarm bells by 2016 itself.
But then again, this was just one of the subsidiaries. Not enough to cast a doubt on the feasibility of the parent entity.
IL&FS Financial Services
A glance at IL&FS' 2017 annual report told me that the company had 23 direct subsidiaries, 141 indirect subsidiaries (which include special purpose vehicles for individual projects), 6 joint ventures and 4 associate companies.
I looked carefully at the financial entity's Capital Adequacy Ratio (CAR), which determines if the entity will stay liquid and be in business, despite the risks in its loan book. The CAR of IL&FS Financial Services, seemed very healthy (as confirmed by the rating documents), all through the years. It hardly showed the impact of rising risks in the balance sheet.
And that's something that surprised me.
Rating Agencies' Confirmation of IL&FS Financial Services Capital Adequacy
| | FY12 | FY13 | FY14 | FY15 | FY16 | FY17 | FY18 |
| --- | --- | --- | --- | --- | --- | --- | --- |
| Capital Adequacy Ratio (%) | 20.2 | 21.9 | 21.6 | 21.6 | 20.4 | 21.1 | 18.5 |
| Rating Agency | CARE | CARE | ICRA | ICRA | ICRA | ICRA | ICRA |
Source: Rating Documents
The Stock we Rejected In 2016 - IL&FS Investment Managers
Meanwhile, the stock of one of the listed subsidiaries, IL&FS Investment Managers, came up in our research discussion in 2016. Primarily because of its growth prospects.
But one glimpse at this chart, in the 2016 annual report, told me that the growth prospects of this entity, has very little to offer shareholders. As the company was clearly not keen to see the additional equity capital being raised deliver commensurate revenues and profits.
IL&FS Investment Managers' Pitiable Profit Track Record
Of course, as most experts claim, IL&FS's business model is different from other financial entities. It is neither the oldest nor the youngest of the Indian infrastructure finance firms. IFCI, IDBI and ICICI all pre-date it. And IDFC followed it. But IL&FS' uniqueness lay in the breadth of its operations. IL&FS' presentations boasted of providing every service to all kinds of infrastructure projects in India. In short, it offered everything to everybody. And it's that breadth and complexity of operations that may have come back to bite IL&FS.
--- Advertisement ---


Where Shall We Send Your Book?

We're down to just a few copies of Equitymaster's Secrets – but there's still time. If you haven't claimed your virtually free copy, do it now, and we'll dispatch your book right away.

All you have to do is share your Indian postal address with us, and cover postage and handling charges of Rs 199 – and we'll send you your very own copy of this valuable book on investing (worth Rs 1,450).

Claim your virtually free book today.
------------------------------
Here is yet another table that showed the wide gap between the assets and liabilities in the books of IL&FS Investment Managers' subsidiaries. So, the possibility of unknown off balance items and big difference in the profitability of similar businesses, made us uncomfortable.
IL&FS Investment Managers' Maze of Subsidiary Financials
Yes, given the wide variety of businesses, there were good chances of growth. But the claim of making each of them eventually profitable seemed too good to be true.
The stock of IL&FS Investment Managers more than doubled between October and December 2017.
But we reminded ourselves of what Buffett wrote in his 2014 letter to shareholders...
Periodically, financial markets will become divorced from reality - you can count on that. Managements will look and sound authoritative. The press will hang on their every word. Bankers will fight for their business. What they are saying will recently have "worked." Their early followers will be feeling very clever. Our suggestion: Whatever their line, never forget that 2+2 will always equal 4. And when someone tells you how old-fashioned that math is - zip up your wallet, take a vacation and come back in a few years to buy stocks at cheap prices.
Well, sticking to the math and not going by sentiments may at times lead to missed opportunities. But just like Vakrangee I do not regret erring on the side of caution.
I will never stray from the path of recommending Safe Stocks.
Warm regards,



Tanushree Banerjee (Research Analyst)
Editor, The 5 Minute WrapUp
PS: Tanushree Banerjee is Equitymaster's co-head of research and editor of StockSelect. She has a long and illustrious track record of picking safe stocks. For over 16 years, StockSelect subscribers have received safe stock recommendations that delivered double and triple digit gains. You can receive Tanushree's safe stock recommendations by signing up here.
Recent Articles