Foreign Money is Chasing Indian Stocks Once Again
Oct 4, 2019
October marks the beginning of the festive season.
There were clear signals of the festive spirit, when I visited Phoenix Mills this weekend. Most of the shops were packed with people.
Does this mean customers are actually buying products? That remains to be seen. But at least it wasn't a dull turnout as I thought it would be.
None of this festive spirit rubbed off on the markets though.
On the first day of October, the Sensex lost 300 points. At one point, the fall in the index was as steep as 600 points before it staged a recovery in the closing hours.
So why did the market fall? There were a few reasons...
Yes Bank, a part of the Sensex, plunged more than 20% that day. The selloff was triggered by the promoters offloading their stake.
The bad news for the auto sector continued. The auto sales numbers came out...and they were bad.
Once again, fear of a deepening slowdown has raised its ugly head again.
The euphoria over the corporate tax rate cut is gradually waning.
But as I have been writing to you, the smart money is not too perturbed by this. In a normal economic cycle, there will be good times and bad times.
The FII/FPI data (foreign fund flows) are a classic case in point.
--- Advertisement ---
"We Just Gave a Go Ahead to a Very Controversial Summit…"

We predict that a lot of people out there will NOT like us revealing the idea of "Rebirth of India".

And in the process, We fear that this MEGA SUMMIT initiative is likely to generate its fair share of controversy.

But…We have decided to go ahead with it anyway.

And that's because Senior Analyst and Co-head of Research, Tanushree Banerjee, has solid evidence that makes is very clear that…

The "Rebirth of India" is happening right now…

And here's why this is very urgent…

If you don't hurry up now, you stand to miss out a once-in-a-generation opportunity to potentially make a massive fortune.
------------------------------
If you remember, after the Union Budget in July, foreign investors began selling. They pulled out a ton of money from Indian equities.
The tax on the super-rich was the culprit. They were uncertain as to how it would impact them. The overall weakness in the economy only made matters worse.
But the month of September has been a different ballgame altogether.
Foreign Money Returns to India Again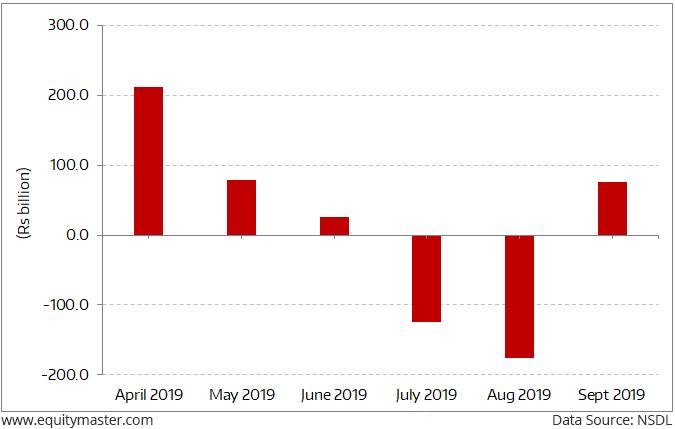 Foreign money once again made its way into Indian equities. For one, the tax on the super-rich was not applicable on domestic and foreign investors. The Finance Minister clarified this.
More importantly, they responded positively to the cut in corporate tax rates. The new rates now, makes India globally competitive. This strengthens the case for investing in India.
Therefore, foreign money flowed back into the Indian markets last month. They bought Indian equities to the tune of Rs 75 billion.
Essentially, there is no clear indicator that the slowdown is structural. So far, it appears cyclical.
Hence, when the cycle turns, the stock markets will move up too.
--- Advertisement ---
Our Latest Report… (Download Free)

We at Equitymaster have just published this report…

Rebirth of India: The First Step to the Biggest Investment Opportunity of Your Lifetime

…it's perhaps the most important work we have published ever, yet.

We strongly urge you to download it…and read it right away.

After all, it has the potential to dramatically change your life…for the better.

Here's an additional benefit…

As soon as you download, we will also automatically block a seat for you at the Rebirth of India MEGA SUMMIT.

At the Summit, Senior Analyst and Co-head of Research, Tanushree Banerjee, will reveal full details about Rebirth of India… including specific opportunities to profit from it.
------------------------------
This is also the stance of some of the super investors we track for our Smart Money Secrets subscribers.
They have been buying more of the stocks which they already hold in their portfolio. Others have maintained their stakes.
It's the same with the company promoters. They have held on to their stakes. As I wrote to you three weeks ago - Promoters are not panic selling.
The good news is that thanks to this correction, valuations have started looking attractive. This was a compelling reason for foreign money to once again jump in to Indian stocks. It is something our Indian super investors have been doing too.
In fact, Sarvajeet and I also wrote to our subscribers on how we recommended an increased exposure to 5 specific stocks from 50% to 100%.
So while the slowdown fear are palpable, the Indian long-term growth story remains firmly on track.
This means that any drop in the markets is an opportunity to go hunting for quality stocks.
Warm regards,



Radhika Pandit
Co-editor and Research Analyst, Smart Money Secrets
PS: If you don't want to put in the effort or don't have the time to hunt for high-quality stocks in this volatile market, then you can download our premium report - Our Top 5 Stocks to Buy Now - by becoming a member of Smart Money Secrets.
Recent Articles