Finally, Is the Share Price of Yes Bank Ready for a Rebound?
Oct 7, 2019
On 3 October 2019, the share price of Yes Bank shot up 33% in a single day.
As I was returning home that evening, I met a dear family friend who runs an electronic goods shop near my home.
He's a jolly man, in his early-fifties, and father of two.
Every once a while, I stop by at his shop and chat about politics, economics, and the stock markets.
Last Thursday, when I was returning home, he was standing outside his shop. As soon as he saw me, he waved at me, smilingly, and led me inside his shop.
Over a glass of sugarcane juice, he got straight to the big story of the day - Yes Bank's share price rebound.
I wouldn't have cared to share this story had this been a one-off case. But over the last few weeks and months, I've met several people who have been keen to ride the potential rebound in the share price of Yes Bank.
In fact, I did some data crunching and found a worrying trend about Yes Bank investors. I'll reveal it in the Chart of the Day.
--- Advertisement ---
[Virtually Free Book] Get your copy now… You have only 4 days left

Vijay Bhambwani has launched a new book that covers everything he's learnt over his 30-year career.

And you're eligible to receive a hardbound copy of his book – virtually free of cost.

- The simple trick that could help you find 10-bagger stocks with near-perfect precision. [Hint: it has something to do with the sugar you put in your tea] (page 54)

- How you can make a fortune trading FMCG and liquor stocks during elections (page 45)

- How the Saudi royal family can help you make money (page 39)

…and more.

You have only 4 days left to claim your copy, so don't waste another minute.

Go here to claim your virtually free copy.
------------------------------
Coming back to my conversation with the gentleman. Here's a brief gist of the conversation that followed:
Friend: Did you see Yes Bank jumped 33% today? Some people say that the beleaguered private sector bank has finally bottomed out. What do you think?

Me: I really hope that is the case. But I wouldn't read too much into it even if it were a 33% single-day jump. Even after this surge, the share price is still 88% below its all-time high. The bank's all-time high market capitalization was over Rs 90,000 crore in August 2018. The private sector bank is now worth less than Rs 11,000 crore.




Friend: Yes, that's right... Do you think it's a value buying opportunity now? Doesn't Warren Buffett say one must be greedy when others are fearful. Hasn't there been enough pessimism in Yes Bank already? How worse can things really get from here?

Me: It's interesting you quote Buffett's famous words. But it's not as simple as it sounds.

Every stock that corrects sharply is not necessarily always a value buying opportunity. Often, investors confuse lower share price for cheapness. But remember that while Mr Market is moody and extreme from time to time, he is not always irrational. Often, a stock is penalised for the right reasons. Personally, I never try to catch a falling knife.

Friend: But don't you think that we are getting a Sensex stock at midcap valuations? Don't you think a big brand like Yes Bank will eventually bounce back?

Me: I'll answer by asking you a question in return. Let's say you were offered a first-class ticket on the Titanic at 90% discount after it hit the iceberg. Would you buy it?

After hitting the iceberg, the ship did not have the same fundamentals that it did when it departed from Southampton.

Of course, I'm not saying that Yes Bank is doomed like the Titanic. Maybe it will survive. Maybe it will even bounce back and reclaim some of its earlier glory.

But the key point I'm trying to drive home is that not every large-cap stock that is part of the benchmark index is necessarily safe. Don't take size, brand name, and index inclusion as sure shot signs of safety. The inclusion in the index is purely on the basis of free-float market capitalization, and not on the basis of business fundamentals and qualitative aspects.

Friend: But I already have 100 shares of the bank. You think there's any scope for a rebound? Should I just forget them for a few years?

Me: Well, I don't really know. But the investment doesn't amount to much compared to your overall stock portfolio. So, if you're gambling with a small amount, then it's okay.

Friend: No, this is not a recent investment. My cost price is over Rs 300 per share. I never thought it would get so severely battered...

Me: Oh... That's sad. But remember that there is never just one cockroach in the kitchen. If there is some bad news about the quality of a bank's assets, it is likely that this is not a sudden, isolated incident. So, jumping at the first sign of share price correction in such cases doesn't work. You have to wait out a bit longer to see how the balance sheet evolves.

If you have doubts about the lending practices or management quality, it is best to stay away. When the quality of the bank's assets is under a cloud of doubt, the apparent cheapness of its valuation is meaningless.

Don't forget George Soros' theory of reflexivity (I've just recently written a detailed note on this in my premium newsletter Insider).

The stock price action and the pessimism of market participants can have an influence on the company's fundamentals too.

As we have seen in the case of Yes Bank, the share price crash caused such a panic that the bank has had difficulty in raising capital.

In fact, just last week I was talking to a friend who works in the wealth management industry. He said that his firm has stopped accepting fund transfers into their Yes Bank account. They have now switched to HDFC Bank.

Such instances unleash a vicious cycle and makes things even worse.

In a nutshell, it would be too much to expect a quick and meaningful rebound in the fortunes and the share price of Yes Bank.
--- Advertisement ---
Important Announcement: Our MEGA Summit on How to Become a One Stock Crorepati

Imagine making Rs 1 crore…from just one stock.

A single investment that takes less than 5 minutes to make, yet has the potential to hand one an eight-figure fortune over the long term.

After more than two decades worth of experience in stock market research, We can tell you that making that much money from a single stock is entirely possible.

The secret, of course, is buying the right stock at the right time – before anyone else hears about it.

So, how to find that one stock that could make one a crorepati?

Join our 'One Stock Crorepati' MEGA summit on 20th December for full details…

At this MEGA Summit not only will we tell you how to pick a stock that has the potential to make one a Crorepati over a period of time…We will also reveal details of what we call a 'crorepati' stock…

You just cannot afford to miss this summit for anything.

We expect this to be the largest ever public event in the history of Equitymaster…

Register NOW and Block Your 'Crorepati' Seat…
------------------------------
Chart of the Day
One of the main reasons for writing about Yes bank today is some worrying data that I came across.
I was analyzing the trend in the private sector bank's shareholding pattern over the last one year.
What I found made me nervous and worried - individual investors have been the worst hit by the Yes Bank share price crash.
The chart shows the number of shares held by individual shareholders holding nominal share capital up to Rs 1 lakh.
Yes Bank Crash: Who's Been the Worst Hit?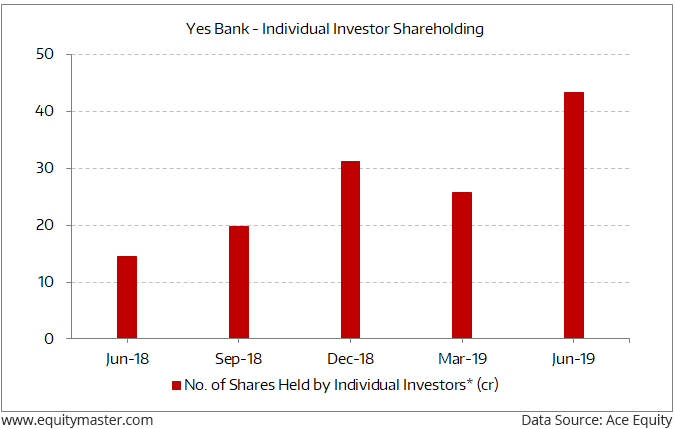 *Individual shareholders holding nominal share capital up to Rs 1 lakh
As you can see, the total shares held by individual shareholders holding nominal share capital up to Rs 1 lakh increased from 14.5 crore shares at the end of June 2018 to 43.4 crore at the end of June 2019. That's a drastic 200% jump in just one year.
Even the total number of individual shareholders that held Yes Bank shares increased by 195% from 3.76 lakh at the end of June 2018 to 11.08 lakh at the end of June 2019.
My message to all individual investors is to not confuse the cheapness in share price for cheapness in valuations. So, do not blindly buy shares of battered stocks expecting them to rebound to their earlier levels.
Warm regards,



Ankit Shah
Editor and Research Analyst, Equitymaster Insider
PS: If you want a simple and fast way to keep up with the markets and don't want to miss out on a potential double or triple-digit stock because you didn't have time to read our reports... Equitymaster Insider is perfect for you.
PPS: To know all about profiting from the riches of the small cap rebound...please click here.
Recent Articles