Here's Why Only High-Quality Companies Will Benefit from the Corporate Tax Cut
Oct 9, 2019
It's been just 20 days since the finance minister announced a major tax reform i.e. a cut in corporate tax rate.
You see, it's a major reform. It completely changes India's competitive position in the world.
Despite this big move, the market has given up almost half of its gains.
Shocking, right?
Here's another shocker...
If you consider BSE-500 index, more than half of the companies have lost market capitalisation since the announcement of the tax cut.
Why is this happening?
Let's understand this with an example.
Let's say 'Company A' and 'Company B' both have an effective tax rate of 35%. Ideally, with the tax cut, both the companies should benefit equally assuming everything else is the same.
But Company B operates in a competitive environment. The company must pass-on all the benefits to its customers. Whether it's a decline in raw material prices, or any benefits arising from the tax cut.
Why?
This is because if a Company B doesn't, its competitors will, and Company B will lose the market share.
A very precarious situation, right?
Ultimately Company B's customers are the real winners of the corporate tax cut.
--- Advertisement ---
"We Just Gave a Go Ahead to a Very Controversial Summit…"

We predict that a lot of people out there will NOT like us revealing the idea of "Rebirth of India".

And in the process, We fear that this MEGA SUMMIT initiative is likely to generate its fair share of controversy.

But…We have decided to go ahead with it anyway.

And that's because Senior Analyst and Co-head of Research, Tanushree Banerjee, has solid evidence that makes is very clear that…

The "Rebirth of India" is happening right now…

And here's why this is very urgent…

If you don't hurry up now, you stand to miss out a once-in-a-generation opportunity to potentially make a massive fortune.
------------------------------
Now, let's turn to Company A.
It's a strong franchise in terms of a strong brand, asset-light business model, strong cash flow, etc. Similarly, Company A has a long runway of growth.
So, instead of passing on the tax benefits to its customers, Company A can retain incremental profit. Not only this, Company A can reinvest this additional profit back in its business to further strengthen its core business operations.
With such a business model, it's Company A and its shareholders who will benefit.
Warren Buffett highlighted this issue in Berkshire Hathaway's 1986 Letter to Shareholders:
When the corporate rate is cut, do Berkshire, The Washington Post, Cap Cities, etc., themselves soak up the benefits, or do these companies pass the benefits along to their customers in the form of lower prices? This is an important question for investors and managers, as well as for policymakers.

What determines the outcome is the strength of the corporation's business franchise and whether the profitability of that franchise is regulated.
In Smart Money Secrets, we aim to find Company A type of stocks.
How do we do it?
Well, our proprietary tool - Smart Money ScoreTM - plays a major role.
First, this tool helps us reject companies with cooked books of accounts and questionable management.
That leaves us with a limited number of good quality companies. This makes our job easier.
Second, the Smart Money Score TM helps us dive deep into each of the available options.
We study every aspect of these businesses - shareholding pattern, return ratios, cash flows, debt-to-equity, capital allocation, competitive advantage, scalability...and a lot more...
--- Advertisement ---
Our Latest Report… (Download Free)

We at Equitymaster have just published this report…

Rebirth of India: The First Step to the Biggest Investment Opportunity of Your Lifetime

…it's perhaps the most important work we have published ever, yet.

We strongly urge you to download it…and read it right away.

After all, it has the potential to dramatically change your life…for the better.

Here's an additional benefit…

As soon as you download, we will also automatically block a seat for you at the Rebirth of India MEGA SUMMIT.

At the Summit, Senior Analyst and Co-head of Research, Tanushree Banerjee, will reveal full details about Rebirth of India… including specific opportunities to profit from it.
------------------------------
With this tool, we have already identified Company A-type businesses.
In fact, in the last couple of months, Radhika and I recommended an increase in exposure to 5 high-quality stocks from 50% to 100%. These businesses have sound fundamentals, robust balance sheets, and strong management teams.
We published a premium report about these 5 stocks for our subscribers.
If you've subscribed to Smart Money Secrets, please click here to download the report.
If you haven't subscribed to Smart Money Secrets, you can sign up here.
And remember, with the ability to reinvest incremental profits due to tax cuts, it further creates a virtuous cycle for high-quality companies.
High-quality companies will emerge even stronger in the long term.
Happy Investing!
Chart of the Day
Now when we talk about our filtering criteria for Smart Money Secrets, what are we talking about exactly?
What does Smart Money Score check for?
Well, it filters a company right from the moat of its business to management quality, to the presence of super investors...and a lot more.
A company with a strong competitive advantage, high quality of earnings, and a scalable business will get a high score.
Take the case of the last month Smart Money Secrets recommendation.
September Month's Recommendation Scored 9.1 out of 10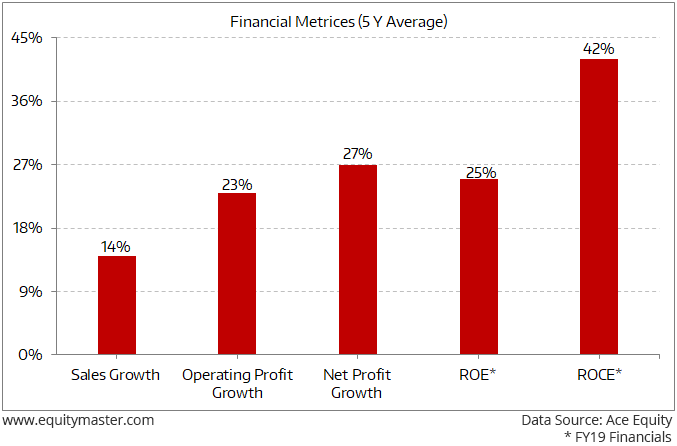 With strong return ratios, negative working capital, debt-free balance sheet, strong profitability growth, market leadership and a long runway of growth, it scored a very high Smart Money ScoreTM of 9.1 out of 10.
You can read our detailed report here.
If you haven't yet signed up for Smart Money Secrets, you can do so here...
Warm regards,


Sarvajeet Bodas
Co-editor and Research Analyst, Smart Money Secrets
PS: Dear reader, Radhika Pandit and I, co-editors of Smart Money Secrets, have recently published our latest stock recommendation report. If you don't have access to Smart Money Secrets...sign up here.
Recent Articles