Sometimes the Market Makes Me A Crazy Person
Oct 14, 2017
The Indian stock markets are in a funny mood...
Real estate companies are abhorred but housing finance companies are market darlings.
Information technology stocks are struggling but staffing companies are market favourites.
Obscure turnaround stories are embraced, but genuine profit-making companies aren't given a second glance.
'Story stocks' are taking over 'moat stocks'.
Primary markets are taking over secondary markets.
Investment rationales are ... pardon my language, complete rubbish.
At times like this, I prefer talking to myself than engaging with market participants.
I may sound crazy, but yes, I do talk to myself. It keeps me grounded - so I don't start bleating my way into the herd.
Last week when one little regional brand got valued higher than a widely known, far more profitable national brand, I got really nervous...
Am I missing something, I asked myself.
Which led me into a whole new conversation with myself...
You're a value investor... tell me, what is value investing?
Ummm... easy question. It is buying businesses that are available at discount to their intrinsic value.
And how, dear self, is shareholder value created over the long term?
By running a highly profitable business over a long period of time and earning above average returns on invested capital. EVERYbody knows that one.
Okay then, tell me this... What kind of brand do YOU prefer: regional or national?
Regional of course - or 'hyperlocal' - as the kids are calling it nowadays. They dominate a region for a long period.

Over time they try to become national and international.

BUT beware: Regional brands will face higher risks than national brands.

In fact, when they try to expand to other regions they may find that one region may have different economics than another, and lose their way.

So, net-net national and international brands are more valuable then regional brands.
So should one ever ignore valuations for a great business or brand?
Well, my favourite investor Charlie Munger believes it is better to buy a great business at fair valuations, than to buy a mediocre business at great valuations.

But there's a huge difference between fair valuation and overpriced. One cannot simply go about picking up businesses at any price - no matter how 'wonderful' they are.

Valuations are critical if you wanna make money in the stock markets.
Okay then, now that that is clear, back to the question at hand. What should I do when a recent IPO darling - even if it is one of my favourite little 'hyperlocal' businesses - crosses market cap of India's largest two-wheeler manufacturer?
Consider these numbers:
Regional Brand More Valuable than National Brand?
| (Rs million) | IPO Darling | India's Largest Two-Wheeler Company |
| --- | --- | --- |
| Market Cap | 7,58,013 | 7,36,402 |
| Sales | 1,28,338 | 3,09,582 |
| Profit After Tax | 4,917 | 32,293 |
| Price to Earnings | 154 | 23 |
| Return on Equity (%) | 18 | 36 |
Source: Ace Equity
Well the IPO darling is Avenue Supermarts - a strong regional brand that dominates the market in which it operates.
However, my question was - Is this more valuable than the National, rather International brand - Hero Motocorp Ltd?
The Indian stock market is screaming 'YES'.
Hero Motocorp's profits are around six times D-mart's. Its return ratios are double. It has a much larger scale and a stronger brand.
But this is not what the market is looking at.
It is valuing D-mart 154 times its FY17 earnings while Hero Motocorp is valued at 23 times.
We believe there is a fair price to be paid for any business - regardless of the popular narratives and rationales.
The rationale on the street for D-Mart's valuations is the scope of the company's expansion opportunities. But any valuation can be justified if growth is projected to infinity.
This is exactly what one of the brokerage firms did - projected all the way to FY28 to justify these insane valuations.
Greed and euphoria is leading many investors to forget the most crucial aspect of value investing: The price to be paid.
My 'self-interaction' got me back to senses. I highly recommend you give yourself a talking to as well.
Editor's Note: If talking to yourself is not helping, I would listen to my wise and knowing friend, the Insider. Every day the Insider will send you sane sensible wisdom to understand crazy market behaviour and talk you through where you should invest - wisely. Get the Insider's wisdom by signing up here - this list is ONLY open till tomorrow.
Markets Pricing In Too Much Too Soon
While stocks like D-mart have run up, the overall Indian stock market hasn't done badly either. In fact, among all major indices, the Indian stock markets have given the best returns in 2017.
Global Index Returns in 2017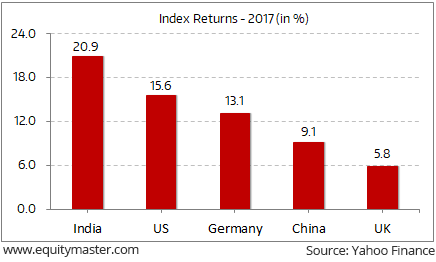 This, despite two major disruptions faced in recent years by the Indian economy. That of Notebandi and Goods and Services Tax (GST). Notebandi hit small businesses and brought the whole unorganised segment to a standstill. Experts predicted the Notebandi impact to linger on for one or two quarters.
Then came GST. Uncertainty related to GST implementation led to a slowdown across sectors. This was visible in the subdued first quarter numbers reported by most companies.
The net effect was seen on GDP numbers. Its growth dropped to a three-year low of 5.7% in the June quarter of 2017.
Still, markets haven't budged. In fact, Sensex has been making new highs every day. Back in March 2016, we had predicted Sensex to touch 40,000 within a 3 to 4 year timeframe. At this pace, it seems like Sensex might get there sooner rather than later. Which may not necessarily be a good thing. The current run seems to extrapolate all good news into the future and expects the ride to be smooth and consistent. But, history has shown that markets rarely work that way.
In such an environment, it makes sense for investors to be selective while buying stocks. Focus on value and the underlying fundamentals of the business. Then, they need not worry about the market.
Airtel Tata Tele Deal Continues Telecom Consolidation Wave
Airtel is in the process of acquiring the consumer mobile business of Tata Tele in a cash-free debt-free deal. This is the third major deal the telecom space witnessed this year. Earlier, Vodafone -Idea and Aircel-Telenor joined hands to continue consolidation in the sector.
Telecom companies have been in a constant battle for survival in the past few years. Saddled with huge debts for costly spectrum purchases, recent regulatory actions have further complicated matters.
Recently, the Telecom Regulatory Authority of India (TRAI) reduced the interconnect usage charge (IUC) from 14 paise per minute to six paise per minute. IUC are charges paid by operator companies for voice calls terminating from a different operator's network.
The 57% reduction in IUC is the steepest drop till date. TRAI has proposed phasing out the IUC by 2020. This is another blow for industry players, as India has one of the lowest IUC rates in the world. Globally, the IUC rates continue to be gradually phased out.
The IUC rate cut is expected to adversely impact established players like Bharti Airtel and Idea Cellular. What this means is that these companies would no longer be able to earn additional revenue streams from owning a large subscriber base, thereby impacting their profitability and debt servicing capability.
Also, the entry of Reliance Jio in the Telecom space has intensified competition further. Mr Mukesh Ambani announced that Jio will offer free voice services to its active users. It will also offer data at Rs 50 per GB. Jio's peers are charging Rs 250 per GB. So clearly, Jio's strategy is all about entering the market and capturing as much share as it can.
While consumers will reap the benefits from the low costs and new players continue to battle for their share, investors are likely to suffer.
What the Markets Looked Like This Week
Global market ended the week on a positive note. Japan's index spiked above the 21,000 level for the first time since 1996. The benchmark index posted gains of 2.2% during the week. Robust corporate earnings coupled with broad economic improvements have led to the surge in the index.
Crude surged by 5% during the week. From the lows of 30 dollars in 2016, the crude prices have now risen to 50 dollars. Oil prices rose as both US crude production and inventories declined. With, Organization of Petroleum Exporting Countries (OPEC) cutting production, global oil markets now seem to be broadly balanced after years of oversupply.
Benchmark index in China, too, posted gains of 1.2% during the week. China released its trade data for the month of September. The data suggested that the exports as well as imports expanded at a decent pace, signaling an evidence of strength in the world's second largest economy.
Back home, S&P BSE Sensex too surged by 1.9% during the week amid positive global rub-off and strong investor inflows on increasing domestic inflows.
Investment Mantra of the Day
"Investors making purchases in an overheated market need to recognize that it may often take an extended period for the value of even an outstanding company to catch up with the price they paid." - Warren Buffett
Recent Articles