A Simple Way to Avoid Losses in the Stock Market
Oct 15, 2018
Editor's Note: Dear reader, you may have heard people saying, stocks are in a bear market and there won't be any respite for the next few months. We are not so pessimistic. However, in case this correction gets worse, here is a simple framework to protect yourself. This editorial was authored by Girish Shetty and I believe you should read it again.
---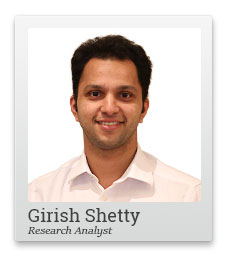 I dread flight landings. Just the thought of a plane landing almost always gives me goose bumps. Somehow, I imagine the worst-case scenario.
According to Boeing's annual data on flight accidents, 48% of the accidents occur during the final approach or landing. This is followed by take-offs which is responsible for 13% of total accidents. So, there you go, the stats back up my dread.
Now I'm aware that flying is the safest mode of travel but somehow, I can't escape this feeling.
Some of you might feel this way too.
The two most critical points of air travel are take-off and landing. Now let's look at the investing world. Here too there are two things that matter the most: buying and selling.
If you buy right, you will have a smooth ride. Similarly, if you sell at the right time, you can save yourself from a crash landing.
But how do you buy and sell right? Is there a perfect time to buy and sell? Can you time both perfectly?
In my view, the answer is mostly no.
--- Advertisement ---


We've Made Our Decision (And You Have Less Than 5 Days Left) …

In a few days, you will no longer be able to claim your copy of Equitymaster's Secrets – our most popular book on stock picking.

We made it clear to you that we wouldn't be able to keep this offer open for much longer - and we've reached that juncture.

At 11:59 PM, 19th October – we will pull this offer down.

You will not be able to claim your virtually free copy of Equitymaster's Secrets any time after that.

We urge you to waste no time in registering for your book.

Click here to get your copy.
------------------------------
Then what can you do?
You can do the next best thing. Develop a framework to give you a broad idea on when to buy and sell.
This is what I recommend...
| | | |
| --- | --- | --- |
| Stock Earnings | Stock Price | What To Do |
| Improving | Down | Buy |
| Improving | Up | Hold |
| Deteriorating | Down | Sell * |
| Deteriorating | Up | Sell / Don't Buy |
* Except for cyclical businesses
As the initial step, this will be a good guide to follow.
Now let's get into the nitty-gritties...
Improving Earnings and Falling Stock Prices:

This is the best time to buy. To do this, you need to have patience and a contrarian approach to investing. Remember, the majority will be fearful in these times. You will mostly find stocks in this phase during bear markets.

Shortlist companies with strong fundamentals. If a company is improving its earnings when others are struggling, it might be the best time to get in. Think of IT stocks a year back when everyone had written its obituary and where they are now.

Improving Earnings and Rising Stock Prices:

This mostly happens when a bull market has just ended. If you have bought good stocks at the right price, it is time to hold on. This is the time when you will be rewarded for your picks when everyone is fearful.

If earnings are constantly improving and fundamentals are intact then relax and enjoy the ride. There might be some minor turbulence on the way but rest assured, you are in a safe flight. Think Page Industries, Eicher Motors, Britannia, etc. Think of the massive wealth creation by these stocks for a decade.

Deteriorating Earnings and Falling Stock Prices:

It might be the right time to sell. These stocks had a good run. But their earnings are deteriorating. That's not a good sign.

Think of the pharma sector three years back. Uncertainty regarding price erosion in developed markets as well as hostile US FDA visits, have changed a once defensive sector into a risky sector.

Take note that this does not apply to cyclical businesses. That's a separate topic for another day. But if you want to know more about cyclicals, read this excellent piece by Sarvajeet.

Deteriorating Earnings and Rising Stock Prices:

This is the worst flight to get into. You're almost assured of a crash landing. Sell!

Here, you'll find cases like Vakrangee, Gitanjali Gems, Shilpi Cable, Manpasand Beverages, and more. Despite poor fundamentals, these stocks will have a massive run up. Typically, this happens when a bull market is close to its peak.

Avoid getting into such stocks in the first place. But if you already have, it's best to get out as soon as possible.
--- Advertisement ---


Ends Tomorrow! (Don't Say We Didn't Tell You About This)

The chance to get a full year of our small cap service…normally Rs 6,000 for FREE…will disappear at 11.59PM TOMORROW.

And we may probably never make such an offer again after this.

So don't say we didn't tell you and grab this offer now.

Click here to grab a full year of Hidden Treasure for FREE now!
------------------------------
Selecting good stocks involves looking at them from multiple viewpoints. But having a basic framework will help you avoid fatal mistakes. Once you've done that, you're likely to safely reach your investing destination.
If you're looking for the best way to start this journey, I highly recommend this book, Equitymaster's Secrets: 2018 Limited Edition.
We have only a few copies available. You can get your copy here.
Chart of the Day
The last time indices touched multi-year low valuations was in February 2016. Of course, there are select smallcaps that have far outstripped the BSE Smallcap index returns since then. But overall, taking an excessive exposure to smallcaps, even at their cheapest valuations, hasn't paid off significantly.
Here again, blindly following super investors into smallcaps could have been the biggest blunder.
Rather, investors who chose a good mix of large and smallcaps were better off.
Over Exposure to Smallcaps Does Not Pay Off Even at the Cheapest Valuations
Regards,



Girish Shetty
Research Analyst, ValuePro
PS: Tanushree Banerjee is Equitymaster's co-head of research and editor of StockSelect. She has a long and illustrious track record of picking safe stocks. For over 16 years, StockSelect subscribers have received safe stock recommendations that delivered double and triple digit gains. You can receive Tanushree's safe stock recommendations by signing up here.
Recent Articles