The Good News that the Media Didn't Tell You About Rs 120 Crore Movies and Rs 5 Biscuits
Oct 15, 2019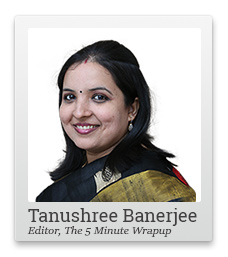 'No takers for Rs 5 biscuits' screamed the headline of a business daily, couple of months back.
The media wants you to believe poor glucose biscuit sales is the tell-all sign of India's economic slowdown.
Something similar happened in China four years back. The key metric of China's economic potential was the humble US$ 0.25 instant-noodle bowl.
Between 2001 and 2012, instant-noodle sales in China nearly tripled. The Chinese consumed 43 billion bowls of instant noodles each year. Millions of Chinese farmers moved to the cities and sought cheap food between factory shifts. Naturally, the cheap instant noodles were a hit.
However, by 2016, China started consuming 7 billion fewer noodle bowls. The biggest instant noodle-maker was removed from the Hang Seng Index.
So, the US$ 0.25 instant-noodle bowl packets caused plenty of agony to Chinese economists. The Rs 5 biscuit packets have done the same to their Indian counterparts.
What happened next?
By 2018, China's noodle sales revived. The Chinese are once again consuming more than 40 billion noodle bowls a year.
But what is important is that the price per bowl has almost doubled.
Yes, that is right.
Historically, instant noodles were marketed to low-wage workers and students. But as incomes rose, the industry offered premium noodles at higher prices.
The country's largest noodle-maker reported nearly 40% of 2018 revenue from its most premium offerings.
What's more, the sale of noodles is no longer restricted to the big cities. Even smaller towns have access to them.
And thanks to the Chinese food-delivery apps, students and factory workers have options apart from noodles for a pocket friendly meal.
Does this sound very similar to what's happening in India?
It sure does.
But business papers and TV talking heads are warning of an economic collapse. Politicians are making matters worse by alluding to Rs 120 crore turnover of recent movies.
--- Advertisement ---

Announcing Equitymaster's Biggest Wealth Creating Project Ever

We are very excited to introduce you to Equitymaster's Biggest Wealth Creating Project ever...

The Rebirth of India.

The wealth creating opportunity that we discuss in this project is HUGE.

You cannot afford to miss it. For anything.

Sign up today for our MEGA Summit where we will reveal full details about our Rebirth of India project...

Including details of 7 specific stocks that we believe are best poised to ride this coming boom in wealth creation.

All you need to do is, To join this FREE MEGA Summit - click here...
------------------------------
And wherever you look, the data is confusing...
On one hand, Rs 5 biscuit packs are not selling. On the other hand, smart phones are flying off shelves.
On one hand, FMCG companies reported their worst quarter in the last 15-20 years. On the other hand, Khadi and Village Industries reported record sales last year.
On one hand, domestic car companies are planning plant shutdowns. On the other hand, brands like Seltos of South Korea based Kia Motors and Hector of UK based MG Motor witnessed record breaking demand in India.
Unfortunately, the media is cashing in on this confusion.
What is important for you, dear reader, is to cut out the clutter.
You need to pay attention to facts which truly matter. Differentiate between a temporary slowdown and a prolonged crisis.
I explained this in regard to the auto sector in my YouTube video.
So, what are the facts that truly matter?
Most large countries saw their government debt (as a share of GDP) soar since the economic crisis of 2008. For India, the trend went in opposite direction. The number was 75% in 2008 and 69% in 2018. Therefore, even in the case of a global economic crisis, we are better placed than most to tide over it.
Depository companies NSDL and CDSL saw an average 8% year on year growth in new demat accounts over the past six months. Most of the accounts were opened from new PAN numbers. Meaning the investors were new entrants in stock markets. This shows that the inflow of domestic funds into stock markets could remain steady even if the FIIs temporarily back out.
Economic growth (GDP) and corporate profit growth hardly go hand in hand. Over the past few years, the share of corporate profits to GDP has steadily declined. The revival of capex cycle may cause corporate profits to soar much faster than the GDP growth. Investors who stay focused on macro numbers may miss this bus.
Rebound in Corporate Profits May Not Immediately Reflect in GDP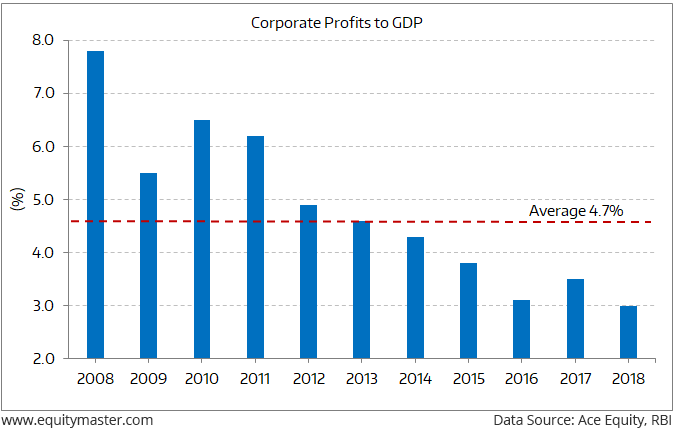 I will gladly clear up this kind of confusion for you, dear reader.
Do not let confusing economic numbers take away your focus from great stocks.
And stay tuned...
I'll write to you more about stocks you can bet big on to ride the Rebirth of India.
Warm regards,



Tanushree Banerjee
Editor and Research Analyst, The 5 Minute WrapUp
PS: Dear reader, I believe the market rebound is providing you an opportunity to buy my pick of the best 7 stocks in the market before they run up. Read more about the 7 stocks here...
Recent Articles