This Rs 71 Trillion Business Could Make or Break (Your) Wealth in the Next Decade
Oct 17, 2017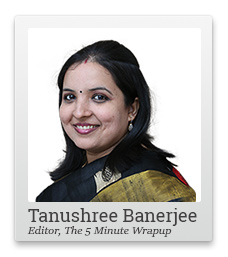 Richard Thaler recently won the Nobel prize for his thesis on behavioral economics.
Behavioral theories don't just explain how investors think - they point out flaws in human thinking. Economists like Adam Smith and John Maynard Keynes have believed for centuries that human behaviour is too tricky to model with math. By simplifying it, you can get a much more scientific-looking model. And being obsessed with predictions, models and math is all that financial markets want.
I first encountered the term behavioral economics when I read Charlie Munger. Munger's 1995 speech on the Psychology of Human Misjudgment was a turning point: It explained why investors behave the way they do.
Munger's explanation of 'cognitive biases' has helped many investors create AND safeguard their wealth. Years ago, dear reader, my team laid out an easy-to-digest version of Munger's system of human psychology in a special series, that you can read here.
Today again I'm talking about behavioral theories because these theories can also help us tell apart great business from disastrous ones...multibagger stocks from losing ones and...and super investors from unsuccessful ones, over the next decade.
This is particularly true in one sector that is very responsive to economic behaviours of people and institutions...as much as it is to central bank regulations, interest rates, GDP growth and employment: The Indian banking sector.
This sector offered loans to the tune of Rs 71 trillion in 2016-17. This was nearly 60% of our GDP.
Most of the 93 commercial banks, weak or strong, grew their loan book in double digits in the last decade. Real estate boom, consumption boom, financial inclusion and the boom in housing loans, all acted as tailwinds.
The good part is that despite the fast-paced growth, the sector managed to retain its sanctity. The regulator, RBI, ensured that our bank lending never went berserk. And none of the banks pose systemic risks.
The sad part is that the disbursement of loans has lately fallen to a four-decade low. And the total quantum of non-performing (irrecoverable) loans has never been as high as they are now.
So where is behavioral theory in this?
Well, the business of banking is dependent on the psychology of the bankers - they decide how much to lend and to whom - and of the customers - the savers and borrowers decide how much to save, borrow, and whether to repay on time. The borrower psychology remains the same for both individuals and large corporate entities.
On the one side, thanks to all the non-performing assets they are saddled with, bankers have become biased against corporate loans. As a result, most loans in recent years are neither generating much income or creating asset. Now, with property prices unstable, even asset-backed home loans look like trouble. So bankers have developed cold feet and minimized lending.
Are the Loans Creating Assets or Stoking the GDP?
| | | | | | |
| --- | --- | --- | --- | --- | --- |
| | FY10 | Share of credit | FY17 | Current share | CAGR |
| Home loans | 3,009 | 9.9% | 8,600 | 12.1% | 16% |
| Commercial Real Estate | 921 | 3.0% | 1,855 | 2.6% | 11% |
| Personal Loans | 5,856 | 19.3% | 16,200 | 22.8% | 16% |
| Vehicle Loans | 637 | 2.1% | 1,705 | 2.4% | 15% |
| Credit Card Outstanding | 201 | 0.7% | 521 | 0.7% | 15% |
| Businesses (Small and large) | 13,114 | 43.1% | 26,800 | 37.8% | 11% |
Source: RBI
On the other side, the borrowing companies are wary of putting off their shareholders with high debt on their books. Plus, the interest payments are a drag during times of low profitability. So, their bias against borrowing has taken the demand for loans to the lowest in a decade.
Companies Are Wary of Borrowing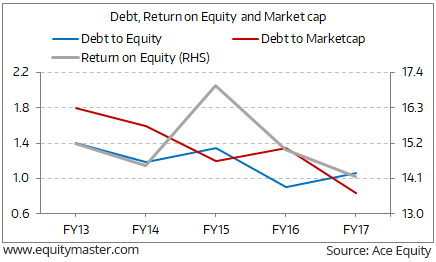 Hopefully, over time some banks be able to avert the biases and grow even as their margins and asset quality stay intact. And, with technological innovations, attract retail and corporate customers wary of plain vanilla banking products.
The takeaway for you, dear reader, is that your favourite banker may change in the coming years. And the banks you have invested in could be either creating or destroying a lot of wealth! You might want to ensure that you are on the right side of the equation.
Slowdown Pangs Hit Bad Loan Resolution
Economic slowdown is crippling the nation's banking system in more ways than one. The credit demand from India Inc has plummeted to a decade low decelerating the loan growth of banks. Even the bad loan resolution measures have been facing hurdles with sluggishness in the economy. Till date, loans worth Rs 1.7 trillion referred under the Corporate Debt Restructuring have been withdrawn. The CDR scheme expected to revamp bank bad loans was introduced in 2001.
So far in 2017, CDR loans worth Rs 446 billion have failed. It has surpassed a total of Rs 415 billion worth of CDR loans that were withdrawn in the entire 2016. The increased recurrence in the failure of the CDR mechanism for bad loan resolution points to the nagging slowdown that is adversely impacting the recovery process. As the economy continues to chug along, bank lenders are stuck with Rs 1.5 trillion of live cases with the CDR forum that mainly belong to the steel sector.
With the bank bad loans reaching an alarming 10% of the overall loans as on 30th June 2017, ineffective debt restructuring and consequent write-offs will further weaken the balance sheet of stressed public-sector banks.
Half-Baked Measures Cannot Address Unemployment
The government's efforts to solve the surging problem of unemployment has been poor to say the least. The Ministry of Skill Development and Entrepreneurship has managed to meet its annual target of skilling people in only one out of the last five years. The Prime Minister Narendra Modi's US $ 1.8 billion skilling program has targeted to provide skills training to 400 million people by 2022. What is appalling, 90% of the three million people that have already been trained under the program are yet to secure employment. The economic downturn has led to a slowdown in capital investments by the debt-ridden India Inc. With hardly any factories being set up by companies, there are no takers for the newly trained and re-trained youth entering the job market.
Further the government programs are grossly inadequate to address the skills gap afflicting the economy. This is reflected in the fact that only 4.69% of the workforce has formal vocational skills. According to OECD Economic Survey, more than 30% of the Indians aged between 15 and 29 are neither employed nor have received education or training. This is higher than the corresponding statistics for developed as well as BRIC nations.
India is expected to be the largest workforce in the world by 2026, with 64 % of the population expected to be in the workforce age-group of 15-59 years. Moreover, 69% of the existing jobs are under threat from automation. Unless concrete steps are taken to create employment for the youth, India stares at grave demographic disaster.
What the Markets Look Like Today
Indian equity markets opened the day on a flat note. At the time of writing, BSE Sensex was trading lower by 10 points and NSE-Nifty was lower by 3 points. Both the mid cap and small cap indices are trading up by 0.2% and 0.3%, respectively. Stocks from the banking and consumer durables are among the gainers.
Investment Mantra of the Day
"For some reason, people take their cues from price action rather than from values. What doesn't work is when you start doing things that you don't understand or because they worked last week for somebody else. The dumbest reason in the world to buy a stock is because it's going up." - Warren Buffett
Recent Articles