Rahul Shah Disagrees with My View on IRCTC
Oct 21, 2019
IRCTC Ltd made a stellar debut on the Indian stock exchanges last Monday.
I was obviously overjoyed because I had recommended subscribers of my premium newsletter Insider, with very high conviction, to apply for the IPO.
The listing day gains (135% for retail investors), however, exceeded my expectations.
So, when it came to answering the question about booking listing day gains or holding IRCTC for the long-term, I was a bit conflicted.
My dilemma was clearly reflected in my concluding remarks:
Given the massive surge, it is tempting to book the gains and exit the stock. In fact, if you're a trader looking to lock in quick gains, you may want to follow that course of action.

But I don't look at IPOs only as opportunities for listing gains. They're also opportunities to spot solid businesses early on and ride their long-term growth story.

If you're a serious long-term investor and not taken in by the temptation of booking a quick profit, I believe you could hold IRCTC as a long-term investment. And in fact, you could even consider accumulating more shares when the stock corrects to reasonable levels.
Later that evening, I received a message from Rahul Shah, co-head of research as well as the brain behind some of our most outperforming recommendation services, asking me why I had not suggested all investors to book profits on the IPO.
Here's a gist of the banter between us:
Rahul: Don't you think you should have asked readers to book listing day gains on the IRCTC IPO? What made you suggest them to keep holding on to the stock?

Me: Yes, there is no denying that following the listing day surge, the stock is in the expensive zone now [at the end of the listing day, the share price of IRCTC traded at 42.8 times its FY19 earnings].

But my hold view is based on two factors:

Holding on to winners - I've seen the markets assign very high premiums to companies that have enduring moats, market leadership, and long term revenue visibility. The reason being that the demand for high quality, wide-moat stocks is huge. But the universe of such companies is very small. So, in the mad scramble to grab a pie of a quality stock, investors end up pushing valuations to steep levels.

I've seen this happen with high quality companies like Page Industries, Titan Company, Nestle India, and many more. With such companies, if you apply very conservative value investing principles at the time of selling, you may end up selling a bit too early.

So, I feel that if you have entered a high-quality company at a fair price, then you should not rush to make a hurried exit even if that means being less stringent on the exit price to earnings multiple.

In case of IRCTC, the issue was quite attractively priced. Those who entered the stock at the issue price have the risk-reward in their favour. In the worst case, if the stock dips below the listing day level, their gains will be diminished to the extent of the fall. In the best case, they will have the opportunity to ride the long-term growth story of a quality business.

Right asset allocation - The other reason I'm willing to take the risk is that I'm assuming people applied under the retail category and received the minimum allotment. So, in the context of their overall portfolio, it may be quite immaterial. But to have a token investment keeps you mentally engaged in that stock and could help you accumulate more shares if the opportunity arises.

Rahul: Hmm... In a bull market, people will always find new standards of value to justify any multiple...but I guess always better to link valuation to some tangible anchor like book value, AAA bond rates, treasury rates etc....otherwise there will be no cap to valuations and people will keep finding reasons to assign any multiple.

Ankit: Yes true... Markets do always find new ways to justify high valuations.

My thesis is mostly behavioural. People bought more than 5 crore shares of IRCTC at an average weighted price of about Rs 693 per share on the listing day. Issue price for retail was Rs 310 per share.

There is a fair chance that the share price may correct after the initial enthusiasm wears off. But I don't see the people who invested in the IPO losing money.

Quality companies like HDFC AMC, Affle India, IndiaMART InterMESH, etc. have all outperformed post listing. [Do note I had recommended applying for each of these IPOs].
The reason I shared this conversation with you is to show you that investing is not a rigid science, but a beautiful blend of science and art, and numbers and emotions. Because people's thoughts and emotions, biases and judgements are involved, you can never have one right answer in the stock markets.
--- Advertisement ---
3 "Super Smallcaps" You Didn't Know About

You may not have heard of these 3 "super smallcaps" ever before...

The mainstream press doesn't cover them... Most brokers don't know about them either...

Stocks like these 3 "super smallcaps" only come to your notice when they have rallied by hundreds or even thousands of percent... and are all over the news!

Richa revealed it all during her Super Smallcaps Summit

If you missed this event for some reason, then you can watch the special replay of this event.

Click Here to Watch the Replay...
------------------------------
IRCTC Jumps to a New High
As if the stellar listing gains weren't already enough, I noticed the share price of IRCTC Ltd had jumped 7.6% on Friday to Rs 779.2 per share.
Who would have imagined that shares issued at Rs 310-320 just a couple of weeks ago would be trading nearly 1.5x higher?
If you still have the dilemma about what to do with your IRCTC shares, here's a smart strategy that one of my premium subscribers Pramod Phadke prosposes. Here's what he wrote to me after Monday's Insider:
Dear Ankit,

My strategy under similar conditions is to sell 17 shares (out of 40), recover my Rs 12,400/- and keep the rest 23 shares for long term at zero cost.

Hence, no future headache about market price dropping.

How is that?
So, as you see, there is not just one right strategy. You should choose the one that suits you best.
This is the reason why different, at times even conflicting, investing philosophies can coexist harmoniously in the stock markets. You need to figure the one that aligns best with your personality, thinking, risk-appetite, investment horizon, age, and so on.
For instance, I'm more inspired by the Warren Buffett and Charlie Munger school of thought - I love high quality, wide moat companies...and I don't mind paying a reasonable price to ride their long-term growth story.
Rahul Shah, on the other hand, is a true follower of the Ben Graham school of deep value investing. And his focus is always on valuations. He likes to buy a basket of severely battered stocks that have sound long-term fundamentals.
So, when the cycle turns and the stocks return to their intrinsic value, he exits with handsome gains. This is not just a theory, Rahul has a proven track record of turning this theory into practice.
Chart of the Day
My biggest mission at my premium newsletter Insider is to be your friend and guide in your journey of wealth-creation. It goes without saying that my topmost priority is to help you identify long-term wealth compounding investments. So, much of my focus is on cherry-picking the best long-term investing ideas.
But that doesn't mean we must ignore all the other opportunities that come our way.
One of the themes that I like to cover at Insider is IPOs.
Why IPOs, you may ask? Do IPOs really help in achieving long-term financial goals?
I think we must not look at any opportunity - small or big - through a very narrow lens.
Here's why I believe keeping a tab on the IPO market is vital to your overall investing goals:
IPOs for Spotting Good Stocks Early On



I believe IPOs offer the opportunity to spot quality companies early on. Think about any stock that has gone on to multiply investor wealth by a huge factor. How would it have been had you spotted that opportunity when the company went public with its IPO?

IPOs Are Reliable Market Barometers



Why does a company launch an IPO? It is either because it seeks to raise capital from the market, or existing investors want to exit or sell a portion of their stake. Like any seller, the promoters or other shareholders selling their stake would want the highest possible price for their shares. And the best time to do that is during a bull market, when markets are brimming with optimism and liquidity.

This is the reason we either see few or no IPOs during bearish market conditions. When there is pessimism in the market and liquidity is dry, the selling shareholders may not only have to compromise with a lower price tag, but sometimes even run the risk of the IPO not getting fully subscribed.

IPOs for Listing Gains



At my very core, I'm all for long-term value investing. But I think your core investing philosophy shouldn't stop you from picking low-hanging fruits for some quick short-term gains. When there is substantial demand for a certain IPO, it increases the chances of some quick listing gains. With just a small investment and no effort, the potential for quick gains is not worth ignoring.
How Has 2019 Been for IPO Investors So Far?
The year 2019 hasn't seen much activity in the IPO market. Since the start of the year, there have been just 13 IPOs on the BSE main board.
Even the ones that hit the primary markets were mostly small to mid-sized IPOs. And no mega IPOs.
As I explained earlier, very few companies come out with IPOs during bearish market conditions. So, when the IPO market is sluggish, you must take that as an indicator of market sentiment and liquidity conditions.
It is interesting to note that despite the tepid market conditions, most of the companies gave positive listing day gains.
In fact, if you had invested in each one of them and held them till now, your gains would have been even better.
The chart of the day shows the top five performing IPOs of 2019.
Top 5 Performing IPOs of 2019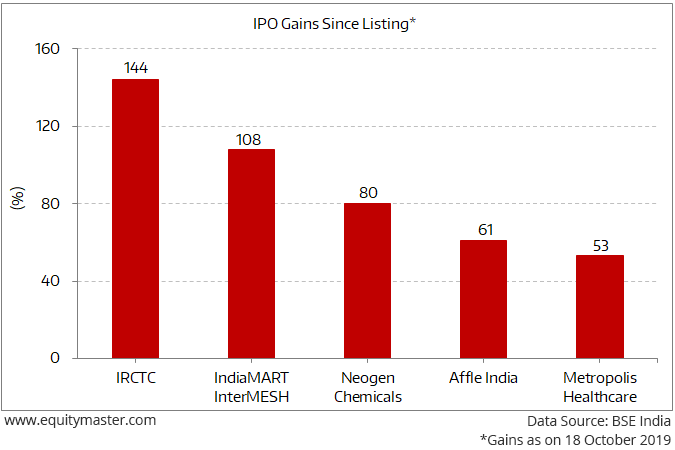 As you can see in the chart, the best IPOs of 2019 have delivered fantastic returns. In fact, 10 of the 13 companies have delivered positive returns.
So, unlike bull markets wherein selling shareholders do their best to squeeze the highest price, bear markets often offer fantastic opportunities to spot great companies and get onboard early on.
Warm regards,



Ankit Shah
Editor and Research Analyst, Equitymaster Insider
PS: If you want a simple and fast way to keep up with the markets and don't want to miss out on a potential double or triple-digit stock because you didn't have time to read our reports... Equitymaster Insider is perfect for you.
Recent Articles