Why Rebirth of India Investors Shouldn't Worry About Few Bank Deposits Being Riskier than Stocks
Oct 22, 2019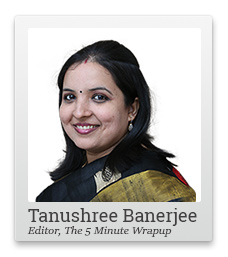 Few days back a WhatsApp forward went viral. It showed the image of a stamp on a bank passbook. I got it too.
I was flooded with queries from friends and family.
It was about the Rs 1 lakh insurance cover on bank deposits in India...and it was on a HDFC Bank passbook.
The HDFC Bank Passbook that Went Viral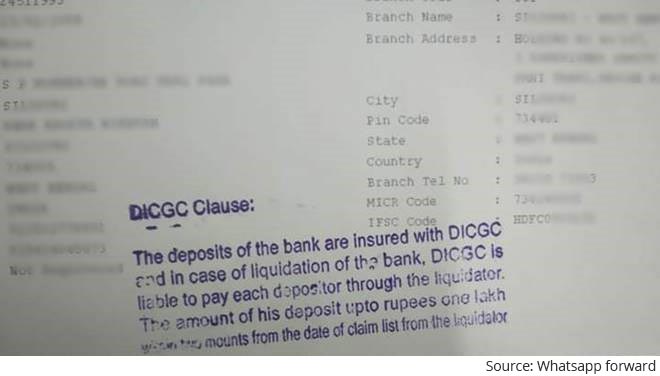 Some HDFC Bank account holders panicked because the plight of the PMC Bank depositors is still in the news.
They saw the fresh insurance cover stamp and thought it was a sign that HDFC Bank could be heading the same way.
Now, HDFC Bank is a premier private sector bank. So, deposit holders in other banks began to worry.
I don't remember such a panic about safety of deposits in the past decade and half. The last time depositors were as worried when Global Trust Bank collapsed in 2004.
This recent incident reminded me of the plight of fraud hit GTB depositors.
And also of an edition of The 5 Minute WrapUp I wrote in July 2018 - Has A Bank Ever Told You Its Deposits are Riskier than Stocks? These Should Have...
My warning last year was clear. You cannot assume your bank deposits carry no risk.
At that time I wrote about only the listed PSU banks. Unfortunately, the fraud hit PMC Bank has brought depositors' worst fears come true.
The RBI's inaction has completely shattered the myth about the safety of deposits in any a bank.
But if you look at it from a big-picture, systemic point of view, the cleanup of bad banks was long called for.
--- Advertisement ---
FREE Event on Equitymaster's New Project

On May 17, we are holding a FREE event to reveal Equitymaster's Great Indian Wealth Project.

At this event, we'll reveal the details of your first stock for a potential Rs 7 crore in long-term wealth.

Seats for this event are filling up fast.

Since there are limited seats, we urge you to register at the earliest.

Click here for free sign-up
------------------------------
A tribe of my readers have known this for a while. They have come onboard to ride what I call the Rebirth of India.
They see the cleanup of Indian financial sector as one of the megatrends of the Rebirth of India.
They know the cleanup of bad companies in general and bad banks in particular is going to be painful. I have written about the clean up and why it's necessary for India to become a US$ 5 trillion economy.
I believe this painful treatment will go a long way in saving the economy from a terminal illness of bad lending, bad rating and bad investments.
Therefore, I'm keeping a watchful eye on the asset quality of the banks they are banking with.
And making sure they are ready to cash in on the Rebirth of India profits in select stocks, when the cleanup cycle turns.
Meanwhile, the depositors of HDFC Bank and other fundamentally strong banks should stay assured that not every bank is heading the PMC way.
There are bank stocks that will continue to create a lot of wealth in the years to come.
Warm regards,



Tanushree Banerjee
Editor and Research Analyst, The 5 Minute WrapUp
PS: The Rebirth of India is a once-in-a-lifetime phenomenon and smart investors can use it to amass wealth which could potentially last generations. Read more about it here.
Recent Articles