Stock Recommendation Alert: A High-Quality Bluechip with a Unique Capacity to Endure Short Term Pain for Long Term Gain
Oct 23, 2019
We always recommend high-quality companies to our Smart Money Secrets subscribers.
Radhika and I, as co-editors, look for these companies across market cap, sectors etc.
If we find a quality stock quality and it's available at a reasonable valuation, we shortlist it for further research.
And that brings me to this month's recommendation...
We are recommending a blue-chip company. Subscribers will receive the recommendation report in their inboxes tomorrow, 24 October.
This is our second blue-chip recommendation. We recommended a high-quality bluechip in January 2019.
This month's recommendation is the perfect example of a quality we like to call, 'the capacity to suffer'.
What's that?
It means the ability to incur short-term pain to achieve long-term gains.
Renowned value investor Thomas Russo popularised this term. He looks for companies that have the capacity to reinvest their profits and managements that have the capacity to suffer.
Let's look at an example - Netflix.
Back in 2012, Netflix's operating income declined by a whopping 93%. In just one year, it fell from US$ 4.3 million to US$ 0.3 million.
The reason?
The company invested millions of dollars in developing content to support its new streaming business. It could have easily kept the profits from its DVD business or distributed it.
But CEO Reed Hastings decided to allocate everything into the streaming video business. The rest as they say, is history.
Now, you'd say, the success of Netflix is obvious with the benefit of hindsight.
But this wasn't obvious back in 2012. The stock price fell 75% in 2012 from the highs of US$ 40 in July 2011.
There are many such examples where the market severely punished a stock in the short-term only to realise its mistake when the company did a great job in the long-term.
But here's the important thing...
Not many companies are willing to take short-term pain.
In most cases, due to market pressures, companies are not willing to hurt their short-term profitability to create a sustainable business for the long-term.
Companies that do this are said to have a capacity to suffer. Their stock prices get beaten down in the short-term but reward shareholders handsomely in the long-term.
--- Advertisement ---
On May 17, we are holding a FREE event to reveal Equitymaster's Great Indian Wealth Project

At this event, we'll reveal the details of your first stock for a potential Rs 7 crore in long-term wealth.

Since there are limited seats, we urge you to register at the earliest.

Click here for free sign-up
------------------------------
The analyst community doesn't like this. Investors prefer companies which show strong growth in profits year-after-year.
'Capacity to suffer' is one of the underrated concepts in investing.
It separates a great company from the average ones because the management thinks beyond the short-term.
They are ready to 'suffer pain' as they under-report short-profits because they are investing cash back in to the business for the long-term.
This month's Smart Money Secrets recommendation is one such example.
No doubt, the company has reported decent growth. However, we believe, the company has under-reported its profit by investing for the future.
One of its business segments throws up huge amounts of free cash. The management has chosen to invest this cash in a different segment. This has depressed the overall earnings.
This new segment shows poor returns. Its return on capital employed (ROCE) is only 5%.
However, we believe, the management has used the capital wisely. They have created some remarkable brands, deepened the distribution network, and created a robust supply chain.
Now going forward, this segment will show strong growth in profitability. This is because the infrastructure is already in place. Only the scale up remains.
The company could also launch a new product using an existing brand. This is a perfect setup for brand extension. They can bring the new product to customers using the established infrastructure.
We believe, the management is doing the right thing for the longevity of the company.
Radhika and I will publish the detailed stock recommendation report tomorrow.
If you're a Smart Money Secrets subscriber, watch your inbox tomorrow!
If you don't have a Smart Money Secrets subscription, you can sign up here.
Chart of the Day
Our super investor- Rajeev Thakkar of PPFAS mutual fund recently tweaked his investing approach.
He included the 'capacity to suffer' as one of the qualities to look for.
He mentions:
Many a decision by the managements of the companies in our investee companies may be wealth accretive in the long run and may depress current reported earnings. We will try and not penalise such decisions and look through the current reported earnings to try and understand true long-term cash flows/value.
There you have it.
This month's recommendation is one such example.
Just look at the improving operating (EBIT) margin and return ratio (ROCE) of the segment which was the reason for the pain.
The Capacity to Suffer is Finally Showing Results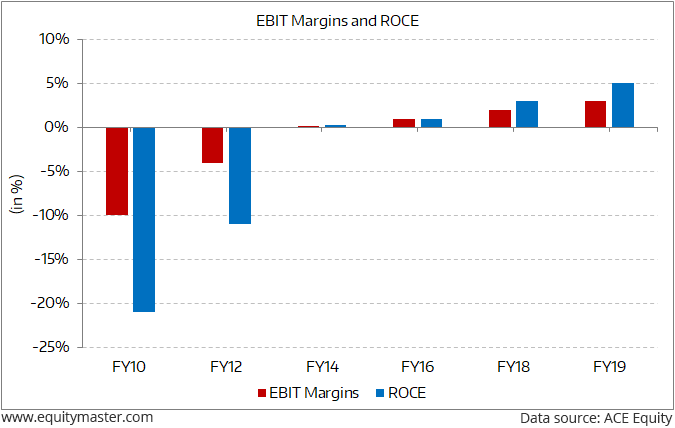 In the last 10 years, the segment's revenue grew at 15% CAGR.
Its EBIT margin sharply swung from -10% in FY10 to 3% FY19. Similarly, the ROCE improved sharply during this period.
Going forward, we believe, this segment holds huge potential for value creation.
We will publish the detailed stock recommendation report tomorrow, 24 October.
Watch this space!
Warm regards,


Sarvajeet Bodas
Co-editor and Research Analyst, Smart Money Secrets
PS: We are ready to recommend our next stock to Smart Money Secrets subscribers. If you haven't subscribed yet, sign up here and get the report.
Recent Articles