My Next Recommendation Has What It Takes to Be the Apple of India
Oct 25, 2018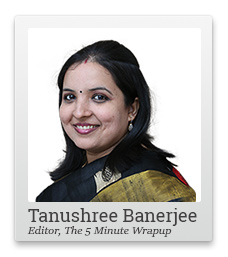 Apple's rise to a US$ 1 trillion company is a fascinating story.
In 1997, Apple was in financial trouble and its stock hit a 12-year low. That's when Steve Jobs took the reins from the previous CEO.
One of the first things Jobs did was to simplify Apple's product pipeline. His simple mantra was to be the best in two or three things rather than be average in a lot of products.
The next two decades has seen Apple rise from near bankruptcy to the world's most valuable company.
So why am I writing to you about this today?
While working on my next ValuePro recommendation (to be published in a few days), I realised there are many similarities between this Indian company and Apple.
Through a strong focus on building a brand, this company has built a strong 'moat' for itself.
This is how Warren Buffett describes moat...
The key to investing is not assessing how much an industry is going to affect society, or how much it will grow, but rather determining the competitive advantage of any given company and, above all, the durability of that advantage. The products or services that have wide, sustainable moats around them are the ones that deliver rewards to investors.
--- Advertisement ---


A Chance to Grab Solid Small Companies For Dirt-Cheap... (Time-Sensitive!)

The market crashed recently and small cap companies on the whole have been severely hit. But believe it or not, that's actually a good thing for you.

Because if you act right now, you could grab a number of solid small companies for dirt-cheap.

Yes! Our latest special report reveals some small cap stocks you could consider investing in today.

And the faster you get into these stocks, the bigger your potential gains could be.

So click here to take advantage of this time-sensitive opportunity now!
------------------------------
Here are the few similarities that I could notice between this Indian accompany and Apple:
Simplification of the Product Pipeline: Around the year 2000, this company faced a crisis like Apple did in 1997. Also, like Apple, it decided to divest most of its businesses and focus on its core business.

Focus on Creating a Brand: Apple's strength was its engagement with its customers. There were innovative marketing campaigns. Annual launch events. Apple created a connect with its customers unlike any other brand and created a loyal base of customers ready to buy the next Apple product. The Indian firm I've shortlisted for ValuePro has also created a strong brand following for itself. A network effect is when one set of users positively influence or recommend other users to use the product. The network effect for this firm has ensured a loyal customer base over a decade.

Strong Management: After Steve Jobs came back in 1997, Apple has witnessed a stunning turnaround. By building a strong core team around him and getting everyone on the same page, ensured a consistent core philosophy was followed. That philosophy runs through Apple to this day.

The man behind this Indian brand is also a fanatic who, like Jobs, through his single-minded focus, has turned around the company.
Kunal recently wrote about the best time to buy such branded stocks. Pessimism in the overall market helps you buy branded stocks at reasonable valuations.
Apart from the general pessimism in the overall market, this stock is currently facing a few short-term issues of its own.
The stock has corrected by around 30% from its recent highs.
Is this the right time to buy? Does the strong brand justify the valuations that it commands?
My upcoming ValuePro recommendation will have the answer.
Chart of the Day
Now coming to the brand created by this company. How strong is it?
Does the strength of the brand translate into solid financial numbers?
How does the company fare on fundamentals? After all, Apple translated its strong brand into robust sales and profit growth.
Does this Indian company follow the same path?
A Company with a Strong Financial Track Record
The key fundamental metrics certainly seems to suggest so. The company has been able to translated its strong brand power into profitability. Net profits for the company is up more than 30 times over the last decade.
But is such a pace of growth sustainable? Do the company's products have a big enough market to sustain growth?
If it does, we may have a global brand sitting right here in India.
Warm regards,



Tanushree Banerjee (Research Analyst)
Editor, The 5 Minute WrapUp
PS: As an intelligent investor, you should welcome market drops, says Richa Agarwal, Equitymaster's small cap investing guru. We believe her. The markets are down now. You should be ready to invest in small caps. Click here to join Richa's small cap stock recommendation service, Hidden Treasure.
Recent Articles