Keep an Eye on the Most Boring 'Privatisation' Stocks for this Rebirth Opportunity
Oct 29, 2019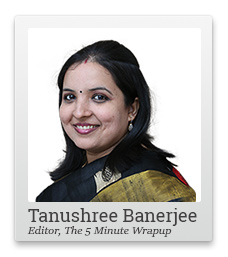 'I feel like a pilot,' she told me.
My conversation with a friend, who is a long-term investor, began with this punchline.
I was impressed! I thought she was telling me how meticulous she is.
I thought she was likening a pilot to someone in control.
I imagined here running through checklists and taking precautions.
It turned out my imagination had run too far...
My friend was trying to convey her distress - not impress me. She thought of pilots as professionals who endure 'hours of boredom punctuated by moments of terror'. And she considered her plight as an investor to be no different.
The sharp volatility in the markets over the past month had particularly riled her confidence in her investing skills.
She didn't know whether to remain calm, like a good pilot, and execute a safe landing. Or to panic and hit the eject button.
Turns out that she was most worried about the 'boring stocks' in her portfolio. And feared never being able to make money on them.
I know my friend is not alone in experiencing the fear of missing out. Rather FOMO has gripped investors who have been holding stocks of stable businesses for nearly two years, with no gains.
But remember - boring stocks do not always remain so.
Rather investors who buy and hold sound 'boring' stocks are often rewarded with gains way beyond their imagination. Legends like Warren Buffett have said and experienced this for decades. He latest big purchase, Apple, was also when it was a boring stock.
Now, the most boring and beaten down stocks are typically the government owned entities. And even these have sprung surprises from time to time.
Like it happened between 1999 and 2004.
Hindustan Zinc was a government owned mining company that no one considered lucrative. Its sales were growing at a tepid rate. It was sold by the government to the Vedanta group.
Modern Food was a government owned FMCG company producing bread, cakes, cookies and owned strong brands. But it ran losses to the tune of Rs 482 m in the year 2000. The company was bought over by HUL.
CMC Ltd, involved in hardware maintenance, systems engineering, system design, development, consultancy and networking for government projects had recorded a turnover of little over Rs 5 bn in 2003. But the company saw limited growth opportunities until TCS acquired it.
IPCL, then an important but low profitability energy company, was plagued with bureaucracy and labour union problems. Finally, it was acquired by Reliance Industries in 2002.
The net profits of CMC, Modern Foods, Hindustan Zinc and IPCL jumped between 48% and 110% within two to three years of privatization. The stock of Hindustan Zinc has been a 100 bagger since 2002.
--- Advertisement ---
Closing Tonight at 11:59pm

Last Chance Get 1 Year of Hidden Treasure

Worth Rs 6,000 For FREE

Claim Your Free Access Here
------------------------------
Not just that, the companies saw a surge in volumes, witnessed a dramatic change in operating culture and were able to carve out a niche in the parent organisation.
Of course, not every privatization story turned into a fairy tale. Ones like BALCO and VSNL did not reap the harvests for shareholders that they were meant to.
Nonetheless, subjecting non-strategic public-sector companies to private sector management has high chances of being a win-win.
Do keep in mind that the government owned entities often enjoy monopolies. Or they own the most prized natural assets. So, it's necessary to ensure that such moats are optimally utilized.
Companies like BPCL, Container Corporation, Shipping Corporation are examples of high moat PSUs today that deserve better management.
And their privatisation, if executed well, could be a game changer for the companies and their shareholders.
Will investors be keen to buy such stocks? Well, the success of IRCTC's IPO is the proof of the pudding!
But my argument for privatisation is not limited to these three. Rather there are several boring and beaten down PSUs that have no strategic importance for the government. And privatization could offer a new lease of life to them. They could fetch the desired capital and become globally competitive. And in the process create massive wealth for shareholders who patiently hold on to the stocks.
I am keeping a close watch on this megatrend for my Rebirth of India project. And my latest StockSelect recommendation also rests on this premise.
Warm regards,



Tanushree Banerjee
Editor and Research Analyst, The 5 Minute WrapUp
PS: The Rebirth of India is a once-in-a-lifetime phenomenon and smart investors can use it to amass wealth which could potentially last generations. Read more about it here.
Recent Articles