Government Versus RBI: This Could Trigger the Next Stage of the Market Correction
Oct 31, 2018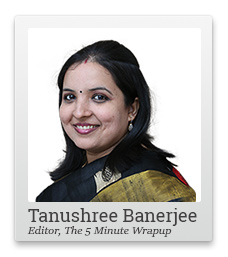 Dear reader, the big news story today is the government's decision to invoke section 7 of the RBI Act.
If this is true, I believe this will have grave implications for you as an investor.
First, what is section 7 of the RBI Act? Quite simply, it allows the government to give directions to the RBI governor in matters that it considers to be in public interest.
This has never been done before. We are in unchartered territory as far as the RBI is concerned. Its independence is now in question.
But I could see the tension building for a while. I wrote to you about it last week when the government proposed to set up a separate regulator for Payments Banks (more on that below).
Then came deputy governor Viral Acharya's strongly-worded speech warning the government against interfering with the RBI's independence.
And now this.
I believe the market could get jittery if this were to escalate.
This is a good time to revisit the issue that triggered this situation. Here's what I wrote to you last week...
Except for Dr Raghuram Rajan, India has had few central bankers who spoke in the context outside monetary policies.
It is rare for the RBI to express dissent publicly. Whenever the RBI has done so, it's been to protect its own autonomy and the stability of India's financial system.
The government's proposal of an independent regulator for Payment Banks is the most recent reason for the RBI to speak up. This new, independent regulator is yet another attempt to clip RBI's wings.
--- Advertisement ---


These 7 Stocks Could Potentially Build One A Hefty Retirement Nest Egg.

Building a retirement nest egg isn't easy by any means.

To be honest it could be tricky if one doesn't invest in the right stocks.

But with our premium service Stock Select which has an undisputed track record of delivering a WIN percentage of nearly 74% in the last 16 years, building one's retirement nest egg becomes way easier.

In fact, Tanushree Banerjee, the editor of StockSelect, has just put together a report containing 7 stocks that could potentially build a solid retirement nest egg for her loyal Subscribers.

Click here to claim your FREE report and an additional year of StockSelect for FREE.
------------------------------
But it could have far reaching implications, which go beyond the financial system. And it's something that you should be wary of.
Think about it. Payment Banks are meant to revolutionise India's financial ecosystem. Rudimentary mobile wallets are only the beginning. The real impact is yet to come.
The rout in the NBFC space is an indication that too many inefficient players cannot survive forever. Technology and innovation in the digital banking and payment space will disrupt the financial sector as we see it today.
It will be a case of the survival of the fittest.
But disruption will not be restricted to the financial sector.
Electric cars, for instance, could eventually be very disruptive for the auto sector.
Electric cars are technically far simpler than combustion ones. They last for a longer mileage and break down much less. This means, they will warrant much lower frequency of replacement and repairs than the cars today.
Combine that with advances in self-driving vehicles. Both the volumes of cars and the type of cars in demand will undergo a big change over the years. So, this disruption could be the death knell for auto companies that fail to catch up on innovation.
Similarly, ecommerce, online hospitality services, digital utility services, and 3D printing could disrupt the retailing, hospitality, utility, and manufacturing businesses as we see them today.
Not all such businesses need regulators. Nor will they have one.
But it will be important to ensure that few profiteering players do not kill the other healthy competitors in the name of disruption. This is something that at least the RBI, as a regulator, has excelled at over the decades.
The government's logic of keeping the proposed Payments Regulatory Board (PRB) independent of the RBI hardly has enough merit. The payments ecosystem in India already has multiple players and a myriad of systems.
There is stiff competition and the RBI is working on a host of measures to ensure systemic soundness. Plus having supervision on deposit taking entities, pure lending entities, and payment banks gives the RBI an early warning of asset liability mismatches.
An independent Payments Regulatory Board would lack both the experience and information to offset such systemic risks. And, in the bargain, could end up hurting healthy businesses to favour a disruptive few.
I believe, not having the Payment Banks to report to the RBI could therefore set a very wrong precedent.
--- Advertisement ---


Now That's A Ridiculous Offer!

This is one of our best offers ever!

If you ask us, it's a ridiculously good deal.

And chances are, we won't do anything like this again!

Here's your chance - grab an additional year of StockSelect today, FREE! You'll also get access to Tanushree Banerjee's 7 Stocks to Profit From This Market Crash.

Hurry! Claim your FREE access here.
------------------------------
We do need disruptive businesses to take centerstage for sectors to evolve and for innovators to create wealth. But where necessary, the disruption should be under strict regulatory norms. So that they do not create economic, social or environmental disasters.
Be it payment banks or electric cars or any other disruptive business, their growth needs enough experienced supervision. Their customers and investors must stay secure.
And it's important that the government realises the need for autonomous regulators to do their job well. Else the technological disruption could be accompanied by destruction of wealth.
Chart of the Day
The key reason for the tussle between the government and the RBI is the lending to small corporates and RBI's handling of the NPA crisis.
The Insolvency and Bankruptcy Code (IBC), the bankruptcy law of India that came into effect in 2016 and is meant to rid the banking sector of the NPA crisis, has had just few successes so far. Though big ones.
If we consider two successful closures, i.e. Bhushan Steel and Electrosteel Steels, the lenders have already recovered close to Rs 421 billion.
If we consider the other two cases of Essar Steel and Binani Cements, then the lenders would receive around Rs 492 billion.
Faster Recoveries Under the IBC
The government expects close to Rs 1.8 trillion through the IBC. Similarly, banks expect to write back more than Rs 1 trillion from the resolution of 'Dirty Dozen' constituting 12 big NPA accounts referred to IBC by the RBI.
This is what The RBI said in its report on Trend and Progress in the banking industry:
Banks can take advantage of the IBC to clean up their balance sheets and improve performance on a sustained basis to remain competitive. Instead of waiting for regulatory directions, banks can file for insolvency proceedings on their own to realise promptly the best value for their assets.
The IBC is positive for the long-term health of the banking system and it is evolving with time.
More importantly, lending in the next credit cycle will be more disciplined as a result.
For the IBC to truly succeed it is important that the government lets the central bank do its job independently and thwart systemic risks due to the bad loans.
Warm regards,



Tanushree Banerjee (Research Analyst)
Editor, The 5 Minute WrapUp
PS: Tanushree Banerjee, the editor of StockSelect is giving away a FREE report containing 7 stocks that could potentially build a solid retirement nest egg to her loyal readers. Click here for details.
Recent Articles