Why We Are Now Betting Big on the Revival in Consumption
Oct 31, 2019
A year and a half back, I wrote this article - Will the real capex revival please stand up?
I expressed my frustration at the non-recovery of India's capex cycle...
'The capex recovery is like a mirage in a desert. You go after it...and it gets further and further away. Will the real capex revival please stand up?'
The idea back then was to look out for key catalysts for the capex revival. In a follow-up article, I wrote about a rural-led recovery which would revive capex.
But it didn't happen.
Don't get me wrong. The initial signs of growth indicators were positive - the steady growth in tractor sales, commercial vehicles, or volume growth for FMCG companies - it was all there.
Also, rural demand was outpacing urban demand after a gap of three years.
The managements of the companies we track were also positive on rural demand.
But...
The impact of demonetisation and the GST was still lingering. This was further accentuated by the crisis in the non-banking financial sector (NBFC).
Due to these reasons, small and medium scale businesses were severely impacted.
You see, NBFCs are key participants in the rural economy. Large banks don't have a strong presence in rural India. NBFCs solve a crucial and genuine financial need of India's vast rural population.
Post the NBFC crisis, these companies faced a liquidity crunch. Due to this, credit disbursals plunged significantly.
Similarly, credit became hard to come by for customers who NBFCs considered to be risky. This constrained households' ability to spend.
It didn't take long for this to have a ripple effect across many sectors - automobile, real estate, FMCG etc.
The net result was huge job losses. Rural India has suffered more than urban India due to the loss of employment.
Ultimately, this shows up in consumption patterns. Consumption in rural areas shows a bigger declining trend than in urban areas.
There also another point to note here...
In the past two years, non-food inflation has been higher than food inflation. Farmers in rural India are food producers who supply to consumers in urban India. So, while incomes have not gone up in rural India, people in the cities have seen food prices remain stable.
This amounts to an income transfer from rural to urban areas.
To add to these woes, the Reserve Bank of India (RBI), during the same period, largely adopted an inflation-centric policy.
I believe one of the worst decisions of the RBI to increase the repo rate from 6% to 6.5% between June-August 2018. It further crippled the finance industry.
Well, that's the consumption side story over the last one and half years.
In the meantime, the government spending on infrastructure was the silver lining.
But now, with fiscal deficit constraints, the government has very little room to invest big money to revive the economy.
So in this context: How will the capex cycle revive?
I believe, a consumption-led recovery will be the key.
Why do I say that?
--- Advertisement ---
FREE Event on Equitymaster's New Project

On May 17, we are holding a FREE event to reveal Equitymaster's Great Indian Wealth Project.

At this event, we'll reveal the details of your first stock for a potential Rs 7 crore in long-term wealth.

Seats for this event are filling up fast.

Since there are limited seats, we urge you to register at the earliest.

Click here for free sign-up
------------------------------
Unless there is a demand, companies won't expand their capacities. If there is no expansion, capex in the private sector will remain muted.
Clearly, the trigger has to be consumption.
If we look at this year, we had a reasonably good monsoon season.
Importantly, the RBI is becoming increasingly accommodative. It has already reduced the repo rate from 6.5% to 5.15% in the last one year.
Banks are now transmitting the lower rates faster by linking their bank lending rate to the repo rate set by the RBI.
Public sectors banks have sufficient capital to lend due to the government's upfront recapitalisation plan.
Not to mention, stable inflation will give a further boost to consumption.
While thinking about all this, it is important to keep the big picture in mind.
India's per capita consumption is still among the lowest in the world. This gives us a huge runway for growth.
India's Low Per Capita Consumption is a Big Opportunity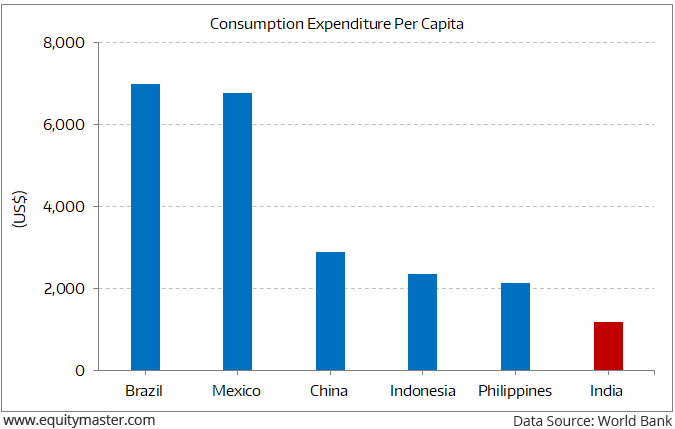 As co-editors of Smart Money Secrets, Radhika and I are betting big on a consumption-led recovery. In fact, our last three recommendations are from the consumption space.
This month, we recommended a bluechip FMCG company.
I believe, the potential upside in this stock is 30%. We recommended it a few days ago to our Smart Money Secrets subscribers.
If you've subscribed to Smart Money Secrets you can click here to read the recommendation report.
If you haven't signed up for Smart Money Secrets, you can do so here.
Warm regards,


Sarvajeet Bodas
Co-editor and Research Analyst, Smart Money Secrets
PS: We recently recommended a solid bluechip consumption stock to Smart Money Secrets subscribers. You can sign up here and get the report.
Recent Articles