Three Reasons Why Your Diwali Stocks Must Be Boring
Nov 6, 2018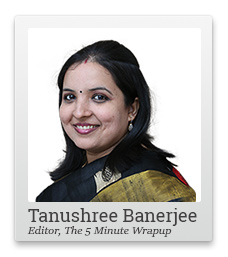 One of the most interesting stories in aviation history is that of the Gimli Glider.
The incident took place in 1983 with the new Boeing 767. Halfway through a flight, the plane went completely out of fuel and was forced to glide to a former Canadian airbase and make an emergency landing.
The mistake was due to a series of human errors. The most important mistake happened during refueling - the fuel calculations were made in liters instead of gallons.
Having loaded less than 50% of the fuel necessary for the flight, the crew found itself flying a glider rather than a jet airliner.
The flight crew thought they were flying the most modern jet airliner in the world. But with insufficient fuel, within minutes, they were flying the largest and heaviest glider flown.
Thankfully, it was being piloted by Captain Bob Pearson, who had been trained as a glider pilot.
He could safely land the Boeing 767 on Gimli's (a rural municipality in Canada) defunct airstrip.
The plane became known as the Gimli Glider.
And this story became a powerful reminder of how a simple mistake can turn an object, an event, a company, anything really, into something quite different from expectations.
--- Advertisement ---


Be Greedy When Everyone Else Is Fearful…

The current market crash is indeed a cause of concern for most investors.

But if you're an opportunist, it could be a blessing in disguise.

Tanushree Banerjee, our Safe-Stocks Expert, has carefully picked 7 Blue chip stocks for her loyal subscribers and they're now available at bargain prices.

But these stocks may not be available at such attractive valuations for long.

So before it's too late, click here to claim our special report on 7 stocks To Profit From This Market Crash.
------------------------------
Now, investors too have expectations. And they often get carried away by the sheer size of the opportunity. Seeing a tiny stock swell into a huge bluechip remains the ultimate dream.
Whether or not a particular stock makes a meaningful difference to their portfolio, everyone wishes to own multibaggers.
The media flaunts exciting stories of few smallcaps and of managements that have turned tiny companies into industry leaders. And investors are often fooled into believing that the investing journey in such stories could be flawless.
But, at times, things turn out very different than first envisioned. If a company's strategy begins to wobble in year two, it's likely you will be investing in a very different company in year five and something not even remotely the same in 10 years.
Which brings us back to the Gimli Glider. Passengers aboard the flight that day learnt that gifted leaders and intense focus can possibly avert a potentially fatal situation. Quick reaction, identification of the problem and a practiced checklist can help an investor too. It can make all the difference between a safe smooth flight or a short and bumpy ride.
The reason I choose to remind you of the Gimli Glider today, dear reader, is because I know that it will help you pick stocks in the most unfashionable and boring way.
Even as you are flooded with ideas for buying the most glamourous and exciting Diwali stocks, you would rather keep your choices boring. There are at least three reasons for you to do so.
Gallant managements could do better than glamourous ones
The near-term challenges for Indian stock markets are far from over. Businesses that are run by conservative, ethical and cautious managements have a far better chance of protecting and growth your wealth.
Super investors may be steering a different ship
The super investors who are buying or a recommending you to buy their Diwali stocks may be having a portfolio of size and risk profile that is very different from yours. So, following them blindly could be dangerous.
Festivities do not last forever
Neither the festivals nor the bull markets last forever. Therefore, stocks that soar at such times, purely on sentiments, may not sustain their valuations without sufficient earnings.
So, do enjoy a glamourous Diwali. But keep your watch on stocks that are safe, time tested and borderline boring.
--- Advertisement ---


These 7 Stocks Could Potentially Build One A Hefty Retirement Nest Egg.

Building a retirement nest egg isn't easy by any means.

To be honest it could be tricky if one doesn't invest in the right stocks.

But with our premium service Stock Select which has an undisputed track record of delivering a WIN percentage of nearly 74% in the last 16 years, building one's retirement nest egg becomes way easier.

In fact, Tanushree Banerjee, the editor of StockSelect, has just put together a report containing 7 stocks that could potentially build a solid retirement nest egg for her loyal Subscribers.

Click here to claim your FREE report and an additional year of StockSelect for FREE.
------------------------------
Chart of the Day
If you wondering whether the boring stocks will do well against smallcaps as well as asset classes like gold and fixed income over the long term, take a look at this chart.
The BSE 500 which represents a mix of bluechip and midcap stocks, underperformed the BSE smallcap index only over the 5-year period. And even in a year of sharp market correction (like 2018), the correction in the index is much lesser than that of the smallcap index.
Boring Bluechips are Necessary for Risk Hedged Returns
Warm regards,



Tanushree Banerjee (Research Analyst)
Editor, The 5 Minute WrapUp
PS: Tanushree Banerjee, the editor of StockSelect is giving away a FREE report containing 7 stocks that could potentially build a solid retirement nest egg to her loyal readers. Click here for details.
Recent Articles