Are Your Stocks as Polluted as Delhi's Air?
Nov 7, 2019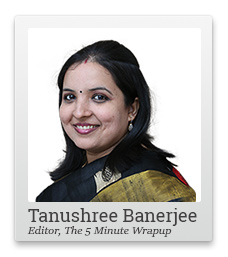 One of the perks of my job is that I get to meet the management teams of many companies frequently.
And I assure you, every team has a different story to tell. From how they've built up the business to how they're ready for the future. The stories can be quite fascinating.
Another interesting aspect is the cities that I get to travel across India. I've come to appreciate each city's distinct personality.
I was in Delhi last week for one such meeting. I've always liked Delhi but this time, it was a little different.
It was hazy all-round right from the moment I landed in the city. It wasn't easy to breathe. It just did not feel right.
The next day, an emergency was declared in the city. The pollution recorded was the worst seen in decades. Delhiites described their city as a gas chamber.
Not surprisingly, a blame game started. Activists attributed it to the celebration of Diwali. The government blamed the vehicles on the road. Residents blamed the crop burning in Delhi's neighboring states.
None of them are wrong. All these factors have contributed to the polluted air in Delhi.
But one major reason was largely ignored. Delhi's geographical disadvantage. Unlike coastal cities like Chennai and Mumbai, there's no outlet for the polluted air In Delhi.
Being surrounded by farming areas also doesn't help. While some measures will help in the short run, Delhi's disadvantageous location means the air pollution is here to stay.
As a research analyst, I've observed something similar in the stock market. You see, when we see a stock or a business underperform, we look for reasons within the business.
Maybe the management hasn't executed well. Maybe the government policies are hurting the business...and many more.
But many a times, we miss the main issue: Big long-term trends.
Trends which are not favorable to the business. Things that might have worked for the business in the past but might not in the future.
By the time we realise it, it's usually too late.
The business has no role to play in the new world order. A world where disruption is the norm. A world where a business will survive only if it is part of a long-term trend.
To use Delhi's air as an example, these businesses are permanently polluted. You're better off not buying the stock.
So the next time you're thinking of buying any stock, make sure you ask questions like...
Will it take part in India's consumption story?
Will it benefit from India's rapid shift to urbanisation?
Will it play a part in India's rise as a superpower?
These and many such long-term trends are likely to play out over the next decade. If your stock won't participate in these trends, it most likely will struggle in the long run.
This is something I have thought long and hard about while choosing my top 7 stocks in the market.
These businesses will be key participants when favourable long-term trends play out. I'm already seeing these trends start to play out today.
I believe these are not only my best bets for 2020 but also for the 10 years ahead.
Ask me again next year for my top picks and my answer might be the same. I believe these trends are here to stay for a long, long time.
Warm regards,



Tanushree Banerjee
Editor and Research Analyst, The 5 Minute WrapUp
PS: Dear reader, to make solid profits in this market rebound and beyond, I recommend buying my top 7 stock picks for 2020. Get the details here.
Recent Articles