When the Sherlock Holmes in Me Follows Super Investors...
Nov 11, 2017
The stock markets and the economy don't move hand in hand, because the markets generally factor in future expectations.
But Super Investors, with their decades of experience, can discover market beating opportunities well ahead of others.
They look for companies that can benefit from secular megatrends in the country...
And when they identify such a trend - and its advantages for a sector - they go ahead and buy the strongest company in the sector.
One of the Super Investors I follow has recently identified a sector that promises to be the biggest gainer in the megatrend of the next decade.
In fact, in a bulk deal, he recently bought a ton of stocks of this MNC company.
Why, I wondered when I saw how much he was buying. Why on earth was he buying into it?
Economic and political sentiments are both down thanks to notebandi and GST.
But this Super investor is still buying companies that would only benefit from a strengthening economy...
Is my Super Investor crazy, or am I missing something?
Well, I decided to investigate. And looking at the astonishing numbers, the Sherlock Holmes in me got activated.
The MNC has done some magic lately! It has, out of the blue, increased its sales and profitability dramatically. Its profits grew at a CAGR of ~45% in the last four years.
I took my magnifying glass and travelled back in time through its past annual reports.
Here is what I found...
#Finding 1 - Increasing Exports:
| Particulars | FY13 | FY14 | FY15 | FY16 | FY17 |
| --- | --- | --- | --- | --- | --- |
| Domestic Business | 86% | 72% | 58% | 59% | 58% |
| Exports | 14% | 28% | 42% | 41% | 42% |
Source: Company, Equitymaster
The company in question has an MNC parentage with high focus on agricultural activities.
In the past three or four years it has dramatically increased its exports from 14% of the revenue in FY13 to 42% in FY17.
#Finding 2 - Make in India:
This company improved its profitability dramatically (CAGR of 43%) by sourcing and manufacturing locally in India (earlier it used to import from the parent company's country).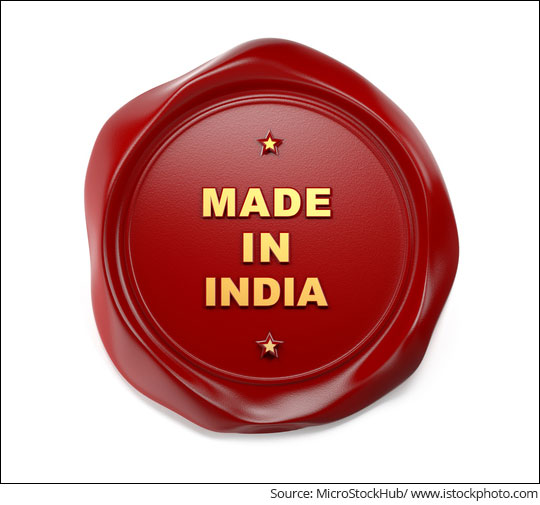 In addition to the domestic market, it is now also fulfilling global demand by the manufacturing facilities in India.
#Finding 3 - Agricultural Focus:
As discussed earlier, this company is into agricultural products. Now, it has benefited immensely from various subsidy schemes introduced by the government of India.
In the last three years, it has launched a flurry of products focusing on the farm productivity and government's thrust on the subsidy model.
#Finding 4 - Helping Government Build Infrastructure
The company, in last two years, has entered into long term contracts with the central government for rural infrastructure development programs.
'Make in India + Exports = Higher Profitability!'
This company has not only improved its sales and profitability.
It has improved its working capital and cash flow generation.
It has become a very strong business compared to what it was even just five years ago. So 'Make in India + Exports = Higher Profitability!'
Super Investors with decades of experience under their belt, are typically the first ones to spot the biggest weath creating opportunities in the stock market.
While most economists keep complaining about the short-term disruptions, the smart money cashes in on the gains. I wear my Sherlock Holmes hat to follow them!
Editor's Note: Last call to profit from the coolest opportunity we have ever dug up (even cooler than Sherlock Holmes). If you don't wanna miss out on the 'best of both worlds' investing style of Apurva, click here now. The service closes tomorrow.
India Inc's Credit Health Remains in Dock
With an elusive recovery in earnings, India Inc's credit profile has further deteriorated. Its credit ratio - the number of upgrades to downgrades in debt paper - has slipped to a five-year low of 0.97. While rating agencies upgraded 189 debt papers in the first half of FY 17-18, the number of downgrades was a tad higher at 195. In value terms, the downgraded debt stood at Rs 2.6 trillion and was nearly 1.5 times that in FY17.
India Inc Caught in Whirlwind of Debt Downgrades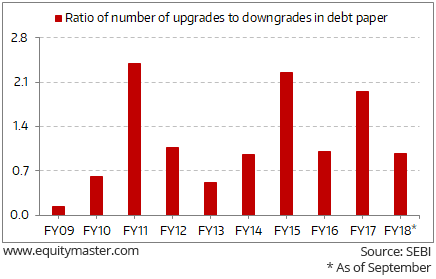 With companies already battling muted earnings growth, temporary disruptions such as notebandi and implementation of goods and service tax (GST) have diminished their cash flows. This has led to a jump in downgrades in debt paper by rating agencies. Even the low capacity utilisation by manufacturing companies has led to a surge in debt downgrades. In value terms, downgrades raced ahead of upgrades in FY16. The downgrade cycle, initially frontlined by metal and commodity related companies, is now being driven by public sector banks burdened with bad loans. Moreover, the caution exercised in lending has led to fall in credit growth.
Going ahead, factors such as a normal monsoon boosting rural economy, low interest rates, benign inflation, and implementation of pay commission recommendations by states are expected to revive the economic growth engine. Moreover, government efforts to boost public spending through road infrastructure projects is likely to aid the recovery and plug the downward spiral in the credit profile of India Inc.
Gold Loses its Lustre
Global trends indicate the gold is no longer the most sought-after asset class for investors. As per the World Gold Council report, gold demand slipped by 9% to an eight-year low of 915 tonnes in the third quarter of 2017. An anaemic demand for jewellery and lower investment inflows in exchange traded funds(ETFs) has led to a 12% downfall in the overall demand for the precious metal so far in 2017.
India, one of the biggest gold consuming countries in the world, is witnessing a waning gold demand post the implementation of the goods and service tax (GST) regime. Moreover, retail jewellery transactions were brought under the purview of 'The Prevention of Money Laundering Act' (PMLA) in August this year, which acted as a deterrent. So, gold jewellery demand, after recording growth for three quarters in a row, fell by 25% YoY to 114.9 tonnes in September 2017 quarter. Resultantly, domestic gold demand was down 24% YoY to 192.8 tonnes during the quarter.
Although PMLA was relaxed for the gems and jewellery sector ahead of Diwali, the demand remained lacklustre due to high GST rates. The World Gold Council expects gold demand in 2017 to fall below the five-year average of around 650-750 tonnes. Going ahead, GST is likely to reduce the competitiveness of the small, unorganised players, which will benefit large organised players in the long run.
What the Markets Looked Like This Week
Global financial markets ended the week on a mixed note, with Asian markets continuing their gains, while the US and European share markets snapped their winning streaks. In the US, the Dow Jones Industrial Average charted its first decline since September as market participant's concerns over the delays in US tax reform weighed on the markets. US markets ended the week marginally lower by 0.4%.
European stocks edged lower during the week as subdued corporate earnings brought down investor sentiment. UK and French markets were down by 1.7% and 2.5% respectively this week, while German indices lost the most and were down by 2.6% over the week.
Asian markets were trading in green during the week amidst positive earnings and economic data. Japanese Indices ended the week up by 0.6%, while indices in China and Hong Kong were up by 1.8% over the week.
Back home, benchmark indices in India declined from record high levels logged last week, amid mixed corporate earnings. Weak manufacturing growth measured by the index for industrial production (IIP) added to the woes. The BSE Sensex ended the week lower by 1.1%
Investment Mantra of the Day
"The critical investment factor is determining the intrinsic value of a business and paying a fair or bargain price." - Warren Buffett
Recent Articles