Take This Test to Grow Your Wealth
Nov 12, 2018
Editor's note: Dear reader, I hope you enjoyed Diwali. The market is hoping for a good year ahead. But hope is not a good investing strategy. At this time last year, who would have predicted the volatility of 2018. In this market, you need to not only grow your wealth but protect it as well. Here's something I believe will be helpful...
---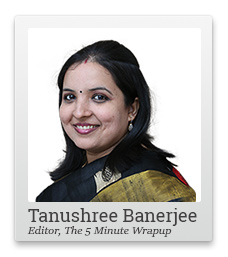 The quotes of legendary investors like Warren Buffett, Charlie Munger, Peter Lynch and Walter Schloss all come down to the same message...
What matters for successful investing is...
The ability to keep out the noise...

Stay resilient through ups and downs, bull markets and bear markets...

And not worry where the markets are going tomorrow, or next week, or next month...
We often use those quotes to reinforce the principles of long term value investing and the concept of 'delayed gratification.'
But delayed gratification is an extremely hard concept to explain, especially to a kid. Try explaining to a child that she should give up something today for a better tomorrow. I've tried explaining to my daughter that she should forego some playtime before her exams, for rewards later. I lost her attention in seconds.
Fortunately, I found this video on the famous Marshmallow Test that did the job for my 9-year old daughter.
The Marshmallow Test
Source: IgniterMedia/www.youtube.com
I think you and I can also learn from it. Just replace the marshmallow in the video with 'money' or 'returns' and put it in the context of investing.
More often than not, putting off near term pleasure is the difference between failure and success.
--- Advertisement ---


Be Greedy When Everyone Else Is Fearful…

The current market crash is indeed a cause of concern for most investors.

But if you're an opportunist, it could be a blessing in disguise.

Tanushree Banerjee, our Safe-Stocks Expert, has carefully picked 7 Blue chip stocks for her loyal subscribers and they're now available at bargain prices.

But these stocks may not be available at such attractive valuations for long.

So before it's too late, click here to claim our special report on 7 stocks To Profit From This Market Crash.
------------------------------
Now, you can only delay gratification if you are patient and have the nerves to act rationally during stressful times.
Even those who have a decade or two to enjoy the fruits of investing, at times, give in to the pressures of market volatility. They end up selling some of the best stocks because they are correcting more than expected. Or they may decide not to buy such stocks expecting more correction in them.
Either ways, the inability to delay gratification takes away a golden chance to create wealth, lots of it, safely.
Dear reader, the reason I am talking about the Marshmallow Test today is because failing this test could reduce your chances of making the most of my latest recommendations.
Yes, the current markets have presented plenty of fresh buying opportunities. I've already published my latest list of safe stocks to buy in a special report - 7 Stocks To Profit From This Market Crash.
But what is important to understand is that these stocks, despite their fundamental strength, could remain vulnerable to market sentiments. At least in the near term.
The extreme swings in the market are not yet over...
Far from it.
And several factors could only add to the volatility in the coming weeks and months. Oil prices, global interest rates, exchange rates, trade wars and of course the upcoming elections in India could keep the indices swinging.
Add to that the disappointment in corporate earnings. The September quarter results are only the precursor to the poor earnings recovery this year.
I'll have more on this in tomorrow's edition of The 5 Minute WrapUp. Stay tuned...
If you want to get my latest special report - 7 Stocks To Profit From This Market Crash - just click here.
--- Advertisement ---


These 7 Stocks Could Potentially Build One A Hefty Retirement Nest Egg.

Building a retirement nest egg isn't easy by any means.

To be honest it could be tricky if one doesn't invest in the right stocks.

But with our premium service Stock Select which has an undisputed track record of delivering a WIN percentage of nearly 74% in the last 16 years, building one's retirement nest egg becomes way easier.

In fact, Tanushree Banerjee, the editor of StockSelect, has just put together a report containing 7 stocks that could potentially build a solid retirement nest egg for her loyal Subscribers.

Click here to claim your FREE report and an additional year of StockSelect for FREE.
------------------------------
Chart of the Day
Our dear readers often ask us questions about stocks that are already multibaggers. Or ones that we expect to turn into multibaggers in the years ahead.
The qualitative and quantitative virtues of such business are easy to explain.
But the biggest reason for good companies to become great stocks is in the valuations. You either buy the stock when the market is yet to discover its true potential. Or you buy it when the market is completely underestimating its resilience.
If you don't believe me, take a look at today's chart. Investors who passed the marshmallow test in the previous market correction in 2016, had the chance to buy some of the biggest multibaggers.
Interestingly, these multibaggers have once again seen a similar or more correction in 2018 as well.
Almost Every Multibagger Has Phases of Sharp Correction
Warm regards,



Tanushree Banerjee (Research Analyst)
Editor, The 5 Minute WrapUp
PS: Tanushree Banerjee, the editor of StockSelect is giving away a FREE report containing 7 stocks that could potentially build a solid retirement nest egg to her loyal readers. Click here for details.
Recent Articles