How the Modi Government is Helping My Top 7 Stocks
Nov 14, 2019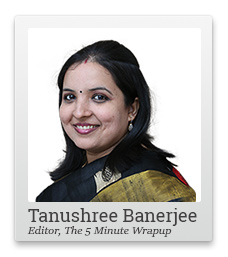 I believe there's one thing we must all learn in life - the art of delegation.
Be it your personal or professional life, the art of delegation is one of the most important things you can master.
We spend most of our time on menial tasks. They take up most of our day. We end up ignoring the high priority tasks which we should be focused on.
Although delegation sounds simple, it rarely is. There are two important things that you need to know...
What to Delegate
First, you need to identify what to delegate.
Segregate your work into priorities. High priority work is something that you need to do personally.
The rest is something that can be done by anyone. You should delegate these tasks. Let others do this work for you.
Whom to Delegate
I believe, this is the most important thing in the art of delegation.
You must always delegate work to the right person. If you pick the wrong person, you'll end up in big trouble. You might have to do double the work you were supposed to. The person you pick should be competent enough to carry out the tasks.
You might be surprised to know this is one of my secrets to picking high-quality stocks.
My main priority is picking the right stocks for my subscribers. I can handle that part easily enough.
And the delegated work is currently being done by the Modi government!
Just look at all the recent big reforms done over the past few years.
Corporate Tax Cut: This is a big boost for established businesses, companies that have survived tough business cycles, businesses that have seen competition fall by the wayside. These businesses will now thrive.
Real Estate Reform: The government recently announced bailout package of Rs 250 billion. It is mainly aimed at reviving stalled projects. Think of all the homebuyers who are getting their homes after a long wait.

What does a family do once they get into a new home? They spend on home improvement. In short, consumption of essential items will increase.
The Corporate Cleanup: Post the IL&FS crisis, we have seen a major overhaul of the financial system. Questionable practices by NBFCs, rating agencies, auditors have been brought to book. The 'Jugaad' attitude of many corporates has been punished. Clean businesses run by honest managements have benefited the most.
--- Advertisement ---
3 Stocks for Potentially Massive Gains

COVID-19 has triggered a fundamental shift in the global economic and geopolitical map.

This reshuffling of the geopolitical map is just ONE of the forces fuelling the great Indian revival.

A revival that will restore the power, wealth, and influence we once enjoyed.

And, those who invest in the companies at the heart of this revival could turn a small stake into generational wealth.

Our co-head of research, Tanushree Banerjee, has narrowed down on 3 specific stocks.

She strongly believes, these 3 "revival stocks" could potentially offer massive gains.

Click here to learn more about this mega opportunity
------------------------------
My task now is to pick the right businesses which have established themselves over the years. I'm focused on picking stocks where these, and many other reforms by the Modi government, will do the heavy lifting.
I strongly believe, this is just the start. There will be many more reforms to come. Once that happens, the floodgates for the next bull market will open in a big way.
You just need to be in the right stock at the right time.
I believe you have a great opportunity today to buy my best 7 stocks in the market.
If you've already bought them, just sit back, relax, and let the Modi government perform the delegated tasks for you.
Chart of the Day
Real estate is one sector that has tested investor patience over the years. While the sector has seen big moves in the last few years, the downward movement has been equally sharp.
The post demonetisation era has been tough on the sector. Excess inventory, i.e. housing projects stuck for years, has meant homeowners have largely stayed away from any fresh buying in the real estate space.
Also, post the IL&FS crisis, lending to real estate developers has largely dried up. The BSE Realty Index also reflects the same. It was down 31% in 2018.
Is the Real Estate Sector Set for a Turnaround?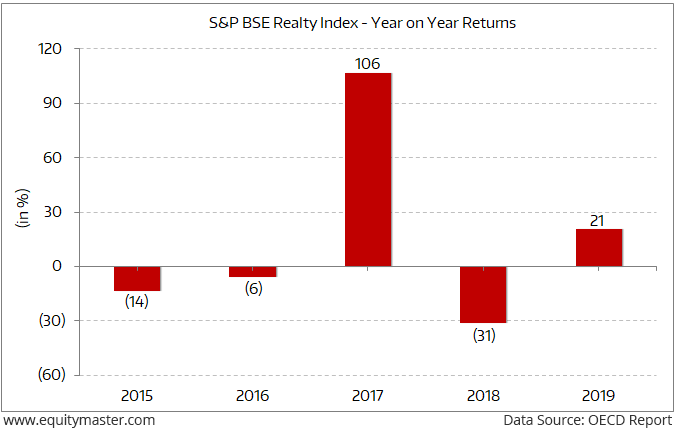 But is the scenario about to change?
The government recently announced a Rs 250 billion package to bailout stalled housing projects. It's a much-needed relief for home owners.
The BSE Realty Index has seen a sharp bounce post this announcement. It is up 21%for the year.
What I'm more interested in is the pickup in consumption once the real estate sector revives.
Once people get their homes, they are likely to spend on tiles, paints, furniture, electronics, pipes, cables, cement, and many other things.
Watch this space for more!
Warm regards,



Tanushree Banerjee
Editor, The 5 Minute WrapUp
Equitymaster Agora Research Private Limited (Research Analyst)
PS: Dear reader, you can ignore the short-term negative news about India's economy. Instead, I recommend you consider buying my top 7 stock picks for 2020 and beyond. Get the details here...
Recent Articles