The Investing Process With the Best Possible Returns
Nov 16, 2017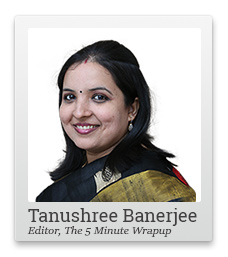 How do you manage your monthly finances...?
Let me guess.
Assuming you get a regular salary, you receive 'x' amount every month from your company.
You set aside a budget for monthly expenses such as bills, EMI, salaries of domestic help, and so on.
You factor in a certain amount for shopping and eating out, maybe even for demanding children.
The rest you save.
Of course, sometimes you go off track, maybe an unexpected expense comes up, or maybe you blow a little too much on an impulse purchase. And that is fine.
The point is that you live a certain kind of lifestyle determined by the means at your disposal...not dictated by what others have, or believe you should do.
So then why, when you think about investing, are you always craning your neck looking around to figure out what everyone else is doing...?
Who is invested in what? What are your friends saying? What is the media saying? Even what stock the people sitting behind you on the train are discussing...
None of these are right for you.
Investing is all about following a disciplined approach. You need to find the value of what you want to buy and then decide how much you are willing to pay for it. And under no circumstances do you go beyond that number. Despite all the noise, distraction, brouhaha out there.
That's not always easy. What if the media is giving a screaming buy on a few stocks and your friends are swayed too and jump on the bandwagon?
Your thought process tells you to wait because something about the price does not seem right. Do you stick to your approach or do what your friends do?
If you think that puts you in a tough spot, let me tell you that Warren Buffett has to go through this too.
Berkshire Hathaway's moves are widely followed. This means that often what Buffett does or does not do is constantly criticized.
The latest case in point was his bid to purchase the power transmission company Oncor for US$ 9 billion in cash - a deal that did not go through because another bidder - Sempra Energy - came into the fray and made an offer of US$ 9.45 billion.
Now, Berkshire has a cash balance of nearly US$ 100 billion. So Buffett could have easily raised his bid amount and gotten the better of Sempra Energy.
But he chose not to do so.
He is being criticized for this. There is constant pressure on him to use the cash that is swelling on Berkshire's books.
But Buffett seems unfazed.
And if you ask me, very rightly so.
Maybe his process told him that US$ 9 billion is what he is willing to pay and anything more than that does not make sense. Better opportunities will come along. One just has to be patient and wait.
Buffett did not become an investing legend and billionaire by following others.
He has a process in place. But more importantly, he sticks to that process no matter what happens. And that, I believe, is crucial. It is where most investors falter.
There will be periods when your process won't deliver as expected. But that's okay. Over a longer period of time it will reap rewards.
Just so you know Berkshire Hathaway did not beat the markets every single year. But over a longer horizon, it has rewarded its shareholders immensely.
This is the philosophy I use to recommend stocks to subscribers of my ValuePro service. I cannot, and will not, be compelled to recommend a stock each and every month. I have a process I follow - one that has a glowing track record since 2009.
Sometimes it is hard staying on the sidelines for considerable periods, while the hordes are jumping in.
But be patient, as I am. Only if there is a reasonable correction in stock prices do I pounce on that opportunity and recommend those stocks to you.
And only if the recommendation fits you - should you invest in it. Otherwise fold your arms over your chest, take a deep breath, and pray for that most wonderful of strengths - patience!
ValueTalk
We are seeing the early signs of revival in private sector capacity expansion...
Hero Motocorp has planned a capital expenditure of Rs 25 billion for the next two fiscals up to FY19.
Maruti Suzuki India (MSI) has earmarked Rs 45 billion capital expenditure for FY18.
Vedanta has planned a capex of US$2.4 billion over the next two years.
MRF plans to set up a new tyre manufacturing unit in Gujarat involving an investment of Rs 4.5 billion.
JSW Steel has drawn up a capital expenditure programme of Rs 268 billion for the next three years period to expand capacity.
ITC has planned capex of Rs 200 billion over the next five years.
Private Capex Revival in Sight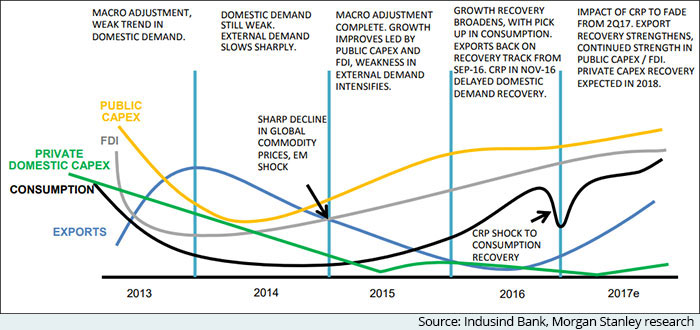 But which is the company that is set to benefit the most from such capex plans? It's neither a bank nor an engineering, cement or steel company.
Rather, it's a company that is riding the tailwinds of a megatrend that The India Letter team has identified. What's more, the usually overpriced stock is currently near 52-week lows.
ValueTalk is a weekly idea box that brings you the best ideas for investing from across the Indian stock markets...
Trade Deficit Widens, Exports Fall in October
India's goods export growth declined by -1.1% YoY in October this year to US$23 billion, the lowest pace of growth since - 6.86% in July 2016. This is because exporters struggled with a liquidity crunch on the back of delayed refunds under the goods and services tax (GST) regime.
Trade Deficit Widens, Exports Fall in October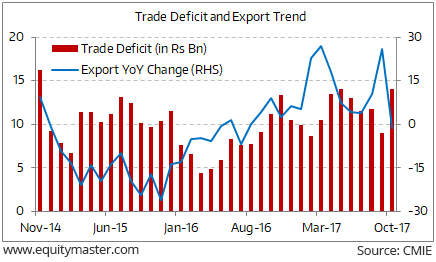 The fall, the first after 14 consecutive months of positive growth, was due to the impact of the GST on the export segment. Particularly micro, small and medium enterprises (MSMEs), were facing liquidity problems after paying GST for four months in a row without getting any refund.
Similarly, the decline in merchandise exports in October partly reflects an unfavourable base effect, as well as upfronting of shipments to the previous month. Twelve of the thirty major export groups registered a decline in October. The decline was led by sharp falls in major labour-intensive sectors such as leather products, gems & jewellery, handicrafts, readymade garments, and carpets.
On the other hand, imports during October went up by 7.6% to US$37.1 billion. This widened the trade deficit to US$14.01 billion, the highest since US$14.08 billion in May 2017. Trade deficit was US$11.1 billion in October last year and US$9 billion in September this year.
According to Ganesh Kumar Gupta, president of Federation of Indian Export Organisations (FIEO), implementation of the measures approved by GST Council is not taking place. As a result, challenges faced by the exporters remain the same.
There is an immediate need for remedial measures to prevent further decline in exports; otherwise, the situation may be worse for November.
End of Rate Cut Cycle?
Moving on from trade data to inflation, CPI inflation came in at 3.6% in October, slightly higher than the previous month and the highest in the past 7 months. A jump in inflation was expected on account of the festive season and fading base effects. The rise in inflation is driven by food, fuel and to some extent housing prices.
Food inflation contributes about 40% to the headline inflation continue saw a slight uptick by rising 2.3% YoY. Fuel prices, which contribute about 10% to the headline inflation, sprung up. Fuel price saw an 80-bps change to 6.4% YoY. Cuts administered by the OPEC beyond March, and political uncertainty have been driving the oil prices up. However, a cut in excise duty announced by the Government tempered the price increase in fuel.
The fiscal outlook is also a cause for concern. Loan waivers for farmers announced by various state governments are likely to put their fiscal positions under more pressure. A looser fiscal stance could boost aggregate demand and lift inflation expectations.
Inflation remains the key area of focus for the RBI. The RBI kept its repo rate on hold at 6% in its most recent policy meeting in October. In the upcoming monetary policy meeting to be held in December, the RBI is likely to keep the repo rate unchanged. Further, PSU recapitalization pursued by the government would enhance monetary transmission. With this, there is no scope for further monetary loosening and it looks like the end of rate cut cycle.
What the Markets Look Like Today
Indian equity markets opened the day in the green. At the time of writing, BSE Sensex was trading higher by 140 points and NSE Nifty was higher by 40 points. Both the mid cap and small cap indices are trading up by 0.6% and 0.5%, respectively. Stocks from the consumer durable and capital goods are among the gainers.
Investment Mantra of the Day
"Unless you can watch your stock holding decline by 50% without becoming panic-stricken, you should not be in the stock market." - Warren Buffett
Recent Articles