'Khau Gallis' Can Teach You This Important Aspect of Investing!
Nov 18, 2017
Have you ever tried street food? I'm personally a big fan.
I especially love specialised 'Street Food Corners' - locally known as 'Khau Gallis'. You can find them in every part of the country - and Indian street food is so unique, distinct and varied across the country that it's always fun exploring a new one.
So last month, when my colleague Sarvajeet, also a food lover, and I were in Delhi for a company meeting, we headed to the famous 'Parathe wali Gali' in Old Delhi after our meetings.
And it was awesome. We diplomatically 'forgot' our diets for a day and bounced from stall to stall sampling the different kind of parathas.
While the foodie in me was busy eating, the Sherlock Holmes in me was observing things about these stall owners.
I noticed that most stalls provided all kinds of meals i.e. breakfast, lunch, brunch and dinner. In fact, several had multiple menus for different times.
I realized that because most of these businesses were run by the people that owned them, and their living depended on this business, they put their whole and soul to capitalize any given opportunity.
Typically, they involved other family members and work in shifts. Different family members have developed their niches.
These business do not understand what return on equities or margins are. All they know is how to make money in their business.
I have always believed, coming from a business family, that owners running their own business have perfectly aligned incentives. Since their living is dependent on the business they run, they are very proactive and dynamic in running business.
This confirmed my idea about 'Companies Run By Owner Operators with Skin in the Game'.
An 'owner-operated' company is one led by the promoter(s) or founder who owns the majority stake in the company. And the promoter himself is running the business.
I believe the owner-operator is truly incentivized to think long-term and also has the capacity to suffer in the short-term by avoiding fads and staying focused on sustainability.
Like the stall owners these owner-operators also puts out their souls to capitalize on any given opportunity. In fact, they create niches, or some sort of competitive advantages, in otherwise comedized industry.
Look at the examples like Eicher Motors, Symphony, Ambika Cottons etc... These companies were present in either highly competitive or commoditized markets but these owner operators created niches for themselves.
One of the most important pillars of my Smart Money Secret stock recommendation service is to find companies that are run by owner operators with their skin in the game.
We believe apart from a strong business it is important to have strong management with incentives perfectly aligned. For example, one of the 'buy stocks' on my list is such a company - a strong business and Owner-Operated.
As you know, I also watch the best Super Investors in the country to get clues - and one of my Super Investors holds sizable stake in the company. The stock has recently corrected and looks even more attractive from our recommended levels.
So, when you are considering a stock for your portfolio, go that extra step and check if the owners have skin in the game - if they believe in their business enough to own and run it - rest assured you can believe in it too.
Has the IPO Euphoria Died Down?
If you've been tracking the demand for IPOs, you would certainly think that 2017 is the year of IPOs. For one, IPO subscriptions were at sky high levels. But if the performance of recently listed IPOs are anything to go by, they have flattered to deceive.
Poor IPO Returns Post Listing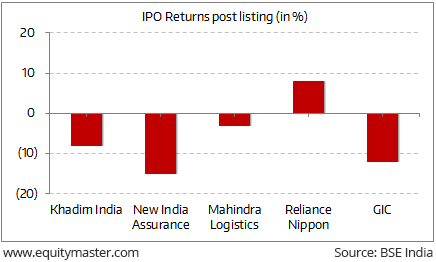 Of the five recent high profile IPOs which listed on the stock market, four have given negative returns as of yesterday's closing price.
The IPO activity in FY17 is mainly driven by Offer for Sale (OFS) rather than fresh issues. An OFS is a route through which existing promoters and private equity investors offload their stake. Here, the money from the sale goes to the selling shareholder. Whereas, in a fresh issue, the money raised goes to the company who, normally, utilizes this money to repay debt, for capital expenditure, etc.
Also, the number of Private Equity (PE) investors exiting these companies raised a red flag. These PE investors had bought a stake in the IPO recently at a fraction of the listed price. Sensing the frenzy, they were able to offload their stake with multifold returns.
The only person left high-and-dry here was the retail investor. And, this is not a recent occurrence. The IPO euphoria is something similar to what was seen in 2007-08. More than 70% of the IPOs listed in 2007 and 2008 were in the red, even today when the Sensex is at an all-time high.
But it doesn't make sense to completely ignore this space. The IPO space has also given us names like Maruti, TCS, and Jubilant Foodworks Ltd (with returns over 4,000%, 1,000% and 500% respectively) that have created immense wealth for shareholders.
For the retail investor, it is very important to ignore the noise and focus on the fundamental and valuations on the table. And more often than not, this approach works much better than following the herd.
Moody's Upgrades India's Government Bond Rating
Moody's gave a big thumbs-up to India by upgrading its credit rating from Baa2 to Baa3. It has changed its outlook from stable to positive. This is the first time that Moody's has revised India's rating after 14 years.
The rationale behind the ratings has been the economic reforms undertaken by India. It has highlighted key reforms like Goods and Service Tax (GST) which is expected to improve the ease of doing business in India by smoothening inter-state trade.
Government's pro-activeness in tackling the non-performing assets (NPA) was also highlighted. Apart from these, measures like demonetization and Direct benefit transfer (DBT) is expected to lead India to path of growth going forward.
Although these measures have certainly impacted growth in the near term, over the long term it bound to bear fruit. GDP recently was at a 3 year low post demonetization and GST implementation. However, Moody's expect GDP growth to moderate to 6.7% and real GDP growth to rise to 7.5% in FY2018.
All these reforms have one common theme. That of formalization. The process of transition from the informal to the formal sector is well in place. For the retail investor looking at the long term horizon, this is the theme to keep an eye on for the future.
What the Markets Looked Like This Week
Global financial markets ended the week on a mixed note. In the US, the Dow industrials ended the week down 0.4%, while the S&P 500 declined 0.1%. It was their biggest two-week declines since mid-August, when worries about rising tensions between North Korea and the US weighed on stocks. Debate over the prospect of a significant tax overhaul in the US has swung stocks this week.
European equities ended the week lower on the back of disappointing corporate earnings and euro strengthening. Europe's major indexes began the week in the red, briefly rose midweek on the back of some encouraging economic data, but then receded again by the end of the week.
Japanese stocks declined for the week, ending a nine-week stretch of consecutive gains for the benchmark Nikkei 225 Stock Average. The Nikkei fell by 1.3% and closed at 22,397.
Back home, benchmark indices in India bounced back on Friday and ended the week on a positive note. This on the back of a sovereign ratings upgrade of the Indian government's bonds by the US credit rating agency Moody's. The BSE Sensex ended the week marginally higher by 0.1%.
Investment Mantra of the Day
"It's far better to buy a wonderful company at a fair price than a fair company at a wonderful price." - Warren Buffett
Recent Articles