How I Made Upto 25% in One Simple Trade as a Teenager
Nov 20, 2019
Editor's note: Dear reader, we are happy to announce Equitymaster's latest publication - Vijay Bhambwani's Fast Profits. It's a book in which India's #1 trader has poured all his knowledge and ideas of making fast profits in the markets. For details on how to get an early PDF copy, please enter your details here. An excerpt from chapter 1 follows. Enjoy!
---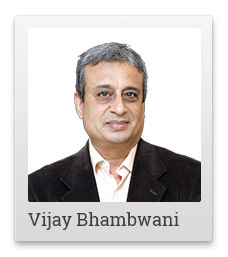 I still remember my first trading opportunity.
It was in gold.
I spotted it when I was just 14 years old. Indeed, it is my earliest memory of any inclination I had toward trading.
After all, I was like any other teenager. Playing with my friends was more important to me than the markets.
But even back then I couldn't help but notice my mother's affinity for gold jewellery. I would at times accompany her when she would visit our local Bengali jeweller 'babu'.
Babu would also come to our home to showcase his latest designs. I remember mom carefully examining them.
I used to poke fun at him. I didn't understand my mom's fascination with that shiny yellow metal. Much to her chagrin, I would ask babu to make gold-plated hats and shoes for me!
Of course, he would laugh it off. Babu was a calm, wise man. Childish jokes did not bother him.
But one day, he got serious. He asked me, 'Look son, do you have some pocket money?'
I replied in the affirmative.
'Do you want to make money or joke about making money?'

I was taken aback. 'I want to make money of course', I said. 'What should I do?'

'Why don't you start trading in gold?'
Now I knew babu was a very experienced gold dealer. He had seen many ups and downs in the market. I also knew that I didn't understand even the A, B, Cs of gold.
Keep in mind, this was 4 decades ago. India was a closed market. Gold used to be smuggled into the country. We didn't have international arbitrage. Our local gold price would move based on, well, local factors.
So, what could I, a 14-year-old kid, hope to achieve? I shared my apprehension with babu. I'll never forget what he told me next.
--- Advertisement ---
Automobile Sector's Colossal Disruption Could Make You a Fortune

During any major disruption in a sector, fortunes are created.

And now, we are at the cusp of a major disruption that the automotive sector will experience.

It is the electric vehicles gold rush.

At Equitymaster, we have unearthed a hidden way to ride the 15x EV opportunity so that you could take home potentially life-changing gains in the long run.

You can get all details of the hidden way in our upcoming special online event.

YES, Register Me for FREE
------------------------------
He said the peak gold price in the year was usually at the time of Dhanteras, the day we Hindus worship wealth.
In those days, workers in local jewellery shops would pilfer some gold by way of 'filing' of jewellery. This is common knowledge now, but it was news to me back then.
Babu told me that workers at his shop would go to another shop to sell that filing. It worked both ways. The workers from that shop would come his shop as well.
The going rate for these 'filings' was 10 paise to a rupee because everyone knew it was stolen gold.
What everyone did not know was what happened next. This gold would return to the market as 'excess supply'...and that would dampen the gold price!
So babu recommended I do the following:
Buy gold a couple of weeks after Diwali when the price was at its softest
Hold on to it till Dhanteras the next year
Sell it at a profit
Repeat
I was hooked.
Are you wondering how much you could have made, if you followed babu's strategy back then?
The answer is 18-25%.
Not bad at all for a simple buy and hold strategy!
Warm regards,

Vijay L Bhambwani
Editor, Fast Profits Daily
Equitymaster Agora Research Private Limited (Research Analyst)
PS: To book your advance PDF copy of Vijay Bhambwani's Fast Profits - please enter your details here.
Recent Articles