The Bull Market made Millionaires Out of 8 Million Retail Investors. Now It's Your Turn
Nov 21, 2017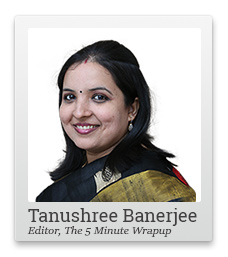 'Stock Market Millionaires.'
Maybe a sequel to Yuval Noah Harari's bestselling book Sapiens - about the human race - will have these three words someday.
The wealth the human race has created with intangible assets, ie stocks, in the past twenty years, is possibly the largest in history.
And therefore, a nomenclature for this new breed of humans is overdue.
Homo Sapiens can now evolve into Homo Stock Market Millionaires...
Indians, of course, have been very late to join the race of stock market millionaires. And only recently, a few million Indians, have got a taste of that wealth.
How much wealth?
Well, the benchmark index (BSE 500) moved up 6 times in the last two decades. In the process, it created about Rs 100 trillion of stock market wealth. But until recently, most of this was pocketed by foreign investors.
In fact, even today, just 6% of Indians of working age have a demat account. And less than 10% of their savings have ever gone into stocks.
So, it's just a fraction of Indian investors who have got some share of the stock market wealth. And most are a product of the latest bull market. A third of the stock market millionaires in India have been created only in the last four years.
The rise in the marketcap of BSE 500 stocks over past four years has, on an average, offered gains of Rs 1.9 million, to each demat account. Of course, this a rough calculation, for not all demat accounts were opened at the same time. And at least a million demat accounts could have belonged to institutions and foreign investors.
Plus, the assumption that every demat account holder made money in stocks over these four years and lost nothing, is also not accurate. Of course, the number of gainers and quantum of gains far outnumbered the losers and losses.
But the point is that nearly 8 million Indians made the attempt to join the breed of stock market millionaires very recently.
So, those who haven't...now can't wait to do so!
New Stockmarket Wealth Created Between 2013 and 2017
| | |
| --- | --- |
| Increase in no. of demat accounts | 9,000,000 |
| Total no. of demat accounts (2017) | 29,000,000 |
| Growth in BSE 500 Market cap (Rs m) | 55,489,598 |
| Avg gain per demat account (Rs m) | 1.9 |
Source: NSDL, CDSL and BSE
The problem is that such recency bias could be disastrous to the longevity of the breed of stock market millionaires in India.
Blinded by the millions pocketed by their family, friends, colleagues or a few stock market gurus, several new stock investors could get aggressive. And in doing so, could forget that the bull market cannot last forever. Worse still, they will believe that buying any kind of stocks at any phase of the bull market could get them similar results.
They need a stern reminder of Buffett's warning....
A pin lies in wait for every bubble. And when the two eventually meet, a new wave of investors learns some very old lessons: First, many in Wall Street will sell investors anything they will buy. Second, speculation is most dangerous when it looks easiest
So, if you are an investor hoping to join the breed of stock market millionaires, don't jump in blindfolded.
You cannot ignore the risk of losing money.
Remember - money lost in stock markets is difficult and often impossible to recoup. And the experience of losing a ton of money in stocks could scar you for life.
You can join the millions creating wealth with stocks, you can do it right only with patience and discipline. And in my letters I show you how to do so...
So, do not throw away your chances by making inexcusable mistakes in the current markets. Rather, book profits where necessary, rid yourself of poison stocks and get your allocation right.
Most importantly, being patient - wait to buy the safest and timeless stocks - could be the best tactic to count yourself in Harari's book about a race of stock market millionaires.
Editor's Note: As Tanushree reminds us, now is not a time to willy-nilly jump into the stock markets. Instead, you need patience, discipline and a bundle of carefully constructed recommendation services with a combined track record of over 20 years - that last one is easy. You can get it here.
Rising Bond Yields Defy Logic
International rating agency, Moody's, recent rating upgrade has boosted India's investment outlook. India's sovereign rating was upgraded from Baa3 to Baa2 after a gap of nearly 13 years. This arrives on the backdrop of a string of economic reforms expected to improve the business climate in the country.
Factors such as the move towards a formal economy through the Goods and Service Tax (GST) regime, growing financial inclusion aided by notebandi and rising digital transactions, government's strong thrust on resolving the bad loan mess through bank recapitalisation, and enactment of the Bankruptcy and Insolvency Act are all seen as enhancing the country's growth potential and mitigating the risk of default in government debt.
It's pertinent to note that India's public debt is mostly funded internally. While scheduled commercial banks, insurance companies, provident funds, and RBI invest in 85% of the government bonds, there is a miniscule 4% participation by the overseas investors. Therefore, the rating upgrade has come in a bit late. What is ironical is that despite a benign business environment, the bond yields in India have been ascending. Since the global financial crisis, India's bond yields have firmed up by a whopping 1.7%, putting it in line with countries like South Africa and Russia whose economies are in a state of mess.
The Irony of India's Bond Market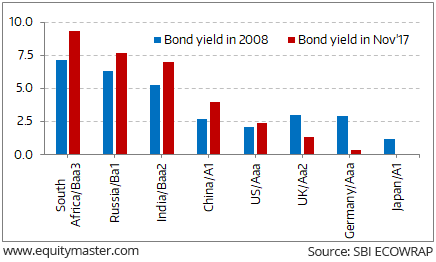 In the short term, India's fiscal deficit is likely to remain high given the initial revenue losses due to GST, higher public spending on infrastructure, and the recapitalisation program for state-run banks. But in the long run, the economic reforms are likely to strengthen the economy and drive growth. Moreover, the government remains committed to long term fiscal consolidation. Given Moody's thumbs up, its high time that bond markets desist from childish behaviour and adopt a rational long-term view of the country's fiscal situation instead.
A Shot in Arm for the Logistics Sector
To make Indian exports competitive in the world markets, efforts are being made to grant logistics the same status as infrastructure. The proposal by the Commerce Ministry has already been approved by the Finance Ministry and a notification is likely to be issued.
Reportedly, the logistics cost of Indian exports stand at 14%, which is much higher compared to 6-8% in other major economies. Logistics includes industrial parks, warehouses, cold storages, and transportation. The grant of infrastructure status to the logistics sector will help it raise funds at competitive rates for long term growth, which in turn will boost the global competitiveness of exporters.
What the Markets Looked Like Today
Indian equity markets opened the day in the green. At the time of writing, BSE Sensex was trading higher by 129 points and NSE-Nifty was higher by 34 points. Both the mid cap and small cap indices are trading up by 0.5% and 0.6%, respectively. Stocks from the consumer durables and realty are among the gainers.
Investment Mantra of the Day
"The most common cause of low prices is pessimism - sometimes pervasive, sometimes specific to a company or industry. We want to do business in such an environment, not because we like pessimism, but because we like the prices it produces." - Warren Buffett
Recent Articles