Sensex Just Hit an All-Time High but the Best is Yet to Come
Nov 21, 2019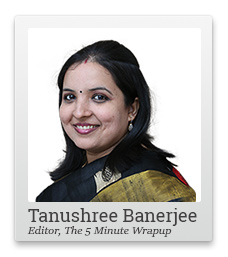 The growth in earnings i.e. profits, is the key to a rising stock market. When you buy a stock, you are buying the company's stream of earnings in the future.
If the earnings don't grow, or if the market's perception of earnings doesn't change, a stock won't rise.
But if earnings - or market expectations for earnings - do change, stocks move. This is as true for the market as it is for individual companies.
And lately, you've probably heard a lot of worries about slowing earnings growth. Everyone's wondering if the bull market could stall due to this.
If you follow the recent economic numbers, you might be worried too.
But today, I'll show you why the most widely accepted numbers about earnings - the ones Dalal Street analysts and money managers track so closely - are completely wrong.
More importantly, when you use the right metrics, you'll see immediately, what the earnings really say about the stock market.
Earnings growth should move closely in line with stock prices but in recent years, that's not what's been happening.
Take a look at the chart below. It shows the earnings' movement over the past two decades.
While it has had some ups and downs, you can see the overall trend is unmistakably up.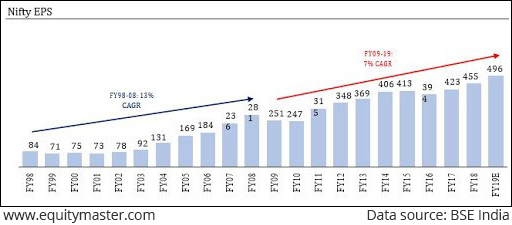 The BSE Sensex recently recorded its biggest two-day gain in the last 10 years.
Post that, we saw a short cooling off period. A sideways movement in the market. This was due to questionable downgrades of India's rating by rating agencies.
There is a fear that poor earnings growth could be a drag on Indian stocks and this could halt the rally.
The initial euphoria of the corporate tax rate cut boosting earnings has waned. Most investors these days think the Sensex hitting a new all-time high, is the sign of a big bubble in Indian stocks.
What they do not realise is that the big cleanup in the Indian economy is changing things in ways no one expected.
Demonetisation, the IBC, real estate reform, overhaul of the financial system post the IL&FS crisis...all have one thing in common - A clean up of the Indian economy.
--- Advertisement ---
FREE Event on Equitymaster's New Project

On May 17, we are holding a FREE event to reveal Equitymaster's Great Indian Wealth Project.

At this event, we'll reveal the details of your first stock for a potential Rs 7 crore in long-term wealth.

Seats for this event are filling up fast.

Since there are limited seats, we urge you to register at the earliest.

Click here for free sign-up
------------------------------
And when all this is done, we will see the results. We saw the BSE Sensex hit an all-time high yesterday but I strongly believe, the best is yet to come.
Here are a few reasons why...
India's urban population expected to be 39% of total in 2030 from 31% in 2010. A huge number considering India's large population base. A huge consumption potential exists due to this shift.
India's defense exports have doubled in the past two years. It is expected to triple in the next six years.
Only one third of the Indian population use smartphones. Much lower than the global average. An increase in this number will open a huge new customer base for vendors who sell online.
More than half of India's population still don't have access to consumer financing. A huge opportunity lies in wait for banks and other lenders.
These and many more such trends form the basis of Rebirth of India.
With these trends acting as a strong base, I have picked 7 stocks for my subscribers, which will be big beneficiaries when these trends play out.
I strongly believe India's future will be much better than her past.
Warm regards,


Tanushree Banerjee
Editor, The 5 Minute WrapUp
Equitymaster Agora Research Private Limited (Research Analyst)
PS: On Tuesday, 26 November, India's #1 trader will reveal his super profitable personal trading blueprint. Click here to register FREE for Vijay Bhambwani's Weekly Cash Summit.
Recent Articles