Of These 2 Types of Stocks, Which One Would You Pick?
Nov 22, 2018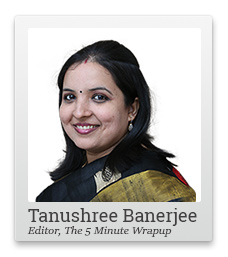 Dear reader, can you answer this question?
First, imagine two people working in an office.
One, a very skillful and dedicated guy and very good at his work. Let's call him Employee 'A'.
The other, not so skillful at his job but very good at creating a good impression in front of his boss. Let's call him Employee 'B'.
Who do you think would progress well in his career? The competent one or the one who looks competent?
If you ask me, over a 1-2 year period maybe employee 'B' might get ahead.
But over a period of say 10 years, chances are that Employee 'A' will do much better.
In the Indian stock market, you could say 2017 was a year of Employee 'B's'.
As per data from Ace Equity, over the last 10 years, corporate India's earnings have grown at CAGR of 4.1%.
During the same time, India's nominal GDP has grown at 12.9% per annum. So, corporate earnings have clearly not kept pace with economic growth.
The stock market though painted a different picture altogether. Why?
You see, a stock price is a function of two things...
Earnings Per Share (EPS - What a company earns) and
Price to Earnings Ratio (P/E - What the market perceives)
You could say EPS is Employee 'A' in this case and Price to Earnings Ratio is Employee 'B'.
Majority of the price increase in 2017 was on account of market perception rather than earnings.
Optimism regarding macros, government policies, and India's long-term growth story, ensured sky high valuations across large caps, mid caps, and small caps.
The days of 2017 are well behind us. The days of share prices touching lifetime highs irrespective of fundamentals, earnings potential, or corporate governance... are over.
Call it the law of gravity or mean reversion in stock market terms, what goes up has to come down.
Long term-capital gains tax was the first shock for Indian investors.
Then we had corporate governance issues leading to auditor exits.
Then came a giant impact in the form of IL&FS and brought with it the risk of contagion. NBFC's and housing finance companies bore the brunt of this event.
Meanwhile, on the global front, crude oil prices were rising triggering further fears of a global correction.
While the past month has seen a cool off of sorts for the Indian market, what lies ahead though?
With the general elections around the corner, I expect volatility to get worse.
How will that impact you, dear reader?
If you're looking from a short-term perspective, there are high chances it will hurt you.
But if you're picking stocks, like I do at ValuePro, by staying focused on the long-term, this volatility can be a great opportunity to pick up good businesses at fair prices.
Look at businesses that have been growing earnings in this tough period.
Businesses that have inherent strength to pass on input costs (e.g. crude) to its customers.
I strongly believe, the next bull run, unlike the previous one, will be led by earnings growth rather than market perception.
As their earnings grow and market pessimism heightens, you'll be able to find strong businesses at attractive prices.
For ValuePro, I look at companies that are growing on the strength of their earnings. Improvement in perception would be the icing on the cake.
With the next few months expected to be volatile, the time to act might be very near.
Chart of the Day
As I mentioned above, the market price of the stock is a function two factors i.e. earnings growth (Earning Per Share) and the earnings multiple (Price to Earnings Ratio).
Re-rating of a company (an increase in the PE Ratio) along with earnings growth (rise in EPS) will have double positive impact on the stock price.
But what has moved the needle for the top stocks in the past decade?
Is it the earnings or the perception of earnings?
A look at the top five stocks by market capitalisation over a decade says actual earnings play a major role in the stock price.
Impact of Earnings Growth on a Company's Share Price
A 110% earnings contribution for HDFC Bank implies 110% of the share price contribution is due to earnings growth with the negative 10% due to PE de-rating.
Except for HUL, which has been re-rated along with the whole consumer products space, others have grown mainly on strength of their earnings.
A company that has been massively re-rated i.e. grown mainly on perception (PE Ratio), rather than its earnings strength, might fail to do so in the future.
On the other hand, a company might have been de-rated in a pessimistic environment despite strong earnings growth.
Such companies can benefit from the dual advantage of a re-rating and growth. Those are the companies you need to look for.
Warm regards,



Tanushree Banerjee (Research Analyst)
Editor, The 5 Minute WrapUp
PS: The Smart Money Secrets team will publish their next stock recommendation on Monday. They're calling the company an infinite return business. If you haven't subscribed to Smart Money Secrets, click here to get access now.
Recent Articles