We Just Discovered a Company with Almost No Competition
Nov 23, 2017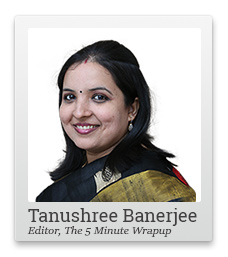 As I write this, the Smart Money Secrets team is feverishly working on a report that it wants to send out as soon as possible. And it's not just the valuation but the kind of business that would surprise you. Here's the story...
There was a time Warren Buffett did not like the airlines industry. He had a terrible experience in 1989 when he had invested US$ 358 million into US Air, and then had to finally write it down to US$ 90 million.
That hurt. And Berkshire Hathaway stayed away from airlines since then.
DISCOVER: How to Potentially Multiply Your Returns by Upto 5x...
Infact, in his 2007 annual letter to shareholders, Buffett famously quipped:
"The worst sort of business is one that grows rapidly, requires significant capital to engender the growth, and then earns little or no money. Think airlines. Here a durable competitive advantage has proven elusive ever since the days of the Wright Brothers. Indeed, if a farsighted capitalist had been present at Kitty Hawk, he would have done his successors a huge favor by shooting Orville down."
But then, in 2016, Berkshire Hathaway, did a U-turn.
Regulatory filings showed that Berkshire Hathaway owned stakes in American Airlines, Delta, United Continental, and Southwest Airlines.
So what changed?
The US airlines industry turned profitable. And consolidation in the sector had a big role to play.
Consolidation fueled by multiple mergers has ensured that since 2005, the level-playing field has currently reduced from nine major airlines to five. It has also meant reduced seat capacity and higher ticket prices leading to increased profitability.
To put it in another way, the position of the airlines industry is that existing players do not have to contend with intense competition, as they had to in the past.
And Berkshire Hathaway loves companies which do not have to deal with too much competition. For Buffett, that is akin to a widening of moat.
Companies that do not operate in highly competitive industries have greater bargaining and pricing power. This ensures a healthy profitable growth and consequently, higher returns for shareholders.
--- Advertisement ---
The Smallcap Fortunes Summit

Join us on the evening of 16th March to learn,

• Why despite rallying over 100% since March-2020 lows... small-cap stocks are set for a massive rally over the coming months and years
• Details of our top 3 stocks to capture potentially huge gains from this upcoming small-cap rally
• And how to spot opportunities, even in the current market, with potential to generate 200%, 400%, and even 900% long-term gains

Plus there is a lot more that we are going to cover.

The summit is free to attend for Equitymaster readers.

But since there are limited seats, we would recommend you to register at the earliest.

Click here to register. It's free
------------------------------
So, when my colleague Kunal Thanvi, Editor of Smart Money Secrets, discovered a company operating in a similar kind of low competitive environment, he couldn't wait to write to his subscribers.
However, it is not from the airlines industry, but from the manufacturing sector.
But here is the interesting and crucial part. This company has no competitor of its size in India. And in the overseas markets, it has to compete with only one other player.
So, this is an oligopolistic industry (dominated by two players), with enough headroom for both the players to grow.
Do click here for his latest recommendation, which he tells me will be released shortly!
Editor's Note: Dear readers, one has to sift through hundreds of businesses to find the rare ones that can survive competition and widen their moats. For this, you need patience, discipline and a bundle of carefully constructed recommendation services with a combined track record of over 20 years - that last one is easy. You can get it here.
Banks are Overweight and the Pharma Sector is Underweight in BSE Sensex
The BSE Sensex will include Private sector lenders - IndusInd Bank and Yes Bank from December 18, while two pharmaceutical stocks - Cipla and Lupin will exit the index.
With this change, the weight of the pharmaceutical industry in the index declines to a five-year low. As on Friday, four drug makers, namely, Sun Pharma (1.7% weight), Dr Reddy's Laboratories (0.8% weight), Lupin (0.6% weight), and Cipla (0.9% weight) together had a 4% weight in the Sensex. With Cipla and Lupin dropping from the index, the pharmaceutical industry's weight would drop to 2.5%, assuming that the rest of the Sensex stocks remain in the index. And with this, only two pharma companies will represent the Sensex.
Pharma Weightage in BSE Sensex Going Down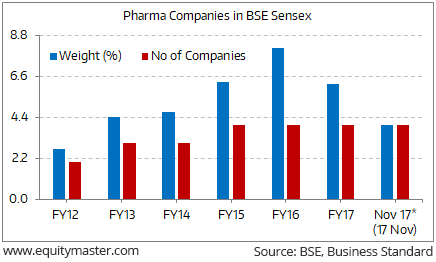 The last time the index had only two pharma companies was in FY12 when the industry's weight in the index was 2.7%.
The reconstitution will also mean higher dominance of banks in India's benchmark index. With the addition of the two private lenders, the total number of banks in the Sensex will increase to seven out of the 31 stocks. The BSE had included Kotak Mahindra Bank in its previous reconstitution.
The changes in index composition reflect the challenges faced by Indian drugmakers, such as increased competition, pricing pressure, and regulatory hurdles in the key US market. However, this doesn't mean the end of the story for these companies, as there are many companies that make a comeback in indices once they start performing again.
Domestic Air Passenger Traffic Achieves New Record in October
According to the data released by the Directorate General of Civil Aviation (DGCA), the domestic airlines carried 10.4 million passengers in October 2017, registering a growth of 20.5% on YoY basis. This is the second time this year that air passenger traffic has crossed 10 million. The last time the number reached the milestone was in May, the holiday season.
India's domestic airline market is dominated by IndiGo, Jet Airways, Air India, and SpiceJet. These four players control more than 80% of the country's civil aviation market. Rising per capita incomes, increasing connectivity between states, and steep discounts have helped the low-cost carriers to gain market shares as compared to the other carriers.
However, with crude oil touching US$60 mark, it is not good news for the aviation industry. The surge in crude oil prices will lead to hike in aviation turbine fuel by domestic retailers. The fuel accounts for nearly 40% of the aviation companies' cost and rise in prices will increase pressure on the margin's performance.
Although air travel is clearly the new normal, investors need to understand the industry dynamics before buying up aviation stocks.
What the Markets Look Like Today
Indian equity markets opened the day in the green. At the time of writing, BSE Sensex was trading higher by 20 points and NSE Nifty was higher by 15 points. Both the mid cap and small cap indices are trading up by 0.2% and 0.6%, respectively. Stocks from the consumer durable and capital goods are among the gainers.
Investment Mantra of the Day
"Investing is the intersection of economics and psychology." - Seth Klarman
Recent Articles