These 8 Dominoes Could Knock Sensex Down to 23,000
Nov 28, 2017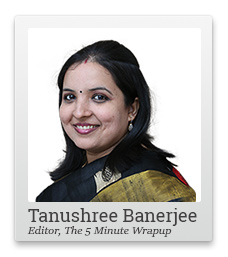 When was the last time you played a game of dominoes?
If it wasn't too long back, you will remember that a typical domino is just under 2 inches tall, 1 inch wide, and about one-quarter of an inch thick. These dimensions create a thin block that's just stable enough to stand upright yet unstable enough to fall over with the slightest nudge.
Mathematicians have traditionally assumed that no domino could knock over the next one more than one-and-a-half-times its own size. But physics says that's not quite true.
Each upright domino has some potential energy. When the first domino falls, the force of gravity turns that potential energy into enough kinetic energy to topple a domino larger than itself. That taller, heavier domino stores even more potential energy. And, each falling domino's kinetic energy can overcome the potential energy of their more massive neighbours. So much so that such dominos could eventually topple a skyscraper sized block!
It's said that with just 29 dominoes, you can take down New York's Empire State Building.
You would find this easier to explain to a curious teenager. But not to scores of adults who firmly believe that the skyscrapers in India's stock market are too big to fall.
The reason - they are not seeing the potential and kinetic energy in market behemoths.
Consider this...
The 30 stocks in BSE Sensex gained a total of 20.8 trillion in their market capitalisation over the past three years. But of this, gains of nearly 14.5 trillion (70%) could be attributed to just the top eight stocks in the index. And if these stocks were to move back to 2014 valuations, they could bring the benchmark index about 30% lower.
That is, Sensex could revisit 23,000, a level it saw in May 2014 and again in February 2016.
Dominoes Set to Topple the Index?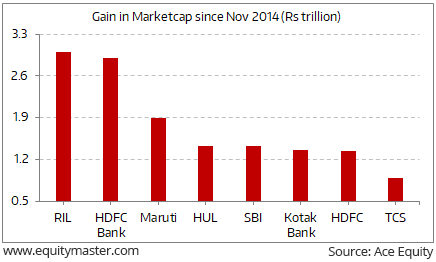 The potential energy in each of these stocks is their valuation (price to earnings multiple) that is getting more expensive with fresh investments.
On an average, about 50 bn of SIP money has been coming into mutual funds every month, over the past six months. And a ton of it is finding its way into these top index stocks. For two reasons - plenty of liquidity and perceived safety.
The kinetic energy in these stocks will get triggered when mutual funds have the need to redeem their investment.
So, if and when any of these businesses become unstable, the correction could lead to a series of crashes. And like the dominoes, deal a heavy blow to the strongest stocks and the overall index.
As you know, I'm a worrier. And I am worried about the very real possibility of such a crash. But as always, when I'm worried, I build a safety net.
And if you need a safety net too, dear reader, here's a way to capitalise on the potential and kinetic energy of these stocks without wiping out your wealth.
Editor's Note: As you have probably realised by now, as a publishing house we cannot reveal our research to our newsletter readers. We can only make recommendations to subscribers.
From time to time we release recommendation services so you can find and subscribe to the one that is right for you depending on your financial situation and lifestyle... but today, no matter what your situation, your age, your life - there is something I believe you, every Indian, every investor, should take a look at. Click here to see what I'm talking about.
India Ranks Low in Wealth Generation
India still has miles to go as far as wealth accumulation is concerned. According to a report by Credit Suisse, global wealth grew by 6.4% in 2017. North America is the wealthiest region in the world with a combined wealth of $ US 101 trillion, followed by Europe with $ US 79.6 trillion. However, India lags far behind on the global wealth scale. The country amassed a mere $ US 4.9 trillion of wealth in 2017, much less than China's $ US 29 trillion of wealth, but higher than Africa's $ US 2.5 trillion.
India Lags in Global Wealth Share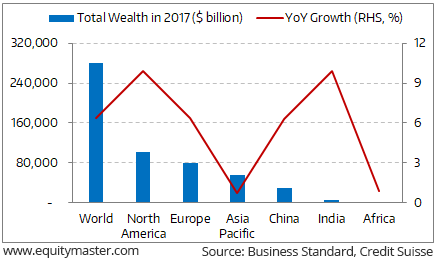 As per the report, India has an estimated 2,45,000 dollar millionaires and is among the fastest wealth growing countries in the world in 2017. The report says that an average Indian has more than 80% of his/her wealth invested in real estate, and financial assets comprise less than 20% of his/her total wealth.
This skewed wealth composition means that despite growing at a faster pace, India continues to lag behind. The report further goes on to add that at this pace, India's wealth in 2022 will equal where the US stood in the 1940's. So, if India must spear ahead in wealth generation, then it needs to move beyond gold and real estate. These have traditionally remained the favoured savings vehicles for generations.
Wide Gulf Between Price and Earnings
The stocks markets are scaling new highs each day. But what is worrisome is that the rally is not supported by corporate earnings growth that has remained conspicuous by its absence in recent years. The yawning gap between earnings and stock prices has led to the earnings yield of BSE 500 companies slumping to a 11-year low of 3.5%, as per a report by Business Standard. The earnings yield is the trailing twelve-month earnings per share divided by the current market price. It is the inverse of the widely used price-to-earnings ratio.
In fact, the earnings yield is nearly half of the 10-year government bond yield that stands at around 7%. Even the earnings spread for foreign investors has reduced to a decadal low of 1.1% as compared to 2% at the start of 2017.
With attractive domestic bond yields and dwindling earnings spread for foreign investors, how far can the stock market rally last in the absence of revival in earnings growth? Moreover, greater borrowings by the government are likely to drive up bond yields. Additionally, rate hikes in the US would exert pressure on the earnings spread enjoyed by foreign investors. In other words, unless corporate earnings revive, the stock market rally will not have strong legs to sustain in the long run.
What the Markets Looked Like Today
Indian equity markets opened the day in the red. At the time of writing, BSE Sensex was trading lower by 61 points and NSE-Nifty was higher by 18 points. Both the mid cap and small cap indices are trading up by 0.1% and 0.4%, respectively. Stocks from the automobile and pharma are among the gainers.
Investment Mantra of the Day
"We don't have to be smarter than the rest. We have to be more disciplined than the rest." - Warren Buffett
Recent Articles