Why the Declining GDP Growth is a Strong Indicator to Buy Stocks
Dec 4, 2019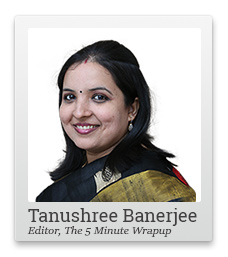 How do you plan your vacations, dear reader?
This is how I do it...
I start with my budget. I search online for the best places to visit within my budget.
I finalise my location. Then I check the best time to visit that place.
Now I know where to go and when to go.
The next step is to book the flight and hotel tickets.
Simple, right?
But what if, suddenly, the charges for both the hotel and the flight tickets are much higher than you expect?
What will you do?
A simple hack might help. Never search for the best time to go to a place if you want to save costs.
In fact, do the opposite. Try visiting during an off-season. You'll save on hotel and flight costs. You'll also save yourself from huge crowds that come during the peak season.
I believe, this is something which we should all follow in the investing world as well.
Invest in the market's 'off-season' i.e. when the macros are bad.
This is when rating agencies and mainstream media are painting a gloomy scenario of the Indian economy.
And then there's the biggest indicator of all: Falling Gross Domestic Product (GDP) growth.
The second quarter numbers have come in for FY19-20. GDP growth rate fell to 4.5%, the lowest growth rate recorded in the last six years.
The January-March quarter of 2013 saw a GDP growth of just 4.3%. The Indian story was written off then as well.
But what really happened?
The Indian stock market just took off for the next 4-5 years.
GDP Growth rate (2002-03) - 3.9%
GDP Growth rate (2008-09) - 3.1%
GDP Growth rate (2012-13) - 4.5%
Next 5-Year Stock Return (Apr 2003 - Mar 2008)
Next 5-Year Stock Return (Apr 2009 - Mar 2014)
Next 5-Year Stock Return (Apr 2013 - Mar 2018)
BSE Sensex
408%
126%
75%
BSE Midcap
615%
135%
157%
BSE Smallcap
840%
112%
186%
Source: BSE
--- Advertisement ---
Our Top Recommendation for 2020

What makes our top recommendation for 2020 an opportunity one cannot afford to miss?

It has the potential to be extremely lucrative. And yet it's relatively safe.

And today, you have the opportunity to get in on it.

Go ahead, access full details of our top recommendation for 2020 here...
------------------------------
We saw a similar trend in 2002 (3.8% GDP growth) and 2008 (3.9% GDP growth) as well. Low GDP growth followed by a multi-year bull runs.
This takes care of the 'when to buy' part. But what should you buy?
Like your vacation, if you choose a bad place to visit, you won't enjoy yourself, if you go in either the peak or off-season.
Similarly, in the stock market, if you choose a wrong business, it won't matter when you buy. You will ultimately lose money.
Look at businesses that are in the best position to revive when the Indian economy revives.
These are the businesses that will ride the India growth story. They have seen many cycles of low GDP growth. They have comeback stronger, while their competitors failed during tough times.
Most importantly, these are businesses that will be a part of future megatrends.
If your stocks have these characteristics, you have a potential winner on your hands. You just need to be patient and wait for the tide to turn. And history has shown us, it always does.
This is the central thesis of my Rebirth of India project. I have identified 7 stocks which have all these characteristics.
When the Indian economy revives, I strongly believe these stocks will do well.
Warm regards,

Tanushree Banerjee
Editor, The 5 Minute WrapUp
Equitymaster Agora Research Private Limited (Research Analyst)
PS: To read more about my top 7 stock picks for 2020 and beyond please click here.
Recent Articles