The Big 'I' That Can Topple the HDFC Banks and Wells Fargos of the World
Dec 5, 2017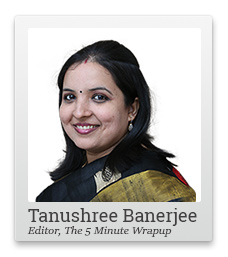 It takes 20 years to build a reputation and five minutes to ruin it. If you think about that, you'll do things differently.
Very, very few companies take this advice from Warren Buffett to heart.
And of those that do, many eventually end up compromising.
Wells Fargo built its reputation over more than a century. And lost almost all of it in a few days, when its fraudulent savings account scandal broke out this year. Buffett, who always called Wells Fargo his favourite bank, sold part of his stake, after holding the stock for 25 years!
At the peak of the 2007 subprime bubble, Buffett cited Wells Fargo as an example of greatness...
The real insight you get about a banker is how they bank. You've got to see what they do and what they don't do. Their speeches don't make any difference. It's what they do and what they don't do. And what Wells Fargo didn't do is what defines their greatness.
Again, in an interview to Fortune in 2009, Buffett explained why his trust in Wells Fargo is invincible...
Those guys have gone their own way. That doesn't mean that everything they've done has been right. But they've never felt compelled to do anything because other banks were doing it, and that's how banks get in trouble, when they say, "Everybody else is doing it, why shouldn't I?"
But the scandal this year took a huge toll on the trust that Wells Fargo enjoyed.
HDFC Bank has built its reputation of choosing quality over growth over 23 years. The fact that it's one of the most expensive banks in the world shows the trust that investors have in the bank.
Unlike Wells Fargo, the latest accusations against HDFC Bank - of under-reporting its NPAs - are yet to be proven. But if these accusations are substantiated, HDFC Bank's reputation could go the Wells Fargo way.
In both cases, it is the big 'I' that is to be blamed. What Buffett calls the Institutional Imperative. The 'I' is the tendency of companies to do things because everyone else seems to be doing it!
Buffett wrote in his 1989 letter to shareholders...
My most surprising discovery: the overwhelming importance in business of an unseen force that we might call "the institutional imperative."

In business school, I was given no hint of the imperative's existence and I did not intuitively understand it when I entered the business world. I thought then that decent, intelligent, and experienced managers would automatically make rational business decisions.

But I learned over time that isn't so. Instead, rationality frequently wilts when the institutional imperative comes into play.
The managements of well run businesses often end up mindlessly imitating what others are doing, or what has happened before. Companies that can resist such behavior, and uphold their reputation in the most difficult times, create and preserve long term wealth.
Resistance to institutional imperative, according to me, is one of the four critical factors that determine a company's long-term future and wealth creating ability.
Unfortunately, as Wells Fargo has shown, investors cannot assume that even the best companies in the world can avert the big 'I' at all times!
And a small chance of disgrace cannot be offset by a big chance of extra returns.
Some of the smartest investors in India have been scouting for companies that can resist institutional imperative for years.
My colleague, Kunal, digs out information about such smart investors, and their investing moves, before anyone else does. In doing so, he has managed to unearth some findings that have delivered fantastic returns. [His next recommendation is due: Here's how you could get it].
As for the big 'I' - you should keep your eye out for companies that can resist the institutional imperative too - because in them lie good reputations, good managements, and good returns.
Is the Economy Back on the Growth Track?
Amidst a protracted slowdown, India had some reason to cheer after the economic growth measured by the Gross Domestic Product (GDP) rebounded in the September 2017 quarter. The GDP had slid to a three-year low of 5.7% in the June 2017 quarter. But a sharp revival of 7% in the manufacturing sector pushed up the overall GDP growth to 6.3% in the September 2017 quarter. Gross value Added (GVA) that excludes product taxes and subsidies recovered from 5.6% in June 2017 quarter to 6.1% in September 2017 quarter. However, both agriculture and services continued to remain on a slow wicket.
Economy on Path to Recovery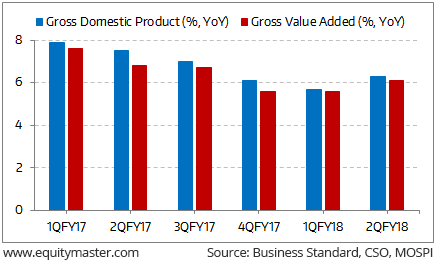 The uptick is a sign of a pick-up in economic growth engine. But it may still be early days, as the economy continues to grapple with several headwinds. Firstly, a part of the recovery during the September quarter is a one-off effect due to restocking by channel trade with the notebandi impact waning. Although GST is likely to usher in greater transparency and efficiency in the supply-chain network, the initial teething problems are likely to delay the recovery process.
Secondly, with registered growth of a mere 1.2% in the September quarter, exports continue to plateau. This may be due to falling comparative advantage enjoyed by some labour intensive industries in the global markets. Therefore, until these structural issues are resolved, the competitiveness of India's export cannot be fully utilised.
Even private sector investment remains poor. The gross fixed capital formation grew by 4.7 per cent in Q2, the fastest growth in the past five quarters. But, as a percentage of GDP, it declined to 28.9% in Q2FY18, down from 31 per cent in Q1FY17. Also, with government finances already stretched due to farm loan waivers and infrastructure expenditure budgets, there is less fiscal room for further public spending to spur growth.
A sustainable recovery will be possible only after the disruptive impact of GST stabilises and other structural issues get resolved.
Will the IPO boom fuel credit growth?
Initial Public Offerings (IPO) are the flavour of this season. Reportedly, funds amounting to Rs 491.8 billion have been raised through the IPO route in FY18 so far. This exceeds the cumulative funds raised in the preceding five years. An SBI research report, Ecowrap has stated that "Though there is no direct relation between credit growth and equity raising through IPOs, the years witnessing higher IPOs in general have shown a modest pick-up in credit growth,".
However, the important point to note here is, that a large share of IPOs has been utilised as an exit route for promoters/private equity investors with a fresh issue capital comprising a relatively small share. This raises a question over how the IPO boom will fuel private investments and spur the demand for credit in future.
In our previous edition, we categorically stated:
"With greed hypnotising most folks, it is time for retail investors to exercise caution. While this does not mean that you should avoid IPOs lock, stock, and barrel; just ensure you do not end up paying higher valuations for a company that is yet to establish its worth".
Therefore, selectively investing in IPOs assumes paramount importance. You need to carefully analyse each company for its own merits and don't give in to the hype surrounding the public offering.
That's Ankit Shah's approach at Equitymaster Insider. He keeps an eagle-eye on the developments in the IPO space and updates his readers on the big-ticket IPOs.
Ankit and his team of researchers constantly reference this handbook on investing in IPOs. You can download a copy for yourself. It is free. Just click here.
What the Markets Looked Like Today
Indian equity markets opened the day in the red ahead of mid-term review of foreign trade policy due later today and RBI policy tomorrow. At the time of writing, BSE Sensex was trading lower by 61 points and NSE-Nifty was higher by 20 points. Both the mid cap and small cap indices are trading down by 0.1% and 0.2%, respectively. Stocks from the consumer durable and realty are among the few gainers.
Investment Mantra of the Day
Recent Articles